Shahi Tukra (with Condensed Milk), a popular hyderabadi special sweet is a royal treat to taste buds at anytime. To make this sweet in authentic style, bread pieces are deep fried in ghee until crispy and then topped with creamy rabri. In this recipe, bread pieces are shallow fried (toasted) to reduce the calorie and condensed milk and grated paneer are used to make the rich and creamy rabri. This simple and easy to prepare dessert cum sweet has nice flavor of saffron and cardamom and tastes delicious either warm or chilled.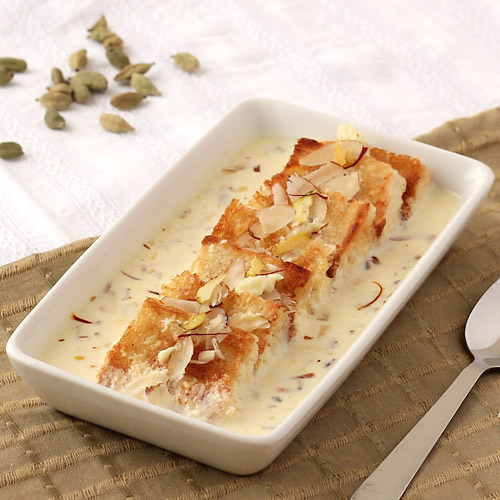 Preparation Time:
10 minutes
Ingredients:
2½ cups Full Fat Milk
1/4 cup Sweet Condensed Milk
1 tablespoon Sugar
4-5 Saffron strands (kesar)
2 tablespoons grated Paneer or Khoya (mawa) or Milk Powder, optional
1/4 teaspoon Cardamom (Elaichi) Powder
4 White Bread Slices (or brown bread)
2-3 tablespoons Ghee (clarified butter), for shallow frying
1/2 tablespoon chopped Cashew Nuts
1/2 tablespoon chopped Pistachio
1/2 tablespoon chopped Almonds
Directions:
If you are using frozen paneer then thaw it before grating. In this recipe, sweet condensed milk is used, which is easily available at any grocery store.

Mix milk, sweet condensed milk, sugar and saffron strands in a thick-bottomed pan and bring it to a boil on medium flame.

When it starts boiling, reduce flame to low and boil until mixture turns thick and reduces to around 1½ cups, for around 10-15 minutes. Stir occasionally in between to prevent sticking.

Add grated paneer and cardamom powder and mix well.

Turn off the flame and let rabadi (thickened milk mixture) cool at room temperature.

Remove sides of bread slices and cut each into 4 triangles or 4 equal squares.

Brush bread squares with ghee on both sides. Heat a non-stick pan or tava and shallow fry them until bottom surface turns crispy and golden brown on low flame.

Flip them and shallow fry until another side turns crispy and golden brown. Transfer them to plate.

Arrange crisp fried bread pieces in a layer on serving plate. Pour prepared rabadi over it.

Garnish with pistachios, cashew nuts and almonds. Serve it hot or place it in the refrigerator for 30 minutes before serving. Yummy shahi tukra is ready to serve.
Tips and Variations:
Deep fry bread pieces in ghee until crisp and golden brown for authentic taste.
Toast bread pieces in oven or toaster to make a low calorie dessert but the taste will be slightly different.
You can use leftover or fresh bread to prepare it.
Taste:
Sweet and yummy in every bite.
Serving Ideas:
Serve it hot with snacks in the breakfast or as a chilled dessert in party. It is also a good sweet dish to be served with lunch or dinner in parties.
Other Step by Step Recipes
---
18 Comments
---
Feb 15, 2018 by Zaikebaaz
We tried this shahi tukda recipe with a small innovation to it for Valentine celebration. Check this out - http://zaikebaaz.com/valentine-day-special-red-velvet-shahi-tukda

---
Jan 22, 2018 by Meet kaur
I tried this recipe. it turned out really good.Thanks for sharing this awesome recipe:)

---
Dec 28, 2017 by Priya
But why the bread has not been soaked in sugar syrup before the rabdi being poured..is this a different variation

Response: You can soak bread in thick sugar syrup if you like it that way.
---
Oct 18, 2017 by Aishwarya
It's a very devilish delicious dish. I tried it multiple times. Thank you for making it public here with such details.

---
Jun 09, 2017 by Swati
Love ur recipes...it's always give good results...keep on posting.

---
May 01, 2017 by Zerene
Hi,

I would like to make this for a party, and I read in the comments that we can make the rabri and toasted bread separate and assemble it during serving. Can you tell me whether it is okay to make the rabri two days in advance? Will it go bad?

Response: Hello Zerene, you can make the rabri two days in advance. Store it in the refrigerator to prevent it from turning bad.
---
Dec 07, 2016 by Saba
Very nice and really helpful.

---
Oct 25, 2016 by Raj
First time tried and it came out very well. Exactly same taste as you get in restaurants. Clear and crisp receipes.

---
Apr 07, 2016 by Jasmit
Hi, its nice. I m gonna try it. Can you tell me any healthy recipe for kids tiffin?

Response: Hello Jasmit, you can try different types of stuffed parathas, dhoklas, idlis cutlet etc. for kids tiffin.
---
Mar 09, 2016 by Sana
You people are amazing, the way you describe is so clear and descriptive.

Response: Thank you Sana.
---
Feb 19, 2016 by Daphne
Hello, may I use Ricotta Cheese instead of the Paneer? Please advise. Thank you.

Response: Yes Daphne, you can use ricotta cheese instead of paneer in this recipe.
---
Dec 27, 2015 by Omi
Hi, nice recipe, I am gonna try it out with khoya and condensed milk with less sugar. Will post my feedback.
Thanks.

Response: Sure Omi, you can reduce the amount of sugar according to your taste in this recipe.
---
Oct 06, 2015 by Sharada
Hi, I follow your recipes a lot and it comes out really good....I have to make a dessert for party. I have never tasted this before.....please tell me how it goes....
Thank you....

Response: Hi Sharda, if you want to make it for party, toast the bread pieces and make the rabri in advance. Assemble them at the the time of serving.
---
Sep 23, 2015 by Maria
Hi, can you share the recipe for making paneer at home please!

Thanks

Response: Follow the given link to learn how to make paneer at home easily.
---
Jul 03, 2015 by Sai
I have never tasted this before!! Can this be refrigerated overnight? Will the soaking spoil the texture or will it be good like rasagulla?

Response: Hi Sai, you can prepare it in advance and refrigerate it but soak it at the time of serving.
---
Apr 05, 2015 by Harsha
It tastes good. I added Milk powder instead of paneer, and since milk powder has a little bit of sugar in it, reduced the sugar a little.

Response: Hi Harsha, thanks for trying the recipe and sharing about using milk powder instead of paneer in it. I will try using milk powder.
---
Feb 27, 2015 by Anamika
Can I skip condensed milk??

Response: Hi, you can make it without condensed milk but you have to cook the milk for longer period and increase the amount of sugar. Follow this recipe to prepare rabri without condensed milk.
---
Jan 11, 2015 by Rabia
Please tell me which paneer (cheese) did you use?

Response: Hi Rabia, I have used the homemade paneer in this recipe. Paneer is used in the recipe to get the chunky malai texture in rabri. If it is not available, you can add fresh breadcrumbs or mava (khoya) instead of it. You can buy the paneer from any Indian grocery store or make it at home.
---