If you like schezwan fried rice then you will love this Mumbai style tawa pulao prepared from steamed rice (or left over rice), vegetables and pav bhaji masala. It's like a fusion of pava bhaji and a fried rice into a single dish. It is very easy to prepare and tastes simply irresistible. Follow our step by step photo recipe and learn how to make this easy vegetarian pulav at home and serve as dinner special dish.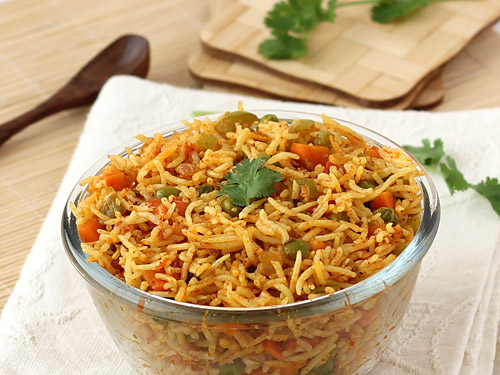 Preparation Time:
10 minutes
Ingredients:
2 cups cooked Basmati Rice (long grained rice)
1/2  teaspoon Cumin Seeds
1 medium size Onion, finely chopped
1/2 tablespoon Ginger-Garlic paste
1 Green Chilli, finely chopped
1/3 cup Carrot, finely chopped
1 large Tomato, finely chopped
1/3 cup Green Peas (fresh or frozen)
1/2 tablespoons Pav bhaji Masala
1/4 teaspoon  Turmeric Powder
1/2 teaspoon  Red Chilli Powder
2 tablespoons finely chopped Coriander Leaves
Salt
1½ tablespoons Oil
Sliced onion and Lemon Slices (for garnishing)
Directions:
Boil chopped carrot and green peas in salted water until tender, approx. 5-7 minutes. Drain the water and transfer them to a plate.

Heat oil in a non-stick pan or kadai over medium flame. Add cumin seeds and allow them to crackle. Add finely chopped onion and sauté until onion turns light brown.

Add ginger-garlic paste and green chilli; sauté for 25-30 seconds.

Add chopped tomato and cook until it turns soft or until oil starts to separate, approx 2-minutes.

Add boiled green peas and carrot; mix and cook for a minute.

Add pav bhaji masala, turmeric powder, red chilli powder and salt.

Stir and cook for a minute.

Add cooked (steamed) rice.

Mix gently until all ingredients are well mixed and each rice grain is evenly coated with masala.

Turn off flame and transfer tawa pulao to serving dish. Garnish with chopped coriander leaves and serve with curd.
Tips and Variations:
Add vegetables like boiled potato and capsicum for variation.
You can easily find ready made pav bhaji masala in any Indian grocery store.
If your cooked rice is salted then adjust salt according to it in step-6.
Serving Ideas:
 Serve it with curd, papad and salad for dinner.
Other Step by Step Recipes
---
10 Comments
---
Jul 19, 2016 by Deepthi
It was very good. It is easy with less ingredients.

---
Jun 03, 2016 by Raj Mishra
Is it important to add carrot?

Response: No, it's not important to add carrot. You can add the vegetables according to the availability and your choice.
---
May 24, 2016 by Pralok
First time I was attempting to make pulao and it turned out great! I think it will be even better for first timers for if you give instructions on basmati rice recipe!

Response: Thank you Pralok for trying the recipe. We will definitely upload the article of how to cook basmati rice perfectly.
---
Aug 20, 2015 by Nanda
Thank you for this tasty and easy to prepare recepie. We tried this recepie today and it came out well!!

---
Mar 23, 2015 by Pamela
I made this for a potluck and it was a huge hit! It's easy to make and delicious! Thank you!!

---
Jan 07, 2015 by Ash
Can we add garam masala instead of pav bhaji masala?

Response: Pav bhaji masala is the main ingredient in this recipe to get the specific flavor. However, if it is not available, you can add 1/4 teaspoon garam masala powder instead of it but the final taste will be like vegetable masala pulao (not like tawa pulao).
---
Jan 06, 2015 by Charanya
Very nice and tasty. I make this every time I have left over rice. Works as a great lunch box item.

---
Jan 05, 2015 by SHALINI JOIS
It's really a very helpful website for all, especially for the beginners who are learning to cook. I myself have learned more than 10 recipes in 15 days. Thanks a lot for giving us this.

---
Jun 29, 2014 by mayurika
Its Superb..........!!!.this wabsite is so.......helpfull to me.

---
Jan 15, 2014 by shaniba
looks nice I will try.

---