It is a traditional dish of Guajarati cuisine generally prepared with dals (lentils) and wheat flour as base ingredients. It has soft textured dhokli submerged in semi thick dal like lentil gravy and has mild sweet and spicy taste of aromatic spices and crunchy peanuts. Apart from being easy to prepare, healthy and stomach filling, this dal dhokli is capable of carrying entire meal on its own, which means that it can be served all by itself and one wouldn't care for anything in accompaniment. Delicious!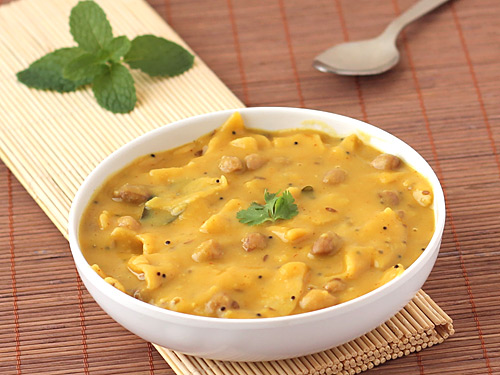 Preparation Time:
15 minutes
Ingredients:
1/2 cup Toovar Dal (split pigeon peas)
3 tablespoons Peanuts
1/2 cup  Wheat Flour + for dusting
1/2 teaspoon Carom Seeds (ajwain) (optional)
1 tablespoon Chickpea Flour (gram flour)
1/4 teaspoon + 1/4 teaspoon Turmeric Powder
1/2 teaspoon + 1/2 teaspoon Red Chilli Powder
1/2 teaspoon Coriander Powder
1/2 teaspoon Mustard Seeds
1 teaspoon Cumin Seeds
A pinch of Asafoetida
1 Dry Red Chilli, broken into two pieces
1 sprig Curry Leaves
3 teaspoons Lemon Juice
2-2½ teaspoons Sugar
3 teaspoons Oil
1½ cups + 3 cups Water
Salt
2 tablespoons chopped Coriander Leaves, for garnishing
Directions:
Rinse toovar dal in running water and add it in the 3/4 liter steel or aluminum pressure cooker. Add 1½ cups water and salt in it. Take peanuts in a small steel bowl and place it on the dal in a cooker. Close the lid and pressure-cook it over medium flame for 3-whistles. Remove cooker from flame and let it stand idle until pressure subsides naturally for approx. 5-7 minutes.

While dal is cooking, prepare dough for dhokli. Take 1/2 cup wheat flour, chickpea flour, carom seeds, 1/4 teaspoon turmeric powder, 1/2 teaspoon red chilli powder, 1/2 teaspoon coriander powder, 1-teaspoon oil and salt in a wide mouthed bowl. Add water as required in small quantities and knead a little stiff but smooth dough (like paratha dough). Cover with a cloth and let it settle for 10 minutes.

Open the lid of pressure cooker, remove the bowl having peanuts and keep it aside.

Transfer dal to a deep bowl or just keep it inside the cooker and blend it into smooth puree using hand blender. Add 2-cups water and blend again for 5-10 seconds.

Heat 2-teaspoons oil in a large kadai or pan over medium flame. Add mustard seeds and allow them to splutter. Add cumin seeds, asafoetida, dry red chilli and curry leaves and allow cumin seeds to sizzle. Add 1/4 teaspoon turmeric powder and 1/2 teaspoon red chilli powder and mix well.

Add pureed dal, 1-cup water, boiled peanuts, lemon juice, sugar and salt. Bring it to boil over medium flame and then reduce flame/heat to low and cook for 5-7 minutes.

Meanwhile, divide dough into 4-equal portions and give them a round shape. Take one dough ball, give it a shape like pattie and put it over rolling board. Dust little flour, roll it out into a thin circle of 7-8 inch diameter and transfer to a plate. Repeat the step for remaining dough balls.

Take one rolled circle over rolling board and cut it into multiple small diamond shapes using knife or cutter. These pieces are known as "Dhokli".

Slowly add all diamond shaped pieces (12-14 pieces at a time) into boiling dal and increase flame to medium and cook for a minute or two. Add next batch of diamond shaped pieces after 1-2 minutes. Stir occasionally in between.

Repeat the process with remaining rolled circles, cut them into pieces and add into dal. After adding all pieces, cook them over medium flame until dhokli does not taste raw, about 8-10 minutes. Stir occasionally in between.

Turn off flame and transfer it to a serving bowl or deep serving plate. Garnish with fresh coriander leaves and serve hot or warm.
Tips and Variations:
Adjust sugar and lemon juice according to your taste.
Dal will get thicker as it cools hence serve it hot.
Do not add too many pieces together in step-9 otherwise they may stick together.
Taste:
 Mild spicy taste with soft texture
Serving Ideas:
 Serve Gujarati dal dhokli with curd in lunch or dinner. It can also be served with steamed rice, papad and buttermilk. It is an ideal comforting food for people having toothache or recovering from illness as it combines goodness of both roti and dal into one.
Other Step by Step Recipes
---
19 Comments
---
Jul 01, 2017 by Nitika
Is it necessary to add peanuts, bcoz my husband don't like taste of peanuts. Can we make it without it?

Response: Yes Nitika, you can make it without adding peanuts.
---
Apr 29, 2017 by roopa
I am yet to try this recipe, but the thing is I cannot serve it immediately, so what to do if the daal dhokli thickens by the time I serve?

Response: Hello Roopa, you can do two things- 1.add hot water into dal dhokli and cook it again for 5-6 minutes (or until it starts boiling) over medium flame, 2- if possible, make the dal in advance and add dhokali to it and cook it just before the serving.
---
Feb 27, 2016 by Anjali
I tried this.. Its so yummy thanks for the recipe :)

But I had one issue.. Some of the rotis were sticking to each other and formed lumps.. How can I avoid it?

Response: Hi Anjali, thanks for trying this recipe and glad to hear that you liked it. To avoid sticking of dhoklis (roti pieces), don't add too many raw dhoklis together in step -9. Add few pieces of dhoklis (8-10, depending on the pan size), stir and cook for a minute, repeat this process for all remaining ones.
---
May 23, 2015 by Aditya
Trying this out for surprise to my wife. Thanks.

---
Mar 23, 2015 by Hari
Can I mix it with rice as regural dal?

Response: Yes, you can serve it with steamed rice.
---
Feb 22, 2015 by Chandra
I used to make this but I checked this recipe today. It's the same way I make but I don't add peanuts.

Response: Hi Chandra, add some peanuts when you make this next time to get some nutty flavor and I am sure you will love the taste.
---
Feb 11, 2015 by Nayan
Dal Dhokli is very nice, someone wrote about peanuts alternative also can add banana while making and Ghee on the top before serving will make it more tasty.

---
Jan 08, 2015 by Afreen Talat
This recipe is awesome with steps. I tried it and my father loved it. It helped me in my cooking.

---
Dec 27, 2014 by Kavita Verma
Thanks a lot for making cooking so easy with your steps, pictures and tips.
After three years of marriage, my mother-in-law appreciated my cooking. It means a lot.
All credit goes to you. Thanks once again.

---
Dec 26, 2014 by sheetal
Thank you for the recipe :)
Today, I made the dal dhokli for the first time and it was really nice. :)

---
Nov 23, 2014 by Bhavna
Hi, I made your dal dhokli today and it came out so good. When it was done, I just ate a little bit to check the taste and it was hard to stop there.
The only variation that I did was that I put imli (tamarind) paste instead of lemon juice.

Thanks for the wonderful recipe.

Response: Thanks Bhavana, you can use tamarind and lemon juice as replacement of one another in most of the Indian food recipes.
---
Nov 06, 2014 by Shairin Dean
Hi which peanut can I use in this recipe, salted peanut or unsalted?

Response: Hi Shairin, raw peanuts are used in this recipe but if you do not have raw peanuts, you can use any peanuts, either salted or unsalted according to availability.
---
Nov 04, 2014 by Soumya
Hi ,

The dal dhokli was excellent, thank you for the recipe. But one query, in case of heart patients, is there anything else can I add instead of peanuts?

Thanks in advance.

Response: Hi Soumya, you cannot add any other item as an alternative of peanuts but you can skip it (it will taste still good without peanuts).
---
Oct 09, 2014 by Vandna
I made it with this recipes help..it was really nice.
Thank you.

---
Sep 18, 2014 by manasi modha
Please tell me how to reduce burn taste of daal dokli?

Response: Hi Mansi, follow the tips geven below to prevent dhokli from burning while cooking.
1. Cook it in a heavy based pan (kadai) to prevent it from sticking to bottom of the pan.
2. After adding the raw dhokli (in step-9 and step-10), stir it at regular intervals (stir it after every minute) to prevent it from burning.
---
Aug 28, 2014 by Grishma
Tried this and it tastes awesome!

---
May 15, 2013 by Samira
cup india small tea cup or mug??

Response: In all recipes, 1 cup = 250 ml (Indian Style Cup) is used to measure all ingredients. You can easily find the measurement cup set in any grocery or kitchen store or online. It will be helpful to measure all cooking ingredients. Look at the following link to get and idea about the measuring cups. http://www.zansaar.com/search/measuring%20cups
---
May 15, 2013 by Samira
Please can you tell me 1/2 cup means how many gram I have to take?? Thanks.

Response: 1/2 cup tuvar dal is equal to 125 grams (approx. value) and 1/2 cup wheat flour is equal to 60-65 grams (approx. value).
---
May 15, 2013 by Samira
I made dhokli sooo nice thank you.

---