Rice kheer, an Indian style pudding, is popular dessert cum sweet prepared in many households throughout India. It is known by various names in different regions of India each having minor different regional preparation style. This quick and easy recipe uses sweetened condensed milk to get the desired thickness and sweetness with minimal cooking time. Learn how to make rice kheer with condensed milk with this simple recipe.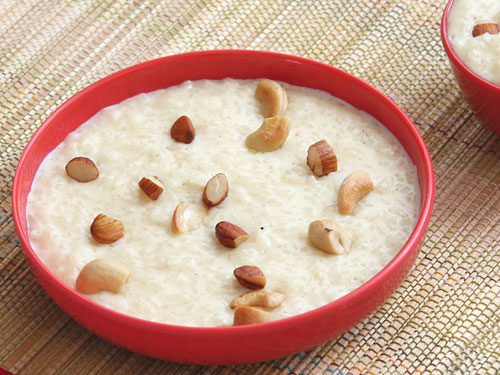 Preparation Time:
5 minutes
Ingredients:
1¼ cup Cooked Rice
2 cups Full Fat Milk
2 tablespoons Sugar (or to taste)
1/3 cup Sweetened Condensed Milk
1/8 teaspoon Nutmeg Powder (jaifal), optional
1 teaspoon + 2 teaspoons Ghee (clarified butter)
1/2 tablespoon chopped Cashew nuts
1/2 tablespoon chopped Almonds
Directions:
Heat 1 teaspoon ghee in a heavy bottomed pan or non-stick pan and roast cashew nuts and almonds until light brown for a minute. Transfer them to a plate.

Place milk, condensed milk, sugar and cooked rice in the same pan.

Stir continuously and cook until milk is absorbed and mixture becomes medium thick. It will take approx 12-15 minutes on low flame. Mixture will become very thick when it cools, so keep medium thick consistency.

Add nutmeg powder and 2 teaspoons ghee and mix well.

Transfer prepared kheer to a serving bowl and garnish with roasted cashew nuts and roasted almonds. Serve it hot or place it in a refrigerator for 1-2 hours before serving and serve chilled. Instant and easy rice kheer with condensed milk is ready.
Tips and Variations:
Use 1/4 teaspoon cardamom powder instead of nutmeg powder for variation.
Add 1/4 cup sweet mawa (or khoya) in place of condensed milk for variation.
Other Step by Step Recipes
---
11 Comments
---
Nov 01, 2016 by Rajaram
It's very useful website I have ever seen....for those people who would like to make desserts....

---
Jan 20, 2015 by Promila
Super yummy. My daughter doesn't like kheer normally but this one she loved. Thanks.

---
Dec 26, 2014 by Kellyann
I tried this recipe with basmati rice and forgot the ghee, but everyone loved it.

---
Nov 30, 2014 by Kelly
I didn't have the butter and it still tasted great! I added O'Donnell's Caramel Cream (just a capful) and served it cool.

---
Oct 22, 2014 by Rajani
I tried the rice kheer. It was yummy ... ;)

---
Jul 27, 2014 by kittu
Wow.... I love it
And I tried to prepare it ... ya it was a very tasty and I liked that...

---
Jul 19, 2014 by Radha mannoddar
I tried this easy to prepare recipe and I really love eating rice kheer made from milk maid. Its one of my favorite dessert.

---
Apr 21, 2014 by Rukhsar qureshi
oh my god its amazing,i love it very much.

---
Apr 03, 2014 by rowaidha
Very very nice yummy.

Response: Thank You.
---
Jan 24, 2014 by Shubham Gupta
I like it very much.....Everyone will like it....

---
Jun 28, 2013 by George
Awesome Kheer my family lovin it..

---