Chana Masala (Chole Chana Masala), a delicious chana curry from Punjabi cuisine is popular in all over India. A spicy and tempting curry is prepared from white chickpeas (kabuli chana), tomatoes, onion and basic Indian spices and best enjoyed with bhatura (deep fried puffed Indian bread) as evening snack or dinner. In this recipe, channa are boiled with tea powder to get darken color and fresh chhole masala powder is prepared to get restaurant style flavor. Learn how to make this delicious curry at your home with this easy step by step recipe.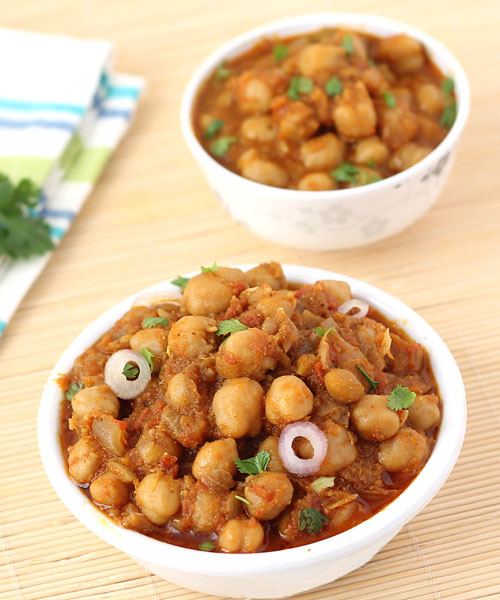 Preparation Time:
8 hours
Ingredients:
1/2 cup White Chick Peas (garbanzo beans/kabuli chana)
1 teaspoon Tea Powder or Tea Leaves or (1-2 teabags)
2 Red Ripe Tomatoes, chopped
1 large Onion, finely chopped
1½ teaspoons Ginger-Garlic Paste
1 Green Chilli, finely chopped
1/2 teaspoon Red Chilli Powder
1/4 teaspoon Turmeric Powder
3 tablespoons Cooking Oil
Salt to taste
2 tablespoons finely chopped Coriander Leaves
For Dry Masala
1 small piece of Bay Leaf
1 Black Cardamom
1 tablespoon Coriander Seeds
1 teaspoon Cumin Seeds
4-5 Black Peppercorns
1 Dry Red Chilli
2 Cloves (lavang)
1-inch piece of Cinnamon
Directions:
Soak white chickpeas in water overnight or for around 8-10 hours.

Tie 1 teaspoon tea leaves in a plain muslin cloth. Tied tea leaves used for enhancing the color and flavor of chana. You can also use tea bags in place of tea leaves.

Pressure cook soaked white chickpeas with a tied tea leaves pouch, enough water and salt in a 3-liter capacity steel/aluminum pressure cooker over medium flame. After 4-5 whistles, turn off the flame and let the pressure comes down naturally. Do not open the lid immediately to cook the chana perfectly. Open the lid and remove tied tea leaves pouch. Drain the excess water from boiled chickpeas in a large bowl. Keep the drained water to use later in the recipe. If pressure cooker is not available, you can also use a deep pan to boil chickpeas but it would take more time to cook.

Dry roast bay leaf, black cardamom, coriander seeds, cumin seeds, black peppercorns, dry red chilli, cloves and cinnamon in a pan until nice aroma starts or for around 1-minute over low flame. Let them cool for a while and then grind them in a small jar of a mixer grinder to make smooth dry punjabi masala powder.

Mash 2 tablespoons boiled chickpeas with backside of a large spoon or grind in a grinder to make a medium coarse paste. Grind tomatoes in a mixer grinder to make tomato puree.

Heat 3-tablespoons cooking oil in a kadai or pan over medium flame. Add chopped onion and sauté until it turns light brown or for approx. 1-2 minutes. Add ginger-garlic paste and chopped green chilli. Mix well and cook for 30 seconds.

Add tomato puree and salt (only for tomato puree because we have already added salt while boiling white chickpeas). Cook on medium flame until oil starts to separate, around 4-5 minutes. Stir it in between occasionally to prevent sticking.

Add turmeric powder, red chilli powder and dry masala powder (prepared in step-4).

Mix well and sauté for a minute.

Add boiled chickpeas, mashed chickpeas and 1-cup water (preserved drained water of boiled chickpeas), mix well.

Cook until gravy becomes thick, it will take around 4-5 minutes. Turn off the flame. Transfer white chana masala curry to a serving bowl and garnish with chopped coriander leaves. Serve it hot with

bhatura

or steamed rice.
Tips and Variations:
If pressure cooker is not available, you can also use a deep pan to boil chickpeas but it would take more time to cook.
If you want to use canned chickpeas then drain the excess water from canned chickpeas and skip step-1 to step-3 in the above recipe. No need to boil canned chickpeas. Do not use drained canned water in the recipe.
You can also use ready-made chhole masala powder (around 1 teaspoon) instead of homemade fresh punjabi chhole masala powder in this recipe.
Adjust the amount of water in step-10 to make thick or thin gravy.
You can use the same gravy for any legumes like moong beans, lobia beans, rajma etc.
If you do not have enough time to soak chickpeas, then soak them in hot water for 3-4 hours.
Serving Ideas:
Serve spicy Punjabi chole masala with bhatura or plain paratha and onion tomato salad. You can also serve it with
jeera rice
and
masala papad
.
Other Step by Step Recipes
---
38 Comments
---
Jan 12, 2018 by Vivekanand kher
Thanks for the wonderful recipe,my wife and my mother including myself enjoyed a lot,thanks a lot

---
Sep 04, 2017 by Jasmeet
Hi! I had just had a quick question. For the dry masala powder which is made freshly. Do you add the whole thing in or is there any specific quantity?

Response: Add all the ground masala in curry.
---
Jul 08, 2017 by Theresa Pinto
The recipe was very tasty. I enjoyed it. It was different. Thank you.

---
May 14, 2017 by Shilpa
Thanks for the recipe. I tried it this morning with paratha. My husband loved it..So happy.

---
Jul 29, 2016 by Michelle
Thank you for sharing this recipe. I followed it exactly, and the dish turned out so yummy and easy. I was so happy with it.

---
Jul 02, 2016 by Kannan
I tried. Best result. Nice, thank you.

---
Jun 24, 2016 by Naren
I made it as per the above method... It came really tasty.. Thank you...

---
Apr 15, 2016 by pooja Pandey
It is easy and best for cooking

---
Mar 20, 2016 by Athira Krishnan
I tried it and my hubby love it's so much.

---
Mar 20, 2016 by Sandhya
It's really good in taste.

---
Dec 20, 2015 by Athulya
I tried lots of recipes ... they came out very tasty. Thank you very much... I love this site.

---
Dec 19, 2015 by Niishu
Yesterday I made it and trust me its turns out best and yummy. But one thing is there I want to ask is, can we also add hang curd in it at the time of boiling curry.

Response: Thanks Niishu for trying the recipe. If you add the hung curd, the curry may be curdled.
---
Jul 04, 2015 by Mrs. Rehman
Thanks 4 nice recipe,
I am trying them this ramzan, it's really pleasing to have this dishes after whole day roza.

---
Jun 22, 2015 by Siri
I like this curry and I wanted to try this since long. Today, I did it, thank you. I want to make this more often. I am a beginner in cooking and if I can make this following your guidelines, any one can make it easily.

---
Jun 17, 2015 by Priya
Hello, I am Priya.
Mere husband white channa nahi khate the to main is recipe ko net se dekha or banaya or mere husband ko ye recipe bahut tasty lagi. Ab wo white channe bhi khane lage. Thanks. Ab masala channa unka favorite ban gaya.
Thank you so much.

---
Jun 15, 2015 by Manjula Venkatesh
Thank you for the nice recipe. The process is quite simple and taste is yummy too.

---
May 31, 2015 by Visal Varghese
Thank you..!! It's been very helpful..!!

---
Apr 25, 2015 by Veejeta
Thank you so much for the lovely recipe. I cooked for this noon. It was so yummy.

---
Apr 02, 2015 by Anupama Pattajoshi
Your all recipe are easy to cook. Thanks.

---
Apr 01, 2015 by Sanju
Yummy dish. The way you present the recipes are simple and easy to understand. Thank you.

---
Mar 14, 2015 by Sangeeta Khanna
It's like a mother guiding us how to cook delicious food. Thanks a lot. Please add more quick snacks.

---
Feb 24, 2015 by Samira
Hi. I have a ready made chana tin. Is that ok to use, and if I use tin chana, how I can put tea bag?

Response: Hi, tea bag is used to enhance the flavor and get the little dark color of chana. If you want to use canned chana then skip the tea bag process.
---
Feb 08, 2015 by Lisa
Great recipe- tasted amazing!

---
Jan 12, 2015 by Richa
This site is like a mother. Thank u foodviva.

---
Dec 12, 2014 by Madhuri Nadiminti
I tried 3 to 4 recipes from this site and they turned out very tasty. In fact, I don't know to cook at all but this site has become my life savior. Thank you foodviva.

---
Oct 30, 2014 by Sowmya
It's awesome thanks a lot!

---
Oct 28, 2014 by Poulami
Really good recipe, thanks for sharing this. I would try it out today.

---
Oct 24, 2014 by neha
Made it for my family on new year, it turned out lip smacking good!

---
Sep 28, 2014 by Anu
Very very tasty recipe of chana masala. My family loved it..

---
Sep 19, 2014 by indrani datta
Very nice, the process is very good. Tasty and yummy....

---
Aug 27, 2014 by usha
i like this chole masala recipe, yummy taste, my son and my husband like this chole, thank u, and I love this website..

---
Aug 19, 2014 by viji
sooooooooopppppppeerrrrrr!!!!!!! yummmy... I am becoming fan of this site.

---
Aug 08, 2014 by Bharathi panish
I tried this recipe of channa masala and everyone at home just loved it. I do not have words to express.. every one at home is liking it.

Response: Thanks, Bharthi.
---
Jul 04, 2014 by pavana
hey tried this recipe with chapatis... very new combination... and the taste of chana masala was tempting... my friends also asked for the recipe of this as even they liked it... all chana lovers should try this out... spicy chana masala....!!

---
Jul 01, 2014 by Tima
Hey... I tried it out today for dinner and it came out well... The flavor is too good... Me and my hubby just loved it. Thank you

Response: Thanks, tima.
---
Jun 18, 2014 by Pritz
Loved this! Came out really good! Thanks for the wonderful recipes.

---
Aug 17, 2013 by krishna
Spicy
How lovely chana

---
Jul 26, 2012 by Smita Gyan
How lovely..... the chole masala looks absolutely gorgeous and tempting.

---