Green Chutney (Hari Chutney, Dhaniya Chutney) is a yummy, mouth-watering, spicy chutney. This recipe uses coriander leaves, green chillies and groundnuts as base ingredients while garlic, ginger, sesame seeds and fresh coconut are used to give it a delightfully spicy taste and flavor profile. Just a dash of this stunning chutney in any Indian chat preparation will give a new dimension to its taste.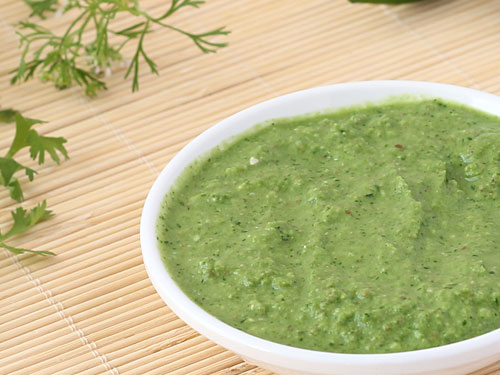 Preparation Time:
5 minutes
Serves:
4 servings (1/3 cup)
Ingredients:
1 cup finely chopped coriander leaves
1/2 teaspoon cumin seeds
1 teaspoon groundnuts
1/2 teaspoon sesame seeds (til)
2 teaspoons shredded fresh coconut
3 garlic cloves
1 green chilli, seeded and chopped
1/4 inch ginger, roughly chopped
1 teaspoon sugar
1 teaspoon lemon juice
salt
1½ tablespoons water
Directions:
Add cumin seeds, groundnuts, sesame seeds and coconut in a small chutney jar of mixer-grinder.

Grind them in a grinder until smooth powdery paste.

Add coriander leaves, garlic, green chilli, ginger, sugar, salt, lemon juice and 1½ tablespoons water.

Grind again and make a smooth paste. Taste for salt and lemon juice, add more if required and mix well.

Transfer it to serving bowl. Serve it as a condiment with snacks like rava dhokla, etc.
Tips and Variations:
Add some water to make it diluted and use it for making bhel puri or sev puri.
Mix 2 tablespoons yogurt to make instant green yogurt dip.
Taste:
Spicy and mild tangy
Serving Ideas:
Indian green chutney is a must have condiment for gathiya, chevdo, sandwich, daal-bati, bhel, etc. and can be used as a dip or spread and tastes great with just anything. Semi dry hari chutney is typically used as spicy spread for sandwiches.
Other Step by Step Recipes
---
10 Comments
---
Jan 20, 2018 by Pradeep singh
I love the recipe I will try to make tasty bhel puri by the help of I want to copy this recipe but there is no option

Response: We do not allow copying our content as it is copyrighted. You can use "Print Recipe" capability to print the recipe and use it offline.
---
Dec 28, 2017 by Suja
Easy recipes.. Thanks a lot..

---
Mar 30, 2017 by Ritu Narayanan
Hi, I get a raw smell at times after grinding the coriander chutney. What could be the reason?

Response: Hello Ritu, If you get the raw smell of any particular ingredient in the chutney, either you can avoid that particular ingredient or replace it with another one to prevent raw smell.
---
Mar 04, 2017 by Kalai
This one was came good we can add this chutney for dhai puri??

Response: Yes, you can add this chutney to dahi puri.
---
Sep 17, 2016 by Kulsum lahori
I love all your recipes. Thank u so much for making recipes so easy.

---
Jan 02, 2016 by Tohfa Azeem
I love this website. I have tried so many recipes. Came out really great. Can I add pudina in this green chutney?

Response: Yes, you can add pudina (mint) in this chutney.
---
Sep 07, 2015 by sheela
Good recepies want to know more recepies

---
May 08, 2015 by Maya Christy
Very easy. Enjoyed your recipes. Thank you. My children are happy with me.

---
Apr 24, 2015 by Neena
Thanks a lot for sharing your wonderful recipes. I just tried 3 of your recipes - dhokla, green chutney and chocolate cake eggless.
Thanks once again.

Response: Thanks Neena for trying the recipe.
---
Jun 23, 2014 by Bharat Patel
Hi
Thanks a million for the recipe. I tried out this recipe. Very delicious. By the way I tried number of recipes but today I have chance to rate with five stars.

---