Banana Bread Pudding Recipe
It is very similar to simple bread pudding recipe except that it involves the use of mashed or sliced banana. This banana bread pudding recipe is also an easy way to make best use of over ripe banana and leftover French or Italian bread.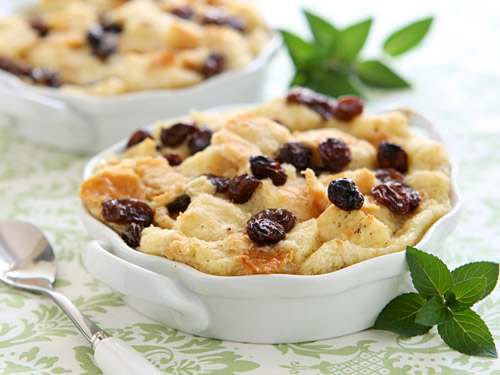 More Pudding Recipes
Preparation Time:
20 minutes
Ingredients:
4 cups cubed French or Italian Bread
2 Ripe Bananas, mashed
4 Eggs, lightly beaten
Melted Butter, for greasing
1 cup Milk
1 cup Heavy Cream
1/2 teaspoon Ground Cinnamon
1 tablespoon raisins
1/2 cup Sugar
2 teaspoons Vanilla Extract
Vanilla Ice Cream, for serving
Directions:
Remove crust of bread and cut into 1-inch cubes.
Preheat oven at 350 °F and grease 9 x 5 x 3 inch ovenproof loaf pan with butter.
Heat milk and heavy cream on medium heat in a medium saucepan. When it comes to boil, remove pan from heat and stir well. Let it cool at room temperature.
Place bread cubes in a large bowl and pour prepared milk and cream mixture over it. Toss bread cubes gently to allow them absorb the liquid. Let it rest for 15 minutes.
Whisk together lightly beaten eggs, sugar, ground cinnamon and vanilla extract in a mixing bowl, add mashed banana and mix well.
Pour banana-egg mixture over soaked bread cubes in a bowl and gently combine.
Transfer prepared mixture to greased loaf pan and sprinkle some raisins over it.
Place a loaf pan in large metal baking pan in oven. Pour warm water in large pan until it reaches halfway to the sides of loaf pan.
Bake in preheated oven for an hour or until pudding is set. (Verify by inserting and removing knife in the center of it, knife should come out clean.)
Take it out from the oven and allow it to cool for 15 minutes.
Serve warm banana and bread pudding with vanilla ice cream.
Tips and Variations:
If you like more rich and buttery taste, then mix additional 1 tablespoon melted butter in bread cubes for variation.
If you do not like mashed banana, then you can simply slice them in 1/3 inch thick slices and mix it with bread and egg-milk-cream mixture in step-5 and 6 mentioned above.
Taste:
Sweet, creamy and soft
Serving Ideas:
Best banana bread pudding can be served with ice cream and/or caramel sauce as a dessert. It tastes heavenly either warm or chilled, serve it as per your preference.