Making south Indian coconut chutney for dosa and idli is very simple; just blend fresh coconut with chillies, curd and ginger and mix tempered mustard seeds. However, the real taste differentiators in this recipe are roasted chana dal, tamarind paste, cumin seeds and curry leaves. Follow this recipe and discover how good the chutney tastes, and yes, don't blame us if you get addicted to it.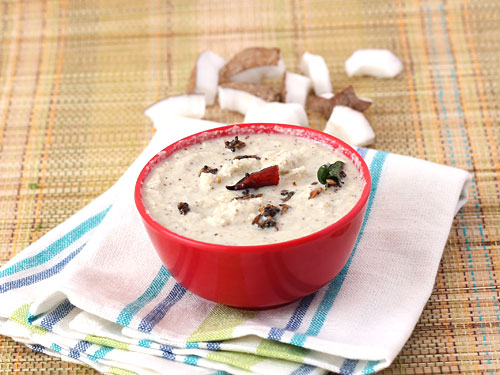 More Coconut Recipes
Preparation Time:
10 minutes
Ingredients:
1 cup roughly chopped Fresh Coconut
1 teaspoon grated Ginger
2 Green Chillies, chopped
1 tablespoon Roasted Chana Dal (daliya)
1 tablespoon Curd
1 teaspoon Lemon Juice or Tamarind Paste
1/2 cup Water
Salt
For Tempering
1/2 teaspoon Cumin Seeds
1/4 teaspoon Mustard Seeds
4-5 Curry Leaves
1 Dry Red Chilli
1 teaspoon Oil
Directions:
Take chopped coconut in a small chutney jar of food processor or grinder.

Grind it to make a medium coarse paste and transfer to a plate.

Add green chillies, roasted chana dal and ginger in same chutney jar.

Grind them to a smooth powder.

Add crushed coconut, curd, lemon juice, salt and 1/2 cup water.

Grind them to make a medium coarse paste. If required, add more water to get desired consistency of chutney and grind again. Transfer it to a bowl.

Heat oil in a small tempering pan. Add mustard seeds. When seeds begin to crackle, add cumin seeds, dry red chilli and curry leaves and sauté for 10 seconds.

Take away pan from flame and immediately pour tempering over the prepared coconut paste and mix well. Coconut chutney for idli and dosa is ready; enjoy it with your favorite type of dosa.
Tips and Variations:
Adjust quantity of water according to make it thick or diluted.
Avoid addition of green chilles while making coconut paste and avoid dry red chillies in tempering to make white coconut chutney
Consume fresh idli-dosa chutney immediately or refrigerate it and use it for up to 3 days.
Serving Ideas:
It's hard to imagine south Indian dishes like dosa, idli, vada, etc being served without it. However, its use is not just limited to it, as it can be served as an accompaniment in lunch or dinner along with paratha, curry, steamed rice and dal tadka.