Rajma Masala – a protein rich Red Kidney Beans curry, is best enjoyed with steamed rice as Rajma Chawal and is one of healthiest and easiest to make Punjabi curry. This recipe's step by step photos, detailed directions, tips and minimum number of ingredients make it very easy to prepare at home and doesn't require you to have any special cooking skills and spares you from long prep time as it uses very basic spices that are easily available in any Indian kitchen. Follow this Rajma Masala Curry Recipe and enjoy your dope of Rajma Curry with Chawal,
Butter Kulcha
and
Lassi
.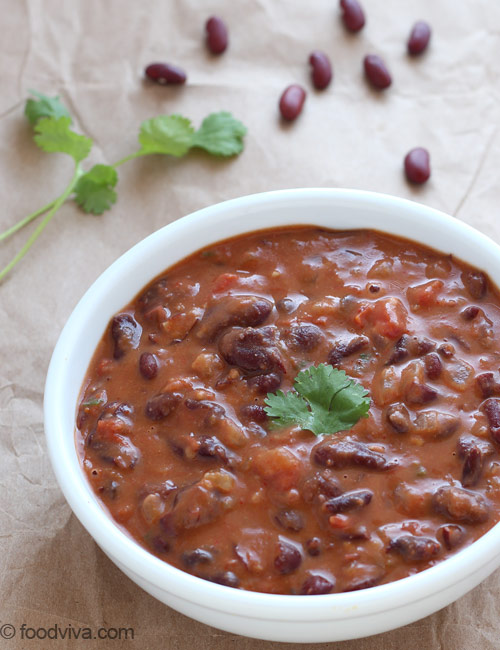 Preparation Time:
 8 hours (soaking time)
Ingredients:
1 cup Rajma (Red Kidney Beans)
1 small piece of Bay Leaf
1-inch long piece of Cinnamon Stick
1 Green Cardamom (or black cardamom)
1/2 teaspoon Cumin Seeds
1 Onion, finely chopped (approx. 1/2 cup)
1 teaspoon Ginger-Garlic Paste (or crushed)
1 Green Chilli, slit lengthwise (or more for spiciness)
2 medium Tomatoes, chopped (approx. 1 cup)
1 teaspoon Red Chilli Powder
1 teaspoon Cumin-Coriander Powder
1/4 cup Milk (or 2 tablespoons fresh cream)
2 tablespoons Oil
Salt to taste
Note:
You can use any type of kidney beans for this recipe. However, if possible, use red kidney beans (not dark purple) as they take less time to cook compared to dark purple kidney beans and has softer texture.
Directions:
Thoroughly wash rajma (beans) to remove any dirt and debris. Soak them in water for 6-8 hours or overnight.

Drain the water and transfer soaked beans into a 2-3 liter capacity pressure cooker. Add 1¾ cups water and salt; close the lid and pressure cook over medium flame until it turns soft, for around 4-5 whistles. Turn off the flame and let the pressure release naturally (around 5-7 minutes) before opening the lid. Don't open the lid immediately as beans may not have cooked fully yet and steam inside pressure cooker will continue to cook them. Check the beans for softness, if they are not soft, cook them more for 2 whistles (if required add more water). Drain excess water from cooked beans and keep both water and Rajma aside for later use.

Heat 2-tablespoons oil in a pan (or kadai) over medium flame. When oil is medium hot, add 1 small piece of bay leaf, 1-inch long piece of Cinnamon, 1 green cardamom and 1/2 teaspoon cumin seeds, sauté for 30 seconds. Add chopped onion and sauté until onion turns translucent. Add 1-teaspoon ginger-garlic paste and 1 green chilli.

Sauté for 1-2 minutes.

Add chopped tomato and salt.

Sauté until tomatoes turn soft, it will take around 3-4 minutes. Add 1-teaspoon red chilli powder and 1-teaspoon cumin-coriander powder.

Mix well and sauté for a minute.

Add boiled kidney beans and mix well.

Add 1-cup water (or little more) (drained water from step-2 + normal water) and mix well. Mash some beans with the backside of a spoon to thicken the gravy and improve taste and texture. Cook for 5-6 minutes or until gravy turns thick. Gravy would thicken more as it cools down, so do not cook it until it turns very thick. Taste for the salt at this stage and add more if required.

Add 1/4 cup milk (or 2 tablespoons fresh cream).

If you are adding milk, cook for 2-3 minutes and turn off the flame. If you are adding fresh cream, mix well and turn off the flame. Rajma masala curry is ready; transfer it to a serving bowl and garnish with chopped coriander leaves.
Tips and Variations:
Use red kidney beans because they take lesser time to cook and has softer texture after cooking.
Add some water (approx. 1/3 cup or as required) and cook for 3-4 minutes over medium flame if gravy turns thick in step-9.
Replace chopped tomatoes with 3/4 cup tomato puree if you like gravy with smooth texture.
use grated ginger and grated garlic if ginger-garlic paste is not available.
Use canned kidney beans for faster preparation and to avoid pressure cooker cooking. Skip step-1 and step-2 and add drained canned beans (approx. 1¾ cups or less) in step-8.
Replace Rajma with legumes like moong beans, choli beans, black chana to prepare various types of Indian style legume curries.
Serving Ideas:
 Serve rajma with chawal (steamed rice) or jerra rice for wholesome Punjabi meal. It can also be served with butter naan,
kulcha
or paratha and onion salad for lunch or dinner.
Other Step by Step Recipes
---
16 Comments
---
May 31, 2018 by Deepti
Great recipe... Thank you for this. I tried many recipes of rajma masala but my search ended up with this one.. thank you..
My husband and family like it.

---
Mar 15, 2018 by Slama
I tried this rajma recipie step by step and when I tasted couldnot believe it was perfect. Thank you so much for sharing your cooking recipie and experience.l will try other recipies.

---
Dec 26, 2017 by Mahendra
Very clear and to the point explanation, great recipe.

---
Sep 19, 2017 by Komal
All your recipes are very easy to. Understand and tasty.

---
Aug 30, 2017 by Shilpa
Easy receipe! Step by step receipe and photos helped! Will update on how it turned out.

---
May 03, 2017 by Jaya Singh
I have only read this yet, however I have already soaked Kidney beans, let's see what I will cook tomorrow...Just hoping to get good response as I will be cooking for the first time for someone very special.

---
Apr 24, 2017 by simeraun
It was too good... This my first time... Thanks a lot for your recipe...

---
Mar 08, 2017 by Michelle
This recipe was so good! I tried it the first time, and liked it so much. And the same with your chana masala recipe. Thank you for sharing your great recipes!

---
Dec 24, 2016 by Palak
Amazing...... Mujhe khana bnane bilkul nahi ata tha..I was always scolded by my mother in laws... BUT now...I m rocking... Due to you.

Response: Thank you Palak for trying the recipes. I am so glad that you found recipes from this site helpful.
---
Aug 11, 2016 by Urmi
Thank you for the fantastic yet easy to do step by step recipe. I followed yours and the result was yummm. My family loved the Rajma last night.. Thank you again. God Bless!

Response: Thank you Urmi for trying the recipe and glad to hear that your family loved it.
---
Aug 07, 2016 by Devin
I love this website. Your step by step instructions and pictures helped me make this (my first attempt at Indian cuisine) a success. Can't wait to try more of your recipes. Thank you.

---
Jun 07, 2016 by Michelle
My favorite place to find delicious recipes.

---
Apr 03, 2016 by Ria
Needless to say this is my favorite website to always turn to, for trying something new every time. It always intrigues me as to understand how much of your 'one cup' measure is! As long as everything goes in a cup measure, I can use some cup as a std measure n vary measures, proportionately. But, every recipe comes with table spoon/teaspoon measures as well, that ought to go rightly with the cup measure of your standard only. So kindly clarify..

Response: Hi Ria, 1 cup = 250 ml is used to measure all ingredients in all the recipes. For more detailed information about ingredients measurement and measurement cup photos follow our cooking measurement guide.
---
Mar 24, 2016 by Ann
I'm new to cooking and have started looking up recipes to make different dishes. I followed this recipe and made really nice rajma. I just didn't add the cream and they still came out pretty good. Thanks!

Response: Thank you Ann for trying the recipe.
---
Mar 01, 2016 by Malvika kshirsagar
Hello sir/ma'am,
This website is just awesome. The recipes are very simple to make and tasty too. Thank you so much, I make these dishes and serve it to my family and friends.

---
Aug 12, 2015 by praveen
Hello sir, thanks for ur recipes that you teach us through ur website. It is very easy to learn and very tasty too.
But I have been facing some problem from last few days that when open any recipe, I am able to see only first 2 pics only and all the other pics try to download but do not open at all.
Plzz slove this problem that I am facing.

Response: Thank you Praveen for telling us about the problem you are facing. We have updated our website to solve this problem.
---