Out of all types of Indian breads that are cooked in tandoor, plain butter Kulcha is probably one of the most sough after bread after Naan. Since it requires tandoor or gas oven to cook, many believe that it can not be prepared at home. However in this step by step photo recipe of kulcha without yeast, you can make soft and fluffy butter kulcha at home without oven by using technique given below and still get same Punjabi restaurant type taste and texture.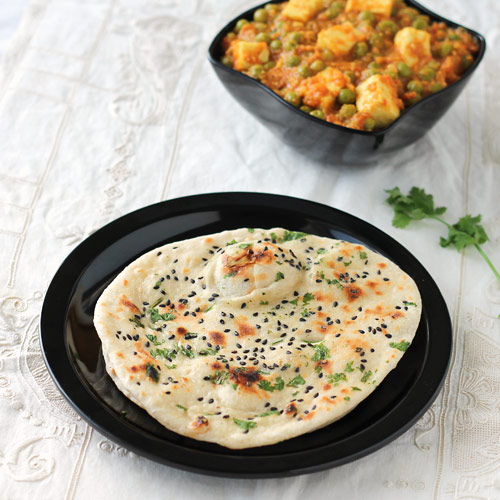 Preparation Time:
2½ hours
Serves:
3 servings (6 kulchas)
Ingredients:
1½ cups Maida (all purpose flour) + for dusting
1/2 teaspoon Baking Powder
1½ teaspoons Sugar
1½ tablespoons Curd (yogurt)
1½ tablespoons Oil
3 tablespoons Milk
Salt to taste
Warm Water, to knead the dough
1 tablespoon Black Sesame Seeds or Kalonji Seeds (onion seeds)
3 tablespoons finely chopped Coriander Leaves, optional
Butter, as needed
Notes:
In this recipe, kulcha is cooked over direct flame to give it a tandoor like burnt effect and taste. However, if you find that this method difficult or if you are a beginner in cooking, you can roast (cook) the kulcha like chapati (or paratha) as well.
Use iron tawa to make this kulcha. Don't use non-stick tawa because kulcha may fell down while cooking on direct flame.
Directions:
Sift the maida flour, baking powder and salt together in a large bowl having wide mouth. Add sugar, curd and oil. Add milk and mix well.

Add warm water as required and bind the smooth and soft dough.

Cover the bowl with a damp cloth or plastic wrap and keep it aside for 2 hours to set.

After two hours, knead the dough again until smooth. Take dry flour for dusting in a plate. Divide dough into 6 portions and give them a round shape like ball. Take one ball and flatten it by pressing it between your palms, coat it with dry maida flour and place on a rolling board.

Roll it out into a circle having 3-4 inch diameter using rolling pin. Sprinkle some sesame seeds and coriander leaves over it.

Again roll it out and make a medium thick 6-7 inch diameter circle (little bit thicker than paratha) or into an oval shape. Don't worry if the shape is not perfectly round.

Flip it upside down and apply some water on top side (plain side) with brush or wet hand.

Heat tava over medium flame. When it is medium hot, take the rolled raw kulcha in your hand and place it on tava such that side with sesame seeds stays on top. Cook until bubbles start to appear on the surface.

When bubbles appear, turn entire tava upside down and place it directly over flame (on normal gas or as shown for electric stove top – Keep 2-3 inches distance between flame and tawa) and cook until brown spots appear on the surface. If you are using electric stove top, keep mesh or stand as shown in photo over coil and then place tawa over it and increase the heat to high during this step.

Check frequently by lifting tawa up (as shown in the photo) to prevent it from burning.

When you see brown spots starts to appear evenly, take it away from flame or heat.

Scrape out the kulcha with spatula. It will come out easily and you will see backside having a nice texture like as you get in restaurant.

Apply some butter over it. Repeat process for remaining dough balls.
Tips and Variations:
Use of coriander leaves and sesame seeds is optional. However this is what makes it separate from Naan.
Sprinkle some sliced garlic over rolled dough in step-5 to make flavorful garlic kulcha.
Bind the soft dough. It will make kulchas softer and chewable.
It is necessary that tawa is hot enough to get the restaurant like texture.
Serving Ideas:
 Serve this Indian style tandoori bread with the curry like
paneer tikka masala
or
kadhai paneer
, papad, kachumbar salad and lassi. It can also be served with dal fry in lunch or dinner.
Other Step by Step Recipes
---
14 Comments
---
Feb 09, 2018 by Disha
Can I use baking soda instead of baking powder and if yes how much?? Please reply fast as i want to make today

Response: Yes, you can use baking soda. Use 1/4 tea spoon baking soda.
---
Jan 06, 2018 by namrata
Its so easy to make kulchha i hv ever read .thanx for it.keep it up

---
Feb 13, 2017 by virali
Hi dear, I tried this recipe earlier and it came out so nice. Now we have a small party for 30 people at home. Pls suggest which Indian bread should I make with paneer butter masala? Something quick n can serve hot.

Response: Hello Virali, you can make plain triangle shaped paratha or lachha paratha to serve with paneer butter masala. Make any type of paratha in advance and store them in casserole to keep warm.
---
Feb 04, 2017 by Vinuthasanthosh c
It's amazing, so nice. I'm very happy.

---
Sep 17, 2016 by Prajeeta
Hey dear, can we add some more toppings on kulcha...and for cooking, can we use roti (bhakri) tawa?

Response: Yes, you can use finely chopped garlic, onion, green chilli, coriander leaves, crushed coriander seeds, red chilli powder, etc. for toppings and regular roti tawa for cooking. Don't use non-stick tawa.
---
Aug 14, 2016 by Sangeetha
It came out really well. We now regularly prepare at home Instead of going to restaurant :-)

---
Jun 28, 2016 by Arun Soni
Can't explain in words..

---
Mar 28, 2016 by Mrs. shaikh
They really came out very nice. My hubby enjoyed and it and also said I thought it would be flop but they have become nice.

---
Feb 21, 2016 by Shifa
If don't have iron tawa what we can use for that? Can u tell me alu paratha recipe? One more thing is that can you please tell me the water measurement for making dough?

Response: If you don't have iron tawa, you can use hard anodized tawa or aluminum tawa (no no-stick tawa).
If you don't have any mentioned tawa,
1. You can cook the first side on non-stick tawa and cook another side directly on flame or
2. You can cook the kulcha in a same manner we cook the paneer kulcha.
Follow this link for Aloo Paratha Recipe and follow this Paratha Section to view more rot-paratha recipes.
In this recipe, the amount of water required to make the dough depends on the quality of maida and how watery the yogurt is. While making the dough, add water little by little and make the soft dough.
---
Oct 04, 2015 by Reena ranka
It was awesome.. It turned out so well...

---
Sep 13, 2015 by Jhumee Baraik
I m a starter. I rarely cook. It's a good recipe, description is great. I tried kulcha at restaurant, mine tasted same only. Thanks a lot for the recipe. Everybody in the family loved it!

---
Jun 28, 2015 by Anupama
Thanks for this wonderful recipe.. Turned out awesome.. My family loved it..

Response: Thanks Anupama for trying the recipe.
---
Apr 22, 2015 by Ritika
If we do not have electric stove then what to do?
Can we make on normal gas?

Response: Yes Ritika, you can make it on normal gas. It will taste more better on normal gas because kulcha gets the burnt effect from direct flame.
---
Apr 12, 2015 by Kani
Hi,today I made this kulcha and I have already tried your paneer butter masala..both came very well..but today when I came to step-9 as shown above the kulcha fell down from the tava, what might be the reason?

Response: Thanks for trying the recipe. To prevent kulcha from falling down while cooking on direct flame, follow these tips
1. Spread enough water on kulcha in step-7. It helps kulcha to stick to the tawa and also gives nice texture at the bottom side.
2. Do not use non-stick tawa. Use cast iron tawa (normal roti tawa) to make kulcha.
---