Dal Fry
is a spicy punjabi dish made from mixed dals like toor, chana, moong, masoor dal or just with chana and toor dal. This authentic Punjabi daal fry recipe follows the former approach and uses assortment of protein rich dals cooked in pressure cooker and mixed with Indian curry spices sautéed in pure ghee. The whole cooked dal grains in dal fry prepared with this recipe gives it a delicious texture while ghee sautéed curry spices provides rich aroma and spicy taste. Serve it with
jeera rice
and papad in lunch or dinner.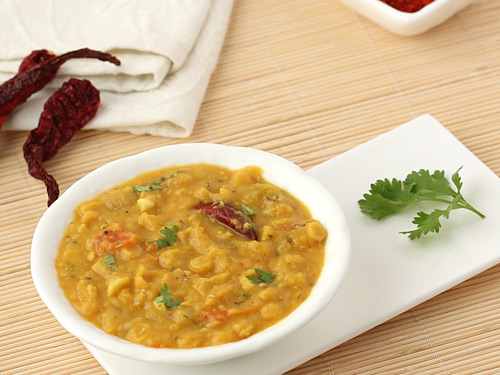 Preparation Time:
10 minutes
Ingredients:
4 tablespoons Toor Dal (toovar dal/arhar dal/split pigeon pea)
3 tablespoons Chana Dal (gram lentil)
3 tablespoons Moong Dal
3 tablespoons Masoor Dal
1½ cups + 3/4 cup Water
1 medium Tomato, finely chopped
1 large Onion, finely chopped
4 cloves Garlic, crushed
1/2-inch Ginger, crushed
2 Green Chillies, finely chopped
2 tablespoons Ghee (clarified butter)
3 Cloves
1 Cinnamon stick, broken into 2-pieces
1/2 teaspoons Cumin Seeds
2 Dry Red Chillies
1/4 teaspoon Garam Masala Powder
1/4 teaspoon Turmeric Powder
1/2 teaspoon Red Chilli Powder
1 teaspoon Coriander Powder
1 teaspoon Lemon Juice
Salt
2 tablespoons finely chopped Coriander Leaves
Directions:
Wash all dals in running water. Mix and soak them in water for 10 minutes. Drain water after 10 minutes and transfer to pressure cooker (3-5 liter size).
Add salt and 1½ cup water in pressure cooker and pressure-cook them over high flame. When 1 whistle is over, reduce flame to medium and cook for another 3 whistles.

Do not open its lid immediately. Let it cool for 7-8 minutes or until pressure comes down naturally. This process is not only for the safety but also required to cook dal properly. Open the lid and keep cooked dal aside until needed. Do not blend or mash them.

Now prepare spicy sauté. Heat ghee in a pan over medium flame. When it is hot enough to sauté, add cumin seeds, red dried chillies, cinnamon and cloves. When seeds begin to crackle, add chopped onion and stir-fry over medium flame until it turns light brown or for approx. 1 minute.

Add crushed ginger, crushed garlic and finely chopped green chilli; sauté for 20-30 seconds.

Add finely chopped tomatoes and salt (only required to soften tomatoes); cook until tomatoes turn tender.

Add garam masala, coriander powder, red chilli powder, turmeric powder; mix them properly. Add pressure-cooked dals; mix and cook for a minute.

Add lemon juice, 3/4 cup water and cook on medium flame for 4-5 minutes. Stir in between occasionally to prevent sticking.

Turn off flame and transfer prepared daal to bowl. Garnish it with finely chopped coriander leaves.
Tips and Variations:
If you do not like the whole cooked dals texture, then you can mash or blend them using blender or back of the large spoon.
This simple and delicious recipe uses ghee, however, you can also use oil or butter too.
For yet another variation of punjabi style dhaba dal fry, use 1/4 cup chana dal and 1/4 cup toor dal instead of using all types of dal used in this recipe. Directions for making daal fry remains the same.
Serving Ideas:
Dal fry and tandoori roti is a staple food in Punjab and Haryana and typically served in most of the road side dhabas. It tastes best with jeera rice, glass of salted lassi and onion cucumber salad. The more modern and affluent people love to eat it with butter naan or paneer kulcha.
Other Step by Step Recipes
---
31 Comments
---
Mar 21, 2018 by Rajesh N Rathod
Rustic --yummy --delicious

---
Jan 24, 2018 by Pradeep Dey
Appreciate your explanation why salt is added after tomatoes are introduced. Pl explain the function of citrus (limbo) addition...it helps to understand the use better

Response: Nimbi (Citrus) gives balanced savory taste and flavor.
---
Dec 04, 2017 by Jaya
Your recipes are simple and achievable. Great

---
Sep 25, 2017 by jayati khatri
Hi,
this recipe is very tasty. Thanks for sharing.

---
Jul 21, 2017 by Gayatri Jayanth
Like all ur recipes.

---
Oct 29, 2016 by Diana Dsilva
Very Excellent recipe. I have made the dal fry and dal tadka several times. My whole family loves it. It has become a regular menu. Thanks a lot.

---
Oct 06, 2016 by Vaibhav shivram vaze
It is the best site for food loving people.

---
Aug 06, 2016 by Neeraj
Excellent recipe, kindly send your app for Android.

Response: Hello Neeraj, we are currently working on making the app for foodviva.
---
Jun 20, 2016 by Rohh
If I don't have any pressure cooker..how can I cook the dal?

Response: You can cook the dal in a deep pan. Add soaked dals, water and salt in a deep pan and boil it until mushy. However, this method will take more time compared to pressure cooker.
---
Mar 04, 2016 by Baig
For the first time I cooked dal and its turns out to be awesome, thanks for the recipe.

---
Nov 30, 2015 by Alpana patil
Lovely recipe and thanks for this recipe..
Every time I tried making hotel type dal but failed..but going thru your blog I easily prepared with same taste.

Thanks a ton...

---
Oct 21, 2015 by Rushda
This website saves me from a lot of embarrassment. Thanks a lot....you guys rock.

---
Sep 29, 2015 by Mala vijay lumar
Suprerb.......before seeing I thought dal fry is toughest dish but after preparing only I came to know it is easy and delicious. Thank you for your help.

---
Aug 08, 2015 by nitisha kadam
It is too yummy. I tried it today. It gave me taste of hotel wala dal fry.

---
May 26, 2015 by Bhavika
I like this recipe. But tell me, can we use only mung dal for dal fry?

Response: Hi Bhavika, mix dals are used to make dal fry. If you use only moong dal, taste and texture will change.
---
May 12, 2015 by Sandy
Tried it second time, everyone loved it at home. Next time, I decide to prepare dal, it would be this dal fry. Thanks for sharing :)

---
Jan 03, 2015 by Shina
This recipe definitely looks delicious.
I want to ask if I can make it with only toor dal and masoor dal? Thank you.

Response: Hi Shina, you can make it with toor dal and masoor dal. You can use dals in any combination according to the availability.
---
Oct 15, 2014 by Vanessa
What if I don't want to use the pressure cooker?

Response: Hi Vanessa, if you do not want to use pressure cooker, you can cook it in a deep pan (with lid). If you want to cook in a pan, first soak all the dals together in hot water for at least an hour before cooking and then cook them with water and salt in a pan until soft. Cover the pan while cooking to speed up the cooking. Check in between and if required, add more water while cooking.
---
Oct 01, 2014 by pavitra
looking yummy.. I\'m a fan of punjabi food.. this is one site which offers you a lot of punjabi recipes.. thanks food viva

---
Sep 12, 2014 by Caroline Almeids
I\'m just going to try this recipe and I\'m sure its going to turn out super. After reading all the other comments I\'m sure. Thanks for sharing.

---
Sep 10, 2014 by krithikka ramalingam
I am a south Indian, my husband and son like to taste new dishes. so when i was googling, I found your site with the dal fry recipe with all daals, it was good, the dish had come out very well, thank you so much.

---
Aug 23, 2014 by Kushi
Today I was preparing food at my in-laws home
and I was making dal rice. Actually I am jain and my fiance is punjabi.
By the time I was making dal my fiance came and said "baby please make dal tadka for me"
I don't know how to make it and I googled and I got this recipe...
I made dal tadka only with toor dal but it was very yummmmm. I couldn't believe that I made so yummy dal tadka that to for the first time...
everyone loved it!
Thanks a lot for sharing this yummy recipe...!

Response: .
---
Jul 05, 2014 by Pradeep
Excellent dal. Loved it. Goes well with naan roti.

---
Jun 10, 2014 by simran shaikh
hey i tried out this recipe especially for my papa n he just loved it.

---
Sep 21, 2013 by pradnya
Could never make daals well, so had given up, this was a life saver!!! A big thank you :)

---
Jun 13, 2013 by a.k.santhosh
its awesome site. food viva helped me a lot..and introduced me to a ocean of dishes..

---
Mar 11, 2013 by kitchen queen
hey i tried your lasania bataka and will try this for sure. do visit me too.

Response: Thanks a lot for trying our recipe and letting us know about it. You blog is good too.
---
Mar 11, 2013 by Hamsamalini
Healthy and yummy side for Chapathi. Love to have a spoon of hot ghee over it.

---
Nov 06, 2012 by vidya11234
I like this dal fry recipe very much. It"s awesome.
Excellent taste!!!!!
Thks.

Response: Thank You Vidya! We appreciate that you placed a faith in our hard work and tried the recipe and took out time to give us a feedback.
---
Oct 07, 2012 by Geetha
Absolutely awesome.....

---
Jul 28, 2012 by Lakshmi
I could never get sick of daal fry recipes, it can be enjoyed with almost any indian breads and I always store it in refrigerator because my love for daal fry always comes back. This looks so dense and delicious!

---