Aloo Paratha is a delicious shallow fried Indian stuffed bread popular among all generations of people across length and breadth of India. Contrary to popular belief, Punjabi aloo paratha can be easily prepared at home as this recipe uses ingredients that are found in every Indian kitchen. Plus, the detailed instructions with step by step photos will make it a breeze to cook like an expert.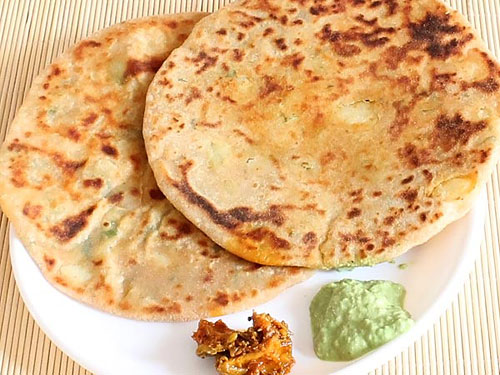 Preparation Time:
15 minutes
Serves:
2 servings (6 paratha)
Ingredients:
1 cup + 1/2 cup Wheat Flour
2 medium Potatoes, boiled and peeled
4 tablespoons finely chopped Coriander Leaves
1 teaspoon Lemon Juice
1 teaspoon Sugar
2 Green Chilli, finely chopped
1 teaspoon Garam Masala
1 teaspoon Red Chilli Powder
1 teaspoon grated Ginger
2 tablespoons Oil
Butter, for serving
Salt to taste
Water, as needed
Directions:
First prepare dough by taking 1 cup wheat flour, 1 teaspoon oil and salt in a small bowl. Incrementally add water in small quantities and knead smooth and soft dough (like chapati dough). Grease its surface with 1/2 teaspoon oil, cover it with clean muslin cloth and set aside for 15-20 minutes to settle at room temperature.

Now, prepare alu paratha stuffing. Take the boiled potatoes in a medium bowl and mash it until no chunks of potato. Add chopped green chillies, red chilli powder, grated ginger, garam masala powder, sugar, lemon juice and salt. Mix all ingredients properly.

Divide stuffing into 6 equal parts and give them a shape of ball. Divide prepared dough into 6 equal parts, give them a round shape and press a little to flatten like pattie.

Take 1/2 cup dry wheat flour in a small plate for dusting. Take one dough pattie and coat it with dry wheat flour on both sides. (It will prevent dough from sticking to rolling board). Put it on rolling board/roti making board (chakla) and roll it out into a circle of approx. 4-5 inch diameter using rolling pin. Put one portion of stuffing in the center of it.

Wrap stuffing ball by lifting all sides of rolled circle towards top, seal the edges and again give it a round ball shape.

Gently press stuffed ball on rolling board and dust some dry flour over it.

Roll it out into circle of 6-7 inch diameter (like roti or chapati). Do not make it very thin by pressing it too much.

Place it on a hot tava/griddle and cook over medium flame. When tiny bubbles starts to rise on the surface, flip it and reduce flame to low.

Spread 1/2 teaspoon oil around its edge with the help of spatula and cook for approx 30-40 seconds.

Flip it again and spread 1/2 teaspoon oil around its edge. Press it with spatula and cook for 30-40 seconds over medium flame. Repeat flip and press process until golden brown spots appear on both sides of paratha. (No need to spread oil after doing it once in previous steps).

Transfer it to a plate and spread butter on it. Prepare remaining aloo parathas by following same process. Serve it with tomato raita and pickle.
Tips and Variations:
Knead very smooth dough to roll them out easily. Use milk instead of water to knead dough for softer outer layer.
Mash potatoes properly and weed out chunks, if any. This will help rolling them out smoothly.
Avoid green chilli if you are preparing it for kids.
Add mint leaves or crushed ginger-garlic in stuffing for spicier taste.
Based on type of tawa/griddle you are using, you might have to adjust heat intensity while shallow frying.
Serving Ideas:
Aloo ka paratha is typically served with pudina chutney and curd or with tomato raita and aloo matar paneer in lunch or dinner. However, you can enjoy it with pickle and tea as well in breakfast. Wrap it in aluminium foil and give it in your kids in lunchbox as a healthy snack.
Other Step by Step Recipes
---
29 Comments
---
Mar 07, 2018 by Priya Jadhav
All paratha is very nice thank you

---
Jan 11, 2018 by dirlraj
very nice. Rock hard. Cool.

---
Nov 17, 2017 by Shreya
Tasty and easy. Thanks.

---
Oct 02, 2017 by Subrat
Your recipe and pictures are excellent. Alu Paratha & Pav Bhaji came out very tasty. Thanks.

---
Aug 23, 2017 by Divya
Very nice and easy recipe, thank you.

---
Aug 01, 2017 by Nagarani
Very much interesting and it's very easy to do. Thank you.

---
Jul 04, 2017 by fathime
Whatever u have given directions are too easy and good...I love it.

---
Jun 30, 2017 by Prakash
Aloo Paratha....came out very nice. Thanks.

---
May 15, 2017 by Sara
When I make paratha they become soggy. How to keep it fresh after cooling down.

Response: Hello Sara, if you want to make non soggy paratha, keep the outer layer thick and roast it using more oil.
---
Apr 16, 2017 by GANGA SAGAR
Very nice and easy to understand.

---
Dec 30, 2016 by MADHURI MILIND BHAWARE
Thanks for recipe! app ki recipe se pariwar me bahut tarif kari again Thanks for delicious recipe!

---
Nov 03, 2016 by avantika
Simple and tasty. Easy and fantastic to cook.

---
Oct 02, 2016 by Nasree ameen
Awesome..the recipe was.. Enjoyed making paratha.

---
Jun 10, 2016 by shilpa pramod
I prepared for my sweet hubby and it was like yummy.. Now he like allo paratha your style. Thank you so much for teaching me this beautiful simple recipe...

---
May 04, 2016 by Reehana
I only saw this recipie in tv channels or in restaurant but now I can eat in my home also. Thank you.....

---
Apr 09, 2016 by Michelle
Hi, do I use boiled water or cold water to make the dough.

Response: Hi Michelle, use normal water at room temperature to make the dough.
---
Oct 04, 2015 by Sabitha Bhat
I prepared this for my co-sisters birthday and it was so nice that everyone in my family enjoyed it. Fantastic.
by sabitha bhat

---
Aug 03, 2015 by Kantha
Hi, thank you for this super simple recipe of aloo paratha. My family could not believe I made it. It was so divine.

Response: Thank you Kantha for trying the recipe.
---
Jul 25, 2015 by Shabana
Looks tasty :)
Definitely going to try this!

---
Jun 29, 2015 by Tripti
Every one enjoyed aloo paratha that I prepared using this recipe. Adding curd to dough was a good tip. It tasted dhaba style. Thanks for sharing the recipe.

Response: Thank you Tripti.
---
Jun 24, 2015 by Monika singj
Thank you so much foodviva.. With the help of this, I learned cooking in 1 month.

---
Jun 12, 2015 by Charan
To eat roti, I always have to go to the restaurant but now I can make it my own at home. Thank you.

---
Feb 21, 2015 by Jeni
Nice. I love this recipe...

---
Jan 23, 2015 by Agni
Hi just want to ask do I use warm milk or cold ? Thanks.

Response: Hi, you can use milk at room temperature (not chilled) or little warm milk to bind the dough. If you do not want to use milk, you can add 1 tablespoon curd instead of it.
---
Jan 20, 2015 by Harika
Thanks for giving such an easy and quick snack recipe.

---
Dec 27, 2014 by Tasmiya Firdose
Thank you very much. It's very helpful. I loved it.

---
Oct 11, 2014 by Bibek
Thanks a ton for aloo paratha recipe. Being a bachelor, new recipes are so good to make & to eat and it is a great stress buster...thanks from the bottom of my stomach

---
May 29, 2014 by Vaishali
Love it. Thanks...I always wanted to learn this recipe as i loved it very much and its one of my favourite.

---
Aug 22, 2012 by Ala
About the only thing (sadly) that I can handle in Indian cuisine is the bread-based stuff, so I was really glad I came across this post. Thanks for sharing--guess it'll be Indian dinner in this house this week after all!

---