Vegetable Biryani prepared in a traditional Hyderabadi Dum Biryani style is a Vegetarian's dream come true for enjoying the famous dum biryani. Traditionally, it is prepared in 3 basic steps in which first step involves cooking basmati rice with aromatic whole spices, second step involves cooking vegetables with various Indian masala or spice powders, whole spices and curd, and the last step involves cooking layered cooked rice, cooked vegetables and fried onion in a container using dum method. In dum cooking method (pressure cooked effect), food is slow-cooked in a sealed container (a pot having tight fitting lid or edges of pot sealed with wet wheat flour dough), which allows food to slow-cook in its own steam and juices making it highly flavorful and aromatic. In the first glance, you may feel that this vegetable biriyani recipe requires so many ingredients but don't let it fool you, it will take only 35 minutes to cook and flavor, aroma and texture of final dish will blow your mind and taste buds away making it worthwhile to try this recipe.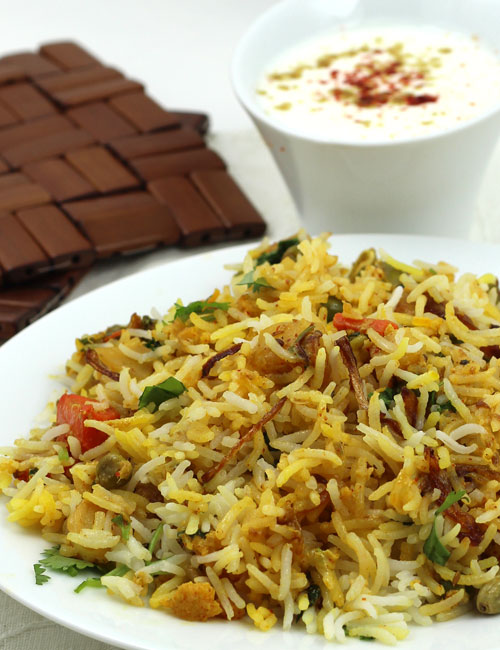 Preparation Time:
15 minutes
Ingredients For Rice
3/4 cup Basmati Rice (long grained rice)
2 Green Cardamoms
1 Black Cardamom
2 Cloves
1 small piece of Cinnamon
1 small Bay Leaf
Salt to taste
For Gravy
1 small Potato, chopped
1/2 cup chopped Cauliflower
1/4 cup chopped Carrot
1/4 cup chopped French Beans
1/4 cup Green Peas (fresh or frozen)
1 medium Onion, sliced
1-2 Green Chillies, seeded and cut lengthwise
1 teaspoon Ginger-Garlic Paste
4-5 Black Peppercorns
1 Green Cardamom
1/2 teaspoon Cumin Seeds
1/2 teaspoon Red Chilli Powder
1/8 teaspoon Turmeric Powder
1 teaspoon Cumin-Coriander Powder
1/4 teaspoon Garam Masala Powder
1/2 cup Curd (beaten)
2 tablespoons Coriander Leaves
3 tablespoons Oil
Salt to taste
Assembling
1/4 cup Fried Onion
1 tablespoons Ghee
8-10 Saffron Strands, soaked in 1 tablespoon Warm Milk
8-10 Mint Leaves, chopped (fresh or dry), optional
2 tablespoons Coriander Leaves
Tips to prepare biryani in lowest possible time.
First soak the rice in water.
Then prepare the gravy.
When gravy is half cooked, start to cook the rice.
Assemble rice and gravy and cook again.
Directions for Preparing Gravy:
Cut all the vegetables as shown in the photo. Do not cut them into very small pieces. Soak 8-10 saffron strands in 1- tablespoon warm milk. Prepare fried onions by following this recipe.

Heat 3-tablespoons oil in a pan over medium flame. Add 1 sliced onion, 1-2 green chilies, 1-teaspoon ginger-garlic paste, 4-5 black peppercorns, 1-green cardamom and 1/2 teaspoon cumin seeds. Stir-fry them until onion starts to turn light brown.

Add 1 chopped potato, 1/2 cup chopped cauliflower and 1/4 cup chopped carrot. Stir-fry for 3-4 minutes.

Add 1/4 cup chopped french beans, 1/4 cup fresh or frozen green peas and salt. Mix well and cook covered until vegetables are almost cooked. It will take around 5-7 minutes. Stir occasionally in between to prevent sticking.

Add 1/2 teaspoon red chilli powder, 1/8 teaspoon turmeric powder, 1 teaspoon cumin-coriander powder and 1/4 teaspoon garam masala powder. Stir and cook for a minute.

Add 1/2 cup beaten curd and 2-tablespoons chopped coriander leaves.

Mix well and cook for a minute. Turn off the flame and keep the gravy covered until rice is cooked.
Directions for Cooking Rice:
Wash 3/4 cup rice in water for 3-4 times and then soak in water for 15 minutes. After 15 minutes, drain water and keep rice aside.

Pour 3-4 cups water in a deep pan or a pot and bring it to boil over medium flame. When it comes to boil, add drained rice, 2 green cardamoms, 1 black cardamom, 2 cloves, 1 small piece of cinnamon, 1 small bay leaf and salt. Boil for around 7-8 minutes or until rice grain is around 85% cooked. Do not over cook the rice as they will be cooked again in later steps and we want each rice grain to be fluffy and separate.

Transfer cooked rice to a colander and drain excess water.
Directions for Assembling the Biryani Layers:
We will make four layers in biryani – two rice layers and two gravy layers. If you are preparing it in larger quantity, make more layers. Make sure that the vessel or pan has a flat heavy based bottom (to prevent sticking of rice), deep enough to have 4 layers and can be sealed with lid or cover. Add half of the gravy in a pan into which you want to cook the biryani and spread it evenly.

Add half of the rice over gravy and spread evenly. Sprinkle half of the saffron mixture over it.

Evenly sprinkle 1/8 cup fried onion, 1-tablespoon chopped coriander leaves and 4-5 chopped mint leaves over it.

Evenly spread remaining gravy over it to make a third layer.

Evenly spread remaining rice over it. Sprinkle remaining saffron mixture, fried onion, coriander leaves and mint leaves over it. Pour 1-tablespoon ghee (or more if desired) on sides of rice and cover the vessel or pan with a tight fitting lid. If you do not have tight fitting lid then you can use wheat flour dough (wet chapatti atta) to seal the edges. Heat the tawa over low flame, put vessel over it and cook for 12-15 minutes to get dum effect (Pan containing rice and gravy should not be put directly over heat as direct heat will burn the gravy and rice inside). After about 15 minutes, turn off the flame. Remove the lid and transfer layered vegetable biryani to the serving plate.
Tips and Variations:
Do not cut the vegetables into very small pieces, cut them lengthwise into big chunks.
Do not skip adding fried onion because it gives nice flavor to biryani.
To keep the rice grains separated, do not cook it until rice grains are fully cooked in step-2 of rice cooking directions because it will be cooked again in later steps.
If you do not like whole spices in biryani while eating then follow the tips mentioned below.

Remove whole spices from rice after cooking (in step-3 in rice cooking) and discard them (it's easy to remove them at this stage).
Use 1/4 teaspoon cardamom powder and 1/4 teaspoon black pepper powder in step-6 instead of whole cardamom and whole black peppercorns in step-2 while making gravy.

If you do not have a vessel or deep pan with tight fitting lid, you can use wheat flour dough to seal the edges and prevent steam from escaping to get dum effect.
Add dry fruits like fried cashew nuts for variation.
Serving Ideas:
 Serve hyderabadi style veg biryani with curd raita and papad in lunch or dinner. It can also be packed in a lunchbox with curd.
Other Step by Step Recipes
---
31 Comments
---
Mar 02, 2018 by Hemu
Made it today my family loved it thank u so much for all of ur recipes tried many of it all are huge success Thank u again

---
Feb 15, 2018 by Alison Maxwell
Great recipe and easy to make and follow - thank you

---
Jan 05, 2018 by Rakila praveen
Thanks for giving good instruction. It's very easy to make.

---
Dec 31, 2017 by rashmi
Lovely Recipes, I have tried some of the recipes and it came out very tasty

---
Nov 11, 2017 by neha parekh
Thank u for giving simple steps and it easy to understand.

---
Nov 07, 2017 by ros harris
Very, very good. Really clear instructions. I made this with my teenage son who is a very fussy eater and he devoured it! Looking forward to trying more of your recipes.

---
Oct 01, 2017 by Sakshi
Absolutely impressive! Easy to make! Thank you so much!

---
Jun 22, 2017 by Jeni
Very nice. Awesome taste.

---
Jun 11, 2017 by shakuntala
I loved your receipe and the tips that are given. It worked out just fine. Thank you very much.

---
Jun 08, 2017 by Komal Sehgal
All your Recipes I tried comes out very tasty. Thanks for your hard work.

---
May 30, 2017 by Jini Sanghvi
Awesome and very simple recipe.

---
May 27, 2017 by Subhadra
I am a south Indian I loved tomato rice awesome taste. Try to show as much as south Indian receipes.

---
Mar 31, 2017 by Mehak
Bht lajawaab biryani bni mjhe
ummid nh this itni achhi bnegi but meri Saas to khush hokr hi nh dikhati wese but maze Ki thi thank for the recipe or apni bht detail me di h uske liye special thanks.

---
Dec 31, 2016 by Harsha Mahajan
Do you put the lid with whistle or without whistle?

Response: Put the lid without whistle.
---
Nov 29, 2016 by Linz
I made this recipe yesterday and it was AMAZING! Hadn't had food this tasty since going all plant-based over two years ago. I don't have a tawa, so I used a simple griddle and made the seal tight between lid and pan with foil and it worked perfectly. Also substituted vegetable oil for ghee. Thank you for this recipe. Will be making it again very soon!

Response: Welcome Linz. Glad to hear that you liked it.
---
Sep 20, 2016 by Vini mehta
Hi..
I made this for dinner and it was loved by everyone...I had also tried your kashmiri pulao recipe...that too was wow...keep up the good work.. :)

Response: Thank you Vini for trying the recipes. I'm glad to hear that your family liked it.
---
Sep 17, 2016 by Vini Mehta
Tried it today, it was superbbb. Followed the recipe point by point.....best part was you have mentioned the exact ingredients in the procedure too....so one doesn't need to measure all the ingredients prior. Just missed mention of salt in the method...the ingredients of course had it.
Keep up the good work.

Response: Thank you Vini for trying the recipe and I am glad to hear that you liked the style of writing (including measurements of ingredients). Salt is already mentioned in step-4 (gravy section) and step-2 (rice section) but thank you again for pointing it out.
---
Aug 13, 2016 by Sanjeev
Recipe steps are well defined. Salt is to added during cooking vegetable also. I missed ghee/oil in last step but it has come very well.

Should we put the pan on Tawa or directly on flame (low), please advise.

Response: Hello Sanjeev, put the pan on tawa in the last step as it prevents it from sticking (burning) while cooking. Thank you for pointing out about adding salt but it is already mentioned in step-4 while cooking vegetables.
---
Jun 16, 2016 by Bhargavi ATHICOM
When to add salt?? I have not seen you adding salt ?

Response: Hello Bhargavi, salt is added in step-4 while cooking the veggies and in step-8 while cooking the rice.
---
Jun 14, 2016 by Kirti W
I tried veg biryani recipe. It turned out just like hotel. It was easy and quick to cook...would want you share some non veg recipe.

---
May 06, 2016 by Valli
I think it is nice. But can I mix the rice with vegetables, without making the layers?

Response: Yes, you can mix the rice with mixed vegetables.
---
May 03, 2016 by Sajit Khan
Pls also share recipes for non veg dishes along with cooking methods.

---
Apr 24, 2016 by Ashwini
I tried the paneer lababdar using your recipe and it turned out to superb.

---
Apr 21, 2016 by Mariyam
Hi, in the last it was said to keep a tawa and above it the pan.. Is it possible to cook like that? Isn't there any harm?

Response: Yes, keep an iron tawa and put the pan above it. Don't use non-stick tawa.
---
Apr 11, 2016 by Varsha Kamat
Thanks a lot for the easiest way of preparing Veg Biryani...

---
Nov 03, 2015 by Nathalyth
Love your website, can you add also calories estimate per serving :)

---
Sep 13, 2015 by Manoj
Thanks for the easy recipe.. living in Plettenberg Bay, Western Cape, South Africa, it's a challenge to get to Indian ingredients but we try. Your recipe looks easy and simple to meake. I do not have onions therefore have skipped them. I did not have saffron too. I am hoping the Biryani will still taste superb.. Will give it a taste one Bhoga is given to the Lord. Thanks!

---
Aug 02, 2015 by Namrata
Hi,
Will it taste good if we add full cooked rice after 7th step?

Response: Yes Namrata, it will taste good but the rice grain may not stay separate and may break because of over cooking.
---
Jul 14, 2015 by Dr madhu pandey
Your recipes rocks in my home. Hats off to you. Please post brownie recipes and more of cake and muffin recipes.

Response: Thank you. We will definitely try to upload the recipes of brownie and cake.
---
Jul 13, 2015 by Raji
Simple and crisp steps, time taken for each step, explanation on why that step is required, related clear photos, tips and variations given at the end...all these mark foodviva as one of the best sites to search for recipes....kudos to the team.

Response: Thanks Raji.
---
Jun 23, 2015 by Komal Thakur Rane
Hi sir, once again I'm very happy to see the recipe of veg dum biryani on your blog. Last time when I tried your dum aloo recipe and it came out awesome, I commented and requested you to post veg dum biryani and here it's a surprise for me. I'm really thankfully to you. I'm really going to try this out for my hubby as I'm just married and your blog always helps me to keep my hubby happy with your new delicious recipes.

Response: Hi Komal, I am happy to hear you liked the recipes on this website. Let me know how the biryani turns out.
---