If you are a plum lover, jam lover or simply a food lover, you have got to try delicious plum jam prepared with this recipe. This simple yet yummy fresh fruit jam recipe is best way to make homemade pectin free plum preserve and it tastes much better than ready-made one. Make the most out of sweet and ripe plums when they are in their prime season, prepare its jam and use it all through the year to make breakfast tastier than ever and satisfy your sweet tooth too.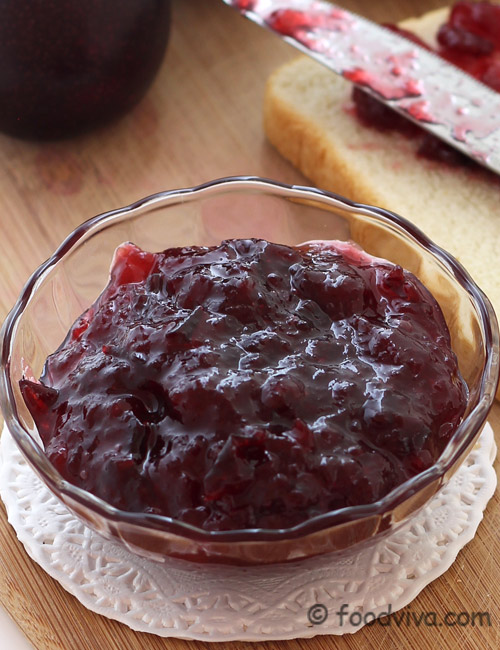 Preparation Time:
10 minutes
Ingredients:
2½ cups chopped Ripe Plums
1 cup Sugar
1½ tablespoons Lemon Juice
Directions:
Wash the plums in running water. Put 1-2 small ceramic plates in the freezer. This plate will be used to check the jam is cooked enough to set or not.

In this recipe, around 1 lb plums (4 regular size plum) are used to get 2½ cups chopped plums. Cut plums into halves and remove the pit. Chop them into small pieces.

Heat plum pieces, lemon juice and sugar in a deep pan over medium heat.

Stir continuously to completely dissolve the sugar, it will take approx. 4-5 minutes. If plums are not juicy enough, add 2 tablespoons water to dissolve the sugar.

Let the mixture cook over medium heat. When it starts to boil, reduce the heat and simmer uncovered until plum becomes soft and tender. Stir occasionally in between to prevent sticking. The color of the plum pieces will turn darker when they cooked.

Cook until mixture turns thick.

Now, remove the ceramic plate from the freezer and place a bit of the jam over it. Again, put this plate in freezer for a minute and then remove from it. Test the jam, run a spoon or your finger through the jam and if it leaves the track clear, it is ready. If it is not, cook again for 4-5 minutes and test again.

Remove pan from heat and allow mixture to rest for 1-2 minutes. Almost 1½ cups jam will be prepared. Plum jam is ready for any time relish. You can store it in an airtight container in refrigerator without canning process or follow the given steps for canning process.

For canning process, pour prepared hot mix into sterilized jar. Leave 1/2 inch space in jar and seal with lids. Process jar for 8-10 minutes in boiling water bath. Let it cool and store in a cool, dark place for long term storage.
Tips and Variations:
This recipe does not use pectin but you can use small amount of pectin to set the jam.
Add grated ginger along with lemon juice and sugar to prepare ginger flavored plum jam.
Taste:
Sweet and mild sour
Serving Ideas:
It can be used as a spread for sandwiches, bread etc. Use it as a spread on sourdough or for making layers in cake.
Other Step by Step Recipes
---
29 Comments
---
Oct 02, 2017 by Victoria
I'm a diabetic n would really love a diabetic version...
I just made some plum jam.
And it was fantastic but it had A LOT of sugar for me.

---
Sep 03, 2017 by Valerie Russell
This is the best recipe ...I have just finished a second (triple the amounts) batch. Absolutely delicious and so easy to make.

---
Aug 28, 2017 by Khurshid Khan
How can I soften the jam, may be I over cooked it otherwise it tastes delicious.

Response: Mix the jam with hot boiling water and cook it again to soften it. Make sure to try that in small batches.
---
Aug 23, 2017 by Dorothy Christensen
I have many wild plums. Can I use this reciepe without the pectin.

Response: Yes, you can use wild plums.
---
Mar 03, 2017 by Zaira
Absolutely perfect! This was my first attempt on making a jam and it has turned out beautiful! I added just a dash of all spice to it rather than ginger.. but I must say this jams tastes a million times better than any store bought one.. and why wouldn't it it has no chemicals .. preservatives which can't even be spelled! Thank you for this simple yet perfect recipe!

---
Jan 20, 2017 by Shirley
Wow this is the first jam I have made without any failure. The jam is yummy and the texture is perfect. spreads just like a shop brought jam. Thank you for posting this easy peasy, tasty plum jam recipe. I m off to make another batch hehe.

Response: Thank you Shirley for trying the recipe. Glad to hear that you got the perfect texture and taste of the jam.
---
Jan 18, 2017 by Amanda
I made this recipe just as written. It was simple with very good results.

Response: Thank you Amanda for trying the recipe.
---
Jan 16, 2017 by Judy McCrea
Could I use frozen plums?

Response: No, you cannot use frozen plums.
---
Sep 01, 2016 by Lorraine
Lovely recipe. Turned out exactly as you described. I used Italian prune plums...my fav!

Response: Thank you Lorraine for trying the recipe and sharing the feedback.
---
Aug 31, 2016 by Heidi
So I have a golden plum tree in my yard and I wanted to try a non-pectin jam with it. My plums must be much juicier than the purple/red plums you're using in the photo because it took my jam 1.5-2 hours to cook down and thicken. The flavor is much deeper as it's kind of carmelized now, which I don't think I like as much as the milder sweet version I get with the less cooked, pectin added, recipes. I might consider straining just a little bit next time and see if that helps with the cooking time. Any other suggestions?

Response: Yes Heidi, you can strain the juice a little bit to reduce the cooking time. When you make this next time, 1. don't use overripe plums, 2.use the broad pan and 3. cook jam in small batches (instead of cooking in a single large batch) to get the more natural fruit taste.
---
Aug 29, 2016 by Sondra Robinson
My plums are just a tad firm, did you do your plums when they were soft?

Response: Hello Sondra, I generally made the jam when the plums are either slightly under ripe or ripe but not very soft.
---
Aug 26, 2016 by Leslie
I made your jam yesterday and am happy with the results. We had a lot of Italian plums from our tree. After giving loads away, eating them and making a tart and chutney, I decided to try jam. I tripled the recipe. My only complaint is that the lemon flavor sort of drowns out the plum flavor. Ideas?

Response: Thank you Leslie, for trying the recipe. Sometimes, the jam has a mild lemon flavor when the plums are not sweet enough. If you don't like the lemon flavor you can make the jam without it, but you have to keep it in the refrigerator and consume within a month.
---
Aug 26, 2016 by Noreen
I just made this and it turned out great! Used to always use pectin, but I think this will be better. If you don't get the pectin recipe exactly right, you can end up with rubbery jam. I use the little purple plums that have a big pit. With 9 cups of plums I added about 1/2 as much sugar. (4 cups) Took about 45 minutes to thicken, and I got 5 8oz. jelly jars and one 12 oz. jar.

Response: Thank you Noreen, for trying the recipe and writing the feedback. I am glad to hear that it turned out well.
---
Aug 23, 2016 by Barbie
May I use honey instead of sugar?

Response: No, you cannot use honey instead of sugar in this recipe.
---
Aug 17, 2016 by Jenna
How much jam will this recipe make?

Response: Hello Jenna, this recipe makes approx. 1½ cups jam.
---
Jul 29, 2016 by Susan Pettibone
A question about a slightly different method regarding original cooking of plums. I've been making plum (or when I used to grow them, damsons) jam for several years, but every year I have to research a good recipe! Some years, I get a thickened liquid, other years excellent jam. They all taste great, special. My question is: Is it better to cook the plums (in a tiny bit of water, if needed) first for ten or fifteen minutes BEFORE adding sugar? Or does the addition of sugar right at the beginning of cooking contribute to the plums jelling (with no pectin, using their own pectin) properly? My usual amount of plums per cooking is about four cups of plums. I usually add about three cups of sugar when I add the sugar, after cooking the plums alone for some time. Then I simmer the plums and sugar for twenty minutes or so, till it appears to jell. Can you advise? Thank you!

Response: Hello Susan, I am sorry because I am not able to give you the answer as I always make the jam by cooking the plum and sugar together. I have never made the jam by first cooking the plum and then adding the sugar. As per my view, there is no need to cook plums with water. If the plums are less juicy, mix them with sugar and keep in the refrigerator for 5-6 hours before cooking so, the released plum juice would be enough for cooking.
---
Jul 20, 2016 by Aileen Burbridge
I am currently asking this plum jam. It has been in the simmer stage now for over 45 minutes and doesn't seem to be thickening. I used 8 cups plums to 3.25 cups sugar and correct amount of lemon juice. Is it taking longer because the batch is bigger and of so, how much longer ?

Response: Yes Aileen, it will take longer time because of the bigger batch. If you are cooking it in a bigger batch, cook it over medium heat until it turns little thick to speed up the process and then simmer it until it's done.
---
Jul 20, 2016 by Mary Morgan
What altitude are your canning processing times for?

Response: Hello Mary, canning processing time (10 minutes) given in this recipe is for 1000 ft - 6000 ft. For below 1000 ft, canning processing time is 5-minutes and for above 6000 ft, canning processing time is 15 minutes.
---
Jun 22, 2016 by Sophia
I made plum jam, the first time I made it with pectin, and the jam will not set. It is still thick juice. What can I do to make the jam thicker?

Response: Hello Sophia, If you are preparing the jam with pectin, follow the exact instructions given on the pectin box. When you try the jam next time, cook it a little bit longer before adding the pectin.
---
Mar 02, 2016 by Anna
Fantastic recipe, it looks so easy! Just a quick question, do you peel the plums or leave them unpeeled?

Response: Hi Anna, plums are used with skin (unpeeled) in this recipe.
---
Sep 17, 2015 by Kimberly
I made this jam about a month ago (my first time canning!) and it turned out wonderfully! Your directions were easy to follow and it tasted great. I'd like to cut the sugar in my next batch. If I use 1/2 the sugar will it still set up and preserve well?:)

Response: Hi Kimberly, thanks for trying the recipe and I am happy to hear that your jam turned out wonderful. You can reduce the sugar and make the jam but you cannot preserve it for long time (canning). You can store it in the refrigerator for a month.
---
Sep 05, 2015 by Carollee Allen
What are the proportions of plum:sugar?
Can this be made in larger quantities? I have 8 cups of chopped plums to use & more on the tree.

Response: You can use 2½ cups chopped Ripe Plums:1 cup sugar :
---
Aug 10, 2015 by Keely
I just tried this recipe and I loved it! Thank you. My jam tastes amazing! And as a first time jam maker, I say my first try was awesome, thanks to your simple instructions!

---
Jul 21, 2015 by Crystal Howard
Can I freeze this recipe? Or how long will it last in the refrigerator?

Response: Yes, you can keep this jam in refrigerator for up to 6-months.
---
Jul 03, 2015 by LisaT
So excited to try this today -- my mother used to make plum jam and it was the greatest thing in the WORLD! Thank you!!

---
Apr 21, 2015 by Marcella
Can you use dried plum in this recipe?

Response: Hi Marcella, I don't have any idea about how to use dried plum to make jam.
---
Feb 06, 2015 by Katie Kay
I tried this plum jam recipe today, as I had 1 kg of plums that I felt they were not going to be eaten. Delighted with the result and it didn't require a whole lot of fruit or time! And, it tastes wonderful! Thank you.

Response: Thanks Katie for positive feedback.
---
Dec 20, 2014 by Ainsley
I made this with my beautiful plums when they were just ripe but still sour. I made 5x the quantity and but only used 4x the sugar. After tasting it as it was just beginning to gel, it was delightfully tart, and sweet at the same time. I added 1 cinnamon stick, a very small amount of ground cloves and ground star anise for the remainder of the cooking time. It made a lovely Christmas relish to have with my festive meats.

Response: Thanks Ainsley for trying the recipe.
---
Sep 16, 2014 by Dorothy McLeod
I put some crystallized diced ginger and about 1/5 tsp of nutmeg in mine and it is delicious!

---