Cakes are generally made with Egg to give it a soft and moist texture. However, for strict vegetarians, vegans and allergic person, this is a problem and can not enjoy the cake. This Eggless Chocolate Cake Recipe makes soft and spongy cake without using eggs, butter and condensed milk and provides directions with step by step photos. Additionally, this recipe also uses brewed coffee to give it a deep choco-coffee flavor and explains how to make chocolate ganache and use it as a cake frosting to make it even more tempting.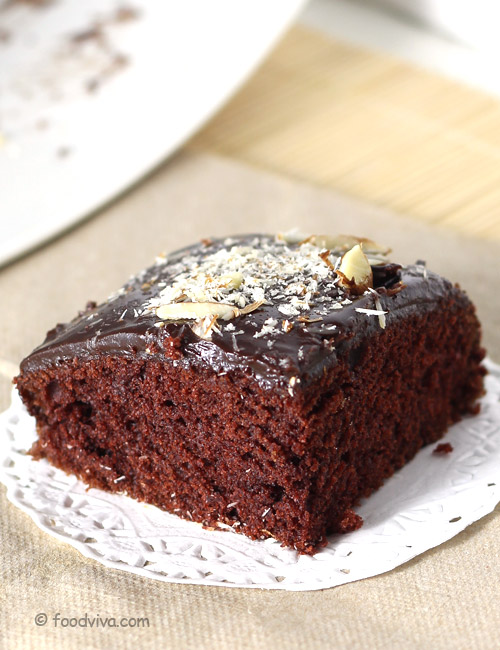 Preparation Time:
 15 minutes
Ingredients for Cake:
3/4 cup Maida/All Purpose Flour
1/2 cup granulated Sugar (or 1/3 cup)
2 tablespoons Cocoa Powder (unsweetened)
1/2 teaspoon Baking Soda
A pinch of Salt
1/2 cup Brewed Coffee (mix 1/2 cup warm water with 3/4 teaspoon Instant Coffee Powder or Espresso Powder)
3 tablespoons Sunflower Oil or Light Olive Oil
1½ teaspoons Lemon Juice or Vinegar
1/4 teaspoon Vanilla Extract or 3-4 drops of Vanilla Essence
Ingredients for Frosting
2 oz (55 gram) Chocolate Chips (or chocolate)
1 tablespoon Butter
2½ tablespoons Full Fat Milk
2 tablespoons sliced Almonds, optional (for garnishing)
Note:
To make chocolate cake for 8 servings, double the quantity of all ingredients, use 8-inch square pan or 9-inch round pans and bake the cake for 35-40 minutes instead of 30 minutes.
Directions:
Preheat oven to 350 F (180 C). Make brewed coffee; mix 3/4 teaspoon instant coffee powder with 1/2 cup warm water. Add brewed coffee, oil, lemon juice (or vinegar) and vanilla extract in a bowl and mix well.

Sift all purpose flour (maida), cocoa powder, baking soda and salt in another bowl. Add sugar. If sugar has large granules, grind it in a grinder until powder.

Mix well.

Pour wet ingredients mixture into flour mixture.

Mix using a wire whisk or a spatula. Don't over mix.

Mixture should be thin and lumpy. It should not be very thick.

Grease inside surface of baking pan (6.5 inches square pan) with oil or butter. Pour batter in it.

Place baking pan in pre-heated oven and bake for 30 minutes. Remove pan from the oven. Check whether the cake is cooked or not by inserting a bamboo skewer (toothpick) in the center and pulling it back. If it comes out clean, cake is cooked. If it does not, then cook it for 5 more minutes.

Let chocolate cake cool-down to room temperature. Run the knife on sides of the cake. Place cooling rack or a plate over the pan.

Flip the pan and rack together to easily remove the cake. If cake doesn't come out easily, tap the pan gently.

Now, it's the time for frosting. Take chocolate chips or (chopped chocolate) in a bowl.

Heat butter and milk in a pan over medium flame.

Bring it to boil and cook for a minute.

Turn off the flame. Pour the mixture over chocolate and let it stand for 2 minutes. Since the mixture is hot, chocolate will melt.

Mix it using a wire whisk until it turns smooth and shiny. Mixture will look dull in the beginning but it will turn shiny as shown in the photo after thorough mixing. Ganache frosting is now ready.

Spread aluminum foil and place cooling rack over it and then place cake over it. Foil will catch the excess ganache drips while frosting in next step. If you do not have a foil, use a plate to prevent the mess.

Pour ganache over the cake and spread it evenly with a knife or a flat spatula.

Sprinkle some sliced almonds over it if desired. Let it rest for 1-2 hours. Eggless Chocolate cake is ready. Slice it and serve.
Tips and Variations:
Make sure that cooking oil being used doesn't have strong smell. We recommend to use Sunflower or light olive oil.
To make chocolate cake for 8 servings, double the quantity of ingredients, use 8-inch square pan or 9-inch round pans and bake the cake for 35-40 minutes instead of 30 minutes.
Garnish the cake with powdered sugar if you don't want to make Chocolate ganache frosting.
Don't reduce the quantity of lemon juice.
Do not replace baking soda with baking powder.
Taste:
 Sweet and chocolaty with soft and moist texture.
Serving Ideas:
 Serve it as a dessert after dinner or make it for the kid's birthday party. Enjoy it with vanilla ice-cream or on its own.
Other Step by Step Recipes
---
15 Comments
---
Mar 08, 2018 by Shabnam Gupta
An appreciable recipe that helped me to make an astoundingly delicious cake.

---
Jan 11, 2018 by Jagruti yewale
Mam plz post eggless cupcakes n cake cream recipe

Response: We will try to post it soon.
---
Jan 10, 2018 by Vijaya
Thanks for the recipe.I tried the cake today and it came little more fluffy.. My son is allergic to eggs so I am searching for eggless cake from long time.thanks a lot it really made my day.

Response: Thank you Vijaya for the feedback. Comments like these helps us keep going.
---
Nov 27, 2017 by Trupti
I tried this cake on ma daughter birthday... Its perfect n yummy.. Thank u..

---
Jul 25, 2017 by Deepti
What is the measurement of a cup according to this receipe

Response: Hello Deepti, 1 cup = 250ml is used in all the recipes to measure the ingredients on this site.
---
May 31, 2017 by ruchi
Are cooking soda and baking soda same? Can I use cooking soda in cake?

Response: Yes, cooking soda and baking soda are same.
---
Apr 20, 2017 by Pooja Shree R
Hi,
In case if the mixture looks thick what can be added to make it thin?
Thank you.

Response: Hello Pooja, you can add the mixture of oil and water (half oil and half water) to make it thin.
---
Mar 20, 2017 by Payal
Hi,Can this recipe be used to make vanilla flavoured cake instead of chocolate? Will it be tasty? Will it be spongy? And if yes than what will be the procedure to cook vanilla flavoured cake using this recipe?

Response: Hello Payal, follow the given recipe link to make spongy eggless vanilla cake.
---
Jan 03, 2017 by Deepanjali
Whenever I try to make my cake in oven it just get burn in 30min. I want to know why this happens.

Response: Hello Deepanjali, follow the given instructions to prevent the cake from burning.
1. Place the cake tin on middle rack in the oven.
2. Bake the cake at little bit low temperature (10-20 C lower) than mentioned temperature in the recipe.
3. If it starts burning from the top but uncooked from inside, cover it with aluminum foil from top and cook further.
---
Dec 31, 2016 by Aaaradhya
Hello, I tried the recipe. It's nice but I didn't get the sponginess In the cake. Plz let me know where I go wrong or what ingrident increase the sponginess?

Response: Hello Aaaradhya, follow the given tips to make the cake spongy.
1. Make sure that baking soda is not expired.
2. Don't skip or reduce the amount of vinegar/lemon juice.
3. After mixing wet and dry ingredients, immediately place the batter in oven for baking.
4. Baking soda reacts with the vinegar/lemon juice that makes the cake spongy.
---
Oct 12, 2016 by Sunidhi
Can I use dairy milk chocolate instead of choco chip and can I bake the cake in a microwave bowl?

Response: Yes, you can use the dairy milk instead of choco chips. You can bake the cake in any oven safe bowl (any metal bowl or any oven safe glass bowl). You need to check the bowl whether it is oven safe or not before using.
---
Oct 07, 2016 by Smita
Can I replace maida with wheat flour. Will it give same taste?

Response: Hello Smita, if you replace the maida with wheat flour, the cake will turn little dense.
---
Sep 21, 2016 by Layla
Hello, can I substitute baking powder for baking soda? I can rarely find baking soda in my area. :(

Response: No Layla, you cannot substitute baking soda with baking powder. Baking soda is also known as soda (that we generally used in cooking to make pakoda, dhokla etc.), soda bai carbonate, saji na phool, mitha soda etc.
---
Sep 04, 2016 by Sara Roy
Ohh wow it's look yum, thanks for sharing this cake recipe.

---
Aug 26, 2016 by Rohini kohli
Hello
I want to bake cake in a 8-inch pan, what would be ingredients measurement ?

Response: Hello Rohini, double all the ingredients and bake it for 35-40 minutes instead of 30 minutes.
---