This is a tantalizingly sour dahi kadhi prepared with besan, curd and delicious besan pakora. Compared with other kadhi recipes, kadhi prepared with this recipe has simply irresistible texture that lives up to its expectation of truly punjabi taste because of mildly spiced, deep fried pakora submerged in thick gravy. Enjoy Punjabi kadhi pakora's unparalleled taste with chawal (steamed rice) or vegetable khichdi and experience the truly blissful feel of classic Indian comfort food.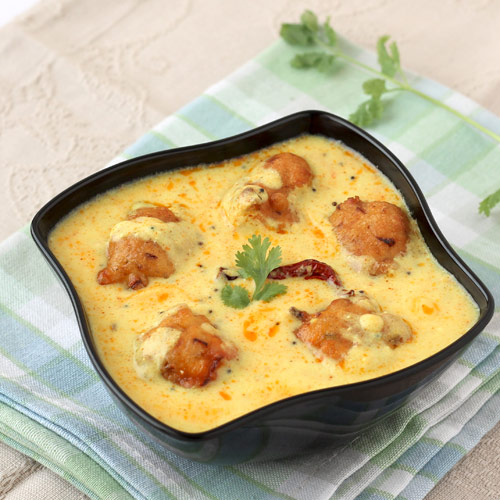 Preparation Time:
20 minutes
Ingredients:
For Besan Pakora
1/2 cup Besan (gram flour)
1/2 cup finely chopped (or 1 medium) Onion
1 Green Chilli, seeded and finely chopped
A small pinch of Baking Soda
1/3 cup + 1 tablespoon Water
Salt to taste
Oil for deep frying
For Kadhi
1 cup sour Curd (yogurt)
1/4 cup Besan (gram flour)
1½ cups Water
1/4 teaspoon Turmeric Powder
Salt to taste
For Tempering
2 tablespoons Oil
1/4 teaspoon Fenugreek Seeds
1/4 teaspoon Mustard Seeds
1/4 teaspoon Cumin Seeds
1/2 teaspoon grated Ginger
2 Dry Red Kashmiri Chillies
1/2 teaspoon Red Chilli Powder
1 tablespoon Coriander Leaves, finely chopped
Directions for Making Besan Pakora:
Mix 1/2 cup gram flour, chopped onion, chopped green chilli, baking soda and salt in a bowl.

Add water (approx. 1/3 cup + 1 tablespoon) in small quantities and make very thick batter (like idli batter).

Heat oil in a small frying pan on medium flame. Take spoonful of batter in between your fingers or in a spoon and carefully drop it in oil. Drop 5-6 pakoras in single batch. Deep fry them until medium brown and crispy. Drain and transfer on plate having kitchen paper napkin on it and keep aside. Follow the same process for remaining batter.
Directions for Making Dahi Kadhi:
Beat curd and 1/4 cup gram flour in a bowl with hand beater or blender.

Add 1½ cups water, turmeric powder and salt. Blend all ingredients using hand blender until smooth batter. Ensure that there are no lumps.

Heat 1 tablespoon oil in a medium size deep pan over medium flame. Add mustard seeds and fenugreek seeds. When they begin to crackle add cumin seeds and grated ginger; sauté for 20-30 seconds.

Add prepared curd-flour batter and mix well.

Cook on medium flame until raw smell of gram flour goes away or for approx. 8-10 minutes. Stir occasionally in between to prevent sticking. If mixture becomes very thick, add 1/2 cup more water and cook more for 3-4 minutes. It should have pouring consistency.

Meanwhile, heat 1 tablespoon oil in a small tempering pan on low flame. When oil is medium hot enough, remove tempering pan from flame and add dry red chilli and red chilli powder. Immediately pour it over prepared kadhi.

Add deep fried pakoras, mix well and cook for 3-4 minutes. Turn off the flame and garnish it with coriander leaves.
Tips and Variations:
Pakora batter should not have running consistency, instead it should have a dripping consistency.
Do not deep fry pakora on high flame otherwise they may not cook properly from inside. Deep-fry them on medium to low flame.
If your curd has thick consistency, then its possible that kadhi may turn very thick. If that happens, then add more water (approx. 1/2 to 3/4 cup) and cook 3-4 minutes more.
You can serve crispy pakora on its own with tomato ketchup as delicious afternoon snack for kids and everyone alike.
Taste:
Sour and mild spicy.
Serving Ideas:
Punjabi kadhi pakora and chawal (steamed rice) is a delicious wholesome meal when served with vegetable salad, papad and glass of sweet lassi. It can be also served with tandoori roti, choice of vegetable curry and lassi for stomach filling dinner.
Other Step by Step Recipes
---
17 Comments
---
Mar 06, 2018 by Wajahat Ali
It is very helpful for side dishes. My mother tried on home and it was very delicious.

---
Oct 09, 2017 by Madiha
Really nice and easy recipe.

---
Sep 16, 2017 by Yash
Easy & helpful recipe.

---
Jun 16, 2017 by Sangita
Very nicely described recipe.

---
Mar 05, 2017 by AVIRUPA
I love this recipe. It's very simple and helpful.

---
Feb 15, 2017 by Laila Nabulsi
Very easy to make. It is one of my favorite dishes, so I made it for Valentine's day and it came out perfect. Thank you.

---
Jan 18, 2017 by Anees
Hello, please tell me why in those pakodas you are not adding rice flour? Thank you.

Response: Hello Anees, rice flour is added to make the pakoras crispy. You can make the pakoras as per your choice (with/without rice flour). In north india, rice flour is not added while making pakoras but in south India, rice flour is added while making pakoras.
---
Oct 02, 2016 by Pavneet Singh
It was an amazing recipie. I cooked it and it the kadi was fantastic. Thanks.

---
Aug 28, 2016 by Sharmila bose
Excellent recipe. Yummy kadhi. Thanks a lot.

---
Aug 21, 2016 by Vijay
Add mashed papad in the gravy it awesome.

---
Aug 17, 2016 by Swati
Excellent receipie..well explained.

---
Aug 01, 2016 by Ankita Sengar
Awesome.......It makes we students easy to try more recipies.

---
Jun 10, 2016 by Jiya
I have tried sabudana vada and dry kachori. It's really very delicious. This website explains the recipes very well...

---
Jun 08, 2015 by Loveena
Excellent recipe easy to make and tasty to eat. Made it for the first time and was awesome. Excellent step by step pictorial guidance.

---
Dec 29, 2014 by Shilpi
Fabulous website. All at one...liked it so much, perfect description.

---
May 10, 2014 by Jotika
Love this website. For a newlywed who never knew how to cook,these recipes and instructions are a blessing. I use this website everyday to make something new. Love love it. Thank you

---
Jul 25, 2012 by Amrita Singh
kadhi pakoda prepared in Punjabi and UP style served with rice is my favorite dish but never tried making it myself until last week. this is an awesome recipe, just right on all taste, texture, thickness and flavor.

---