Paneer Tikka Masala, a marinated paneer cubes grilled to perfection and then cooked in spicy gravy, is delicious in every bite. The burnt taste of paneer marinated in curd and spices gives it a delighting flavor. It is a paneer tikka prepared with delicious spicy gravy. This recipe has two different stages; 1) prepare tikka and 2) prepare gravy and describes how to make tikka on gas stove and on grill also . Whether you have a stove, grill or oven, discover how to make paneer tikka masala with gravy in this easy step by step photo recipe.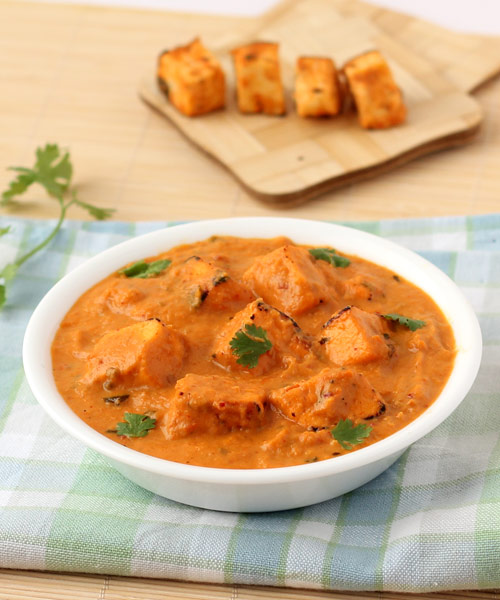 Preparation Time:
1 hour 10 minutes
Ingredients:
For Tikka:
200 gms (7 oz) Paneer (Cottage Cheese), cut into 1-inch cubes
1 teaspoon Ginger-Garlic Paste
1/4 cup Hung Curd or Thick Curd
1/2 teaspoon Tandoori Masala Powder, optional
1/2 tablespoon Cumin-Coriander Powder
1 teaspoon Red Chili Powder
1/2 teaspoon Kasuri Methi (dried fenugreek leaves)
1/2 teaspoon Chat Masala Powder
1 teaspoon Lemon Juice
2 tablespoons Oil
Salt to taste
For Gravy:
1 Black Cardamom
1 tablespoon Whole Dry Coriander Seeds
1-inch long small piece of Cinnamon
1 Dry Red Kashmiri Chili
8-10 Cashew-nuts
2 large Onion, finely chopped
2 small Tomatoes, finely chopped
1/2 teaspoon Red Chili Powder
1/4 teaspoon Turmeric Powder
1/2 teaspoon Garam Masala Powder
1/2 teaspoon crushed Kasuri Methi (dry fenugreek leaves)
A pinch of Red Food Color, optional
1/4 cup Fresh Cream
1½ tablespoons Oil or Butter
Salt to taste
1 cup Water
2 tablespoon finely chopped Coriander Leaves, for garnishing
Directions:
How to make Paneer Tikka?
First, prepare marinade for tikka. Beat hung curd (Chakka Dahi – thick curd prepared by tightly tying fresh curd in a muslin cloth and left hanging for one to two hours) in a bowl until smooth. Add ginger-garlic paste, tandoori masala powder, cumin-coriander powder, red chili powder, kasuri methi, chat masala powder, lemon juice and salt and mix well to prepare the marinade.

Add paneer cubes in prepared marinade and mix gently to coat each cube evenly. Cover it with a plate or plastic wrap and let them marinate at least for an hour. You can also marinate them for 4-5 hours to enhance the flavor. If you want to marinate them for more than an hour then cover the bowl with a plastic wrap and keep them in refrigerator.

Soak the wooden skewer (or small toothpick) in water for 10 minutes and wipe it before using. Place marinated paneer cubes on wooden skewer and grease them with oil. Now paneer skewered tikka needs to be cooked. You can cook it in two ways based on what kind of equipment you have.

Directions for Cooking on Gas:

Heat oil in a non-stick tawa or griddle, place skewers over it and shallow fry them over medium flame. Turn side of the skewer 3-4 times until all sides are cooked properly and have brown color.

To give a little burnt effect, hold skewer with a tong and place it over gas-flame for 30-seconds. Transfer them to a plate and keep aside.

Directions for Cooking on Grill:

Grill skewered tikkas on barbecue grill for around 6-8 minutes or until light brown on all sides. You can also grill them in preheated oven until edges of paneer start to turn brown. Make sure that you do not overcook them.
How to make Gravy for Paneer Tikka Masala?
Heat butter or oil in a pan or kadai over medium flame. Add black cardamom, dry coriander seeds, cinnamon, dry red kashmiri chilli, cashew-nuts and sauté for a minute. Add finely chopped onion and sauté over medium flame until onion turns light brown.

Add chopped tomatoes and salt and mix well.

Cook until tomatoes turn mushy for around 3-4 minutes. Stir in between occasionally. Add red chili powder, turmeric powder and garam masala powder, mix well and cook for a minute. Turn off flame, transfer mixture to a plate and let it cool for 4-5 minutes.

Transfer cooled mixture into the grinder jar of a mixer grinder. Add 1/2 cup water and grind it in to smooth puree.

Transfer puree in the same pan. Add 1/2 cup water, stir and bring it to boil over medium flame. When mixture starts boiling, add crushed kasuri methi and a pinch of red food color. Stir and cook for a minute.

Add prepared paneer tikkas.

Cook until gravy turns thick over low flame, it will take around 3-4 minutes. Add fresh cream and mix well.

Turn off flame and transfer prepared curry to a serving bowl. Garnish it with coriander leaves and serve hot.
Tips and Variations:
Use tofu if paneer is not available.
If you want to use frozen paneer cubes, defrost them before skewering.
It is recommended to follow grill method as it gives burnt charcoal taste. If you make it on stove or griddle, hold the skewer with a tong and place it over gas-flame for 30-seconds to get the burnt (smoky) taste.
You can also add vegetables like potato, capsicum, mushroom etc, along with paneer. The grilled vegetables give it an extra tempting taste and flavor.
To prepare 1/2 cup hung curd, hang 1-cup curd (tie curd in muslin cloth, hang it and keep a bowl below it to collect the dripping water) or place it over fine sieve to discard the excess water.
Taste:
Soft paneer cubes in a spicy gravy. The burnt taste of marinated paneer gives it a delighting flavor.
Serving Ideas:
Since this curry has gravy, serve it with Indian breads like naan, paratha, tandoori roti or steamed rice. Sprinkle chaat masala powder and lemon juice over dry paneer tikkas and serve it as a starter, appetizer or snack in parties.
Other Step by Step Recipes
---
34 Comments
---
Feb 22, 2018 by Parth Sinha
Awesome. Cooked accordingly and prepared nice yummy food.

---
Nov 04, 2017 by Kala Suresh
Too good. Easy to understand.

---
Aug 01, 2017 by Gajanan Bant
Very nice recipe which can be followed by every person who is interested in cooking. Easy steps with suitable pictures are makes more idea of cooking. Superb recipe really mind blowing.

---
Jul 10, 2017 by Naresh Punshi
Wow, Wow, Wow...
That's how this recepie turned out to be.
I am a guy and not a chef but the last 4 weeks I am trying different stuffs and I am loving go cook. I am foodie.. but it's amazing.. when a foodie knows to cook too..

My entire Family and my cousin's loved it..
"Restaurant se bhi mast hai." That's what my Dad said..And that's when I took a sigh of relief..

Thank you...
Muaaahhh for the recipe.

---
Apr 19, 2017 by rani saluja
Mind blowing recipes.I always try your steps n very happy. Thanks for ur tricks.

---
Mar 27, 2017 by Krupali patel
Please share recipes made by cheese.
I am huge fan of your recipes and I want to learn CHEESE BUTTER MASALA like a restaurant style..
Please share....

Response: Hello Krupali, we will definitely try to upload the cheese butter masala recipe.
---
Mar 11, 2017 by ankit kumar
I tried these recipes and it tastes just awesome. I absolutely loved these recipes I also recommend everyone to try these recipes at least one time you will love it. Thanks for sharing these recipes.

---
Oct 17, 2016 by Divya
First time my husband loved my paneer curry, thank you so much. Perfect ingredients and measurements.

---
Oct 02, 2016 by Jit Balaram from Mauritius
Just tried the recipe...luckily had all the ingredients. Came out fantastic.
Will surely try other variations as proposed.

---
Aug 31, 2016 by Rubina
Hi recipe looks really delicious kindly advice if I don't have kasuri methi can I use fresh methi instead?

Response: Yes Rubina, you can use 1 tablespoon chopped fresh methi in step-5 instead of using kasuri methi.
---
Aug 22, 2016 by Suketu
Hello, I am a student who grew up living with the family for 20 years and suddenly decided to go abroad for education. I have always prepared the recipes which are quick and and can be done using just one vessel so that there is not much to wash at the end. I really want to give a shot to this one. I am wondering if I can use sour cream instead of curd and milk instead of cream. This might sound stupid but all I am able to find in the grocery store is whip cream, sour cream and greek yogurt. Please advise.

Response: Yes Suketu, you can use sour cream instead of curd and milk instead of fresh cream in this recipe. You can also skip the fresh cream.
---
Jul 20, 2016 by Shaku patel
I really want to try your recipe so to be exact what would be the 1 large tomato to cup measurement ? Thank you.

Response: Hello Shaku, 1 large Tomato = approx. 1/2 cup chopped Tomato.
---
Jun 13, 2016 by Dhananjay
I have not cooked in last 10 years, after looking your recipe I tried and prepared, It was unbelivable. It came out as exact as it is bought from restaurant. It was too good, thanks for such an easy wonderful recipe.

---
May 13, 2016 by Ellen
This is a fantastic recipe, I have made it several times and everyone loves it.
Could you just tell me if you are supposed to leave the whole black cardamom and piece of cinnamon in and grind them up with everything else, or should you remove them before grinding.
Thank you

Response: Hello Ellen, sorry for the late response. Grind the black cardamom, cinnamon and other spices along with tomato mixture.
---
Apr 23, 2016 by Nandy
Perfect measurements... First try and the dish was superb...

---
Mar 30, 2016 by Deepa
Hi, I have tried many of your recipes and its really excellent ones with useful tips and I hope you add more and more receipes like this. Moreover I want lasangna recipe if you can.

Response: Thank you Deepa for trying the recipes and writing the feedback. We will definitely try to upload the lasagna recipe.
---
Mar 25, 2016 by Megha Mittal
Lovely taste of the recipe. I liked it a lot.

---
Mar 18, 2016 by Poonam
The Recipe is just too good... Tried my hands for the first time on Paneer and I can't thank you enough :) My Family went ummm.. with every bite!!!

---
Feb 20, 2016 by Kirti
I tried it for the first time and my family loved it. It turned out simply superb.

---
Feb 08, 2016 by Seema
Hi,I have tried this recipe, it was delicious but is that any option of food color for spicy look.

Response: Thank you Seema for trying the recipe. To get spicy look, use only kashmiri dry red chilli and kashmiri dry red chilli powder, as it gives dark red color and tastes less spicy compared to other types of red chillies.
---
Jan 16, 2016 by Pranjali
All Receipes on Foodviva are superbbb...

---
Dec 28, 2015 by Sanjay
Your recipes are perfect, the taste is awesome, keep it up with adding new recipes.

Regards,

Sanjay

---
Nov 04, 2015 by Cookfreak
Awesome recipe. Enjoyed the taste and cooking too. Kudos to dear chef. Love all

---
Sep 16, 2015 by Pulkit Shinde
This recipe is really good. I had made on occasion of Rakshabandhan. My sisters and family members liked too much.

Thank you Food Viva. Further recipes are really helpful to new learner.

---
Aug 31, 2015 by Ajay
Keep it up. It's mouth watering.

---
Aug 27, 2015 by Nidha
Can I skip adding chaat masala powder?

Response: Chaat masala powder is added to get the chapata taste. If it is not available, you can skip it.
---
Jul 30, 2015 by gopika gopinath
i like paneer masala a lottttttt......

---
Jun 10, 2015 by Ahalya
Can I skip adding cream?

Response: Yes Ahalya, you can skip adding cream. The curry will taste good without adding cream however it will not taste like restaurant and will turn less creamy.
---
May 29, 2015 by Kavita Arora
All recipes of paneer are good to see. I will definitely try them.

---
May 10, 2015 by Amol
Thanks for sharing this delicious recipe. It's very easy to make and all ingredients are easily available in every kitchen. I made this recipe at my home and its taste was quite similar to restaurants taste. Thanks again and keep posting such a yummy recipes.

---
Mar 26, 2015 by Dolly Verma
I think that it is more delicious to look at the image of this recipe and obviously it is quite good to have it ...

---
Oct 13, 2014 by bini suresh
Recipes are excellent and easy to prepare. Thanks.

---
Oct 08, 2014 by anuradha
Looking very tempting...I will definitely give it a try...Thanks for giving the method of preparing it on gas as many like us do not have microwave or does not prefer using it...

---
Oct 01, 2014 by Dr.Minal Wankhade
Thank you for sharing this recipes....it will really helpful to me.

---