Soft and mellow paneer cubes cooked in spicy and rich Mughlai gravy of tomato, cashew nuts, milk cream and butter makes an irresistibly delicious Paneer Makhani. This step by step photo recipe follows its original Mughlai preparation process which gives it an exclusive and finely balanced creamy, spicy taste. Serve it with
plain paratha
and
boondi raita
for a delicious lunch or dinner.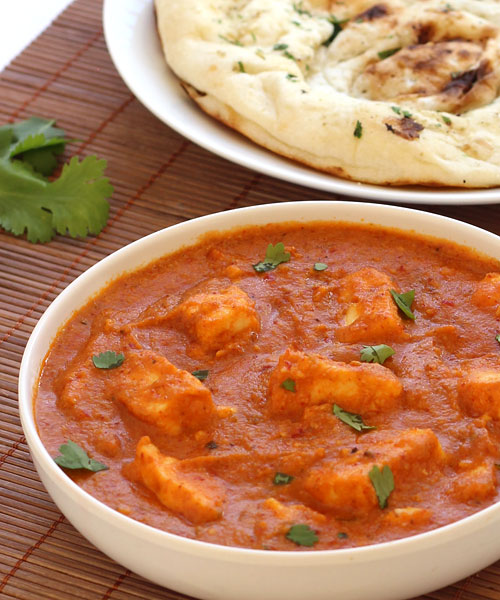 Preparation Time:
10 minutes
Ingredients:
250 gms (1/2 lb) Paneer (cottage cheese), cut into 1 inch cubes
1 small piece of Bayleaf
1-inch piece of Cinnamon
2 Green Cardamoms
1/2 teaspoon Cumin Seeds
1 large Onion, chopped
5-6 cloves of Garlic, chopped
8 Cashew nuts
3 medium Tomatoes, chopped
2 Dry Red Kashmiri Chilli (or 1 normal dry red chilli), halved and seeds removed
1/2 teaspoon Kasuri Methi (dried fenugreek leaves)
1 teaspoon Red Chilli Powder
1/2 teaspoon crushed Garlic (or paste), optional
1 teaspoon Sugar
Salt to taste
3 tablespoons Butter (or oil)
3 tablespoons Fresh Cream
5 tablespoons + 1 cup Water
Directions:
Heat 2-tablespoons butter in a pan over medium flame. Add bay leaf, cinnamon, green cardamom and cumin seeds. Sauté for 30 seconds. Add chopped onion, garlic and cashew nuts.

Sauté until onion turns translucent.

Add chopped tomato, dry kashmiri red chilli and salt.

Sauté for 4-5 minutes. Add kasuri methi (dried fenugreek leaves) and 3-tablespoons water.

Cook until tomatoes turn soft, it will take around 2-3 minutes.

Turn off the flame. Let the mixture cool for a while. Transfer it to the jar of a mixer grinder and make a smooth paste. If required, add 2-3 tablespoons water while grinding.

Heat 1-tablespoon butter in the same pan over medium flame. Add 1/2 teaspoon crushed garlic (or garlic paste) and 1-teaspoon red chilli powder.

Mix well and add the prepared paste.

Stir continuously and cook until butter starts to release from sides. It will take around 3-4 minutes.

Add 1-cup water and 1-teaspoon sugar. Mix well using spatula.

As the gravy splatters, cover it with a lid and cook for 3-4 minutes. Stir occasionally in between to prevent sticking.

Remove the lid. Taste the gravy for salt and sugar and if required, add more at this stage. Add paneer cubes.

Mix well and cook for 2-minutes. Add 3-tablespoons fresh cream.

Mix well and turn off the flame. Garnish with chopped coriander leaves. Paneer makhani curry is ready for serving.
Tips and Variations:
Dry kashmiri red chilli is used for getting the deep red color of gravy without making it spicy. If it is not available, you can replace it with regular dry red chilli (or 1/2 teaspoon red chilli powder). Regular dry red chillies are spicier than Kashmiri red chillies so reduce its quantity to one.
Before using frozen paneer cubes, soak them in warm water for 15 minutes and drain before using.
Increase the quantity of garlic and dry red chillies to make it spicier.
Cashew nuts makes gravy thicker and creamier. However if they are not handy, use almonds or white poppy seeds as its replacement.
Butter greatly enhances the flavor of this Indian paneer curry. However, you can replace it with cooking oil if you wish.
Serving Ideas:
Enjoy Mughlai Panner Makhani with Indian breads like
lachha paratha
,
butter kulcha
or plain chapati. Enjoy it with variety of Indian rice preparations like steamed rice or
matar pulao
.
Other Step by Step Recipes
---
19 Comments
---
Feb 10, 2018 by Chintal Modi
Can i use cinnamon powder? If yes, how much can i use for your provided recipe?

Response: Yes, you can use cinnamon power instead of cinnamon piece. Use 1 or two pinches of cinnamon powder as substitute.
---
Jul 22, 2017 by Siddiqa
Can I use ready to eat cashew nuts? The ones that are salted and come in a packet for snacking?
Also, if I don't have fenugreek leaves, what can I use as a replacement?

Response: Yes, you can use salted cashew nuts in this curry. Dried fenugreek leaves (kasuri methi) is added to get the authentic punjabi flavor. You can not use anything else instead of it.
---
Jul 09, 2017 by Maya Menon
Very easy steps to prepare fast and well blended paneer receipe.

---
Jun 24, 2017 by Anu
Wonderful recipes. Do post soyabean chaap curry recipes too.

Response: Sure Anu, I have added the soyabean chaap curry recipe in my do list.
---
Dec 25, 2016 by Esther
This is one of my favorite with brown rice. Can this also be used with vegetables?

Response: Yes, you can use this with vegetables.
---
Dec 22, 2016 by Sushma soni
I just love the foodviva recipes. They are so tasty. I have tried this recipe. It was so yummy. I love foodviva.com.

---
Dec 02, 2016 by Lavina
Thank you so much....you have a collection of wonderful recipes and thanks to you we can have a lot of variety in our coking.

Response: Welcome Lavina.
---
Oct 19, 2016 by Mustafamunira
I tried it today and it was excellent. Thank you.

---
Oct 08, 2016 by Vanish
Hello,
Thanx for making us cook like profrssional chef's.

When I tried the recipe with cream, every thing went as per the pics you shared,
But when I tried Milk, it curdled..

Any advise !!


Regards

Response: Hello Vanish, it happens if the tomato paste is not cooked enough (in step-9) or when the cashew nuts are not used or less used.
---
Jul 21, 2016 by Veena
It came out very well. My husband and I completely enjoyed it. Simply awesome.

---
Jul 06, 2016 by Seena
It was delicious. And the exact taste of what I tasted from a famous panjabi Daba in melbourne, Australia. Instructions are very simple to follow.

---
May 19, 2016 by Ripal Parikh
I like the recipes written and I tried it, its just awesome.. :) Recipes are so simple to make. Most importantly, you have given pics as well so that its easy to identify the different stages, like which ingredients need to add at what time... Just awesome.. Thanks..

---
May 10, 2016 by Veena Pradeep
Today I tried Paneer Makhani. Really yummy. Thanks for the step by step recipe with photo. My daughter is a great fan of paneer. Thanks again :)

---
Mar 31, 2016 by Goms
Must say your website is super awesome, this website proves that cooking is not rocket science, you made it easy and simple. I'm glad that I have come across this website. Real boon for housewives, foodie's and also for bachelors. Step by step presentation is simply great and it tempts to try it instantly. THANKS A LOT. KEEP IT GOING...APPLAUSE.

Response: Thank you Goms for writing wonderful feedback.
---
Mar 04, 2016 by Deepthi
Wonderful recipe.. Amazingly easy ...

---
Feb 05, 2016 by Kushi
Beautiful clicks. This makhani is mouth watering and amazingly delicious :-)

---
Oct 07, 2015 by Shoeb Shaikh
Quick & Simple, it increase my passion for cooking. Thank you. I have question, sometimes I don't have fresh cream with me, so what is replacement for it? Can I use full cream milk?

Response: Yes, you can use full cream milk (double the amount of milk and cook it little longer than given time).
---
Sep 10, 2015 by Bhoomi
Hi, thank you for sharing such a nice recipe. I always follow your site to make any new dish and every time it turns out delicious. But I have one question about poppy seeds, how can I use that? Do I need to grind it or roast it before adding?

Response: Hi Bhoomi, thanks for trying the recipes. Soak the poppy seeds in hot water for 15-20 minutes and then grind it in a small chutney jar of a mixer grinder until smooth paste.
---
Aug 08, 2015 by suman
Very tasty and delicious dish, easy to make .

---