This is a delightfully spicy paneer dish that can be served as an accompaniment or side dish in Indian dinner and its simply irresistible. This egg bhurji inspired Paneer dish has similar taste and texture and is prepared using crumbled or grated paneer with generous use of Indian curry spices, onion, tomato and capsicum.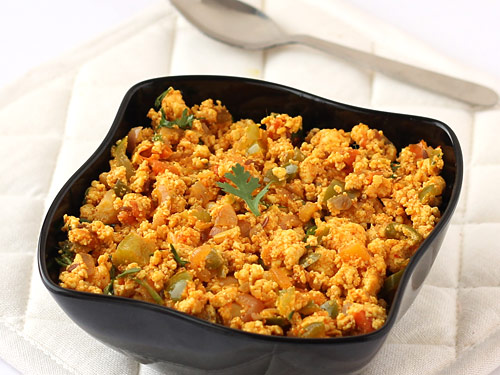 Preparation Time:
10 minutes
Ingredients:
250 gms (1/2 lb) Paneer (cottage cheese), crumbled or grated
1 teaspoon grated Ginger
4-5 Garlic Cloves, crushed
1 Green Chilli, seeded and finely chopped
2 medium Onions, finely chopped
1 large Tomato, finely chopped
1 medium Capsicum, finely chopped
1/4 teaspoon Garam Masala
1/4 teaspoon Turmeric Powder
1/2 teaspoon Red Chilli Powder
1 teaspoon Coriander Powder
2 tablespoons Milk
1 teaspoon Lemon Juice
1½ tablespoons Oil
2 tablespoons Fresh Coriander Leaves, finely chopped
Salt
Directions:
Heat oil in a pan over medium flame. Add cumin seeds and allow them to crackle. Add grated ginger, crushed garlic and chopped green chilli and sauté for a minute.

Add chopped onion and sauté until it turns translucent, about 2-3 minutes.

Add chopped tomato and chopped capsicum, stir and cook until they turn soft and oil starts to separate for approx. 2-3 minutes.

Add garam masala, turmeric powder, red chilli powder, coriander powder and salt, mix well.

Add milk.

Mix and cook for a minute.

Add crumbled paneer and lemon juice.

Mix and cook for 3-4 minutes; stir occasionally in between to prevent sticking.

Turn off the flame and transfer prepared paneer bhurji to a serving bowl. Garnish with fresh coriander leaves and serve.
Tips and Variations:
Use non-stick pan or heavy based pan to avoid burning and sticking. Thick pan also helps distributing heat evenly on its entire surface, giving even heat to food from all sides.
Tofu can be used as a substitute of paneer in this easy recipe.
Add 1/2 teaspoon crushed kasuri methi in step-6 to enhance the flavor.
Serving Ideas:
As known in common Indian parlance, paneer ki bhurji, can be served with naan, paratha, chapatti or rumali roti for lunch or dinner. Serve it as an accompaniment or a side dish that compliments the main dish.
Other Step by Step Recipes
---
9 Comments
---
Jan 24, 2018 by Asha
Superb n tasty dishes from foodviva.com.

---
Jun 26, 2017 by Monika
Hi... I tried this recipe. Taste was so good. All like paneer bhurji at home. Thanks.

---
Nov 29, 2016 by Allen
Namaste and thanks for the paneer ki bhurji, which I almost followed to the letter (often I skip bits!). My only major omission was not adding milk, but the result was still splendid and very popular.
I look forward to trying more of your excellent recipes.

Allen, in London

Response: Namaste Allen, thank you for trying the recipe. Glad to hear that you liked the bhurji.
---
Oct 05, 2016 by RADHIKA NARAYAN
Hello, tried your paneer capsicum recipe, loved it, specially my daughter. Thanks.

Response: Hello Radhika, glad to hear that you and your daughter loved it.
---
Dec 31, 2015 by Gomathi
Hello,
I cooked paneer bhurji yesterday. The taste was very nice as I eat outside, but the paneer was little harder, it was actually fresh paneer. I don't know why but please tell me if you know the reason.

Response: Hi Gomathi, thanks for trying the recipe. Paneer will turn hard, if you cook it for longer period or when you re-heat in the microwave.
---
May 16, 2015 by Kausar
I just love your recipes, simple, clear instructions, easy to make and great in taste. Please add recipes of wada, idli, dosa, puranpoli and some more gujarati dishes.

Response: Hi, thanks for the appreciation. Some recipes are already on our website like dahiwada, puran poli, rava idli, ragi dosa etc. You can also use search box on our website to find the recipe.
---
May 06, 2015 by Tanu
Please add cumin seeds to the list of ingredients :)

I am a total naive in the area of cooking. My in laws travel for a month every year...
I love all your recipes.
All these are saviors when I have to cook.
The only additional help I'll seek is the serving portion idea.
All your recipes are usually for 2-3 servings or max 4.
Please help with either suggesting on how to increase proportion when increasing the serving portion or including option on the site for choosing.
Such options are available on some sites.

Response: Thanks Tanu for notifying me about the missing ingredient. I have updated the recipe.
We will definitely try to add the option for increasing the serving portion.
---
Feb 23, 2015 by Kausar
It tasted really awesome. I added only 1/4 tsp of zeera powder and more quantity of chilli powder. Also instead of crushed garlic and ginger I added one tsp of ginger garlic paste to save time as its always ready with us. Thank you for sharing.

---
Jun 08, 2014 by Pritz
Yummy yum!!! Loved it!!!

---