Aloo and capsicum are two main ingredients of Indian cooking and make many delicious dishes and curries. Aloo capsicum is one such North Indian curry, which is not just easy to prepare but very palatable too. Learn how to make it using simple Indian curry spices with this easy recipe.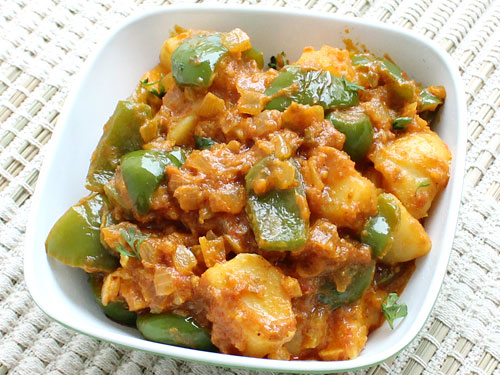 Preparation Time:
10 minutes
Ingredients:
2 medium Potatoes, boiled, peeled and cubed
3 medium Capsicums
2 medium Onions, chopped
1 medium Tomato, chopped
2 tablespoons Cashew Nuts
1/2 teaspoon Ginger, grated
3-4 cloves Garlic
1 teaspoon Dry Coriander Seeds
1/4 teaspoon Cumin Seeds
1/2 teaspoon Garam Masala Powder
1 teaspoon Red Chilli Powder (lal mirch)
1/2 teaspoon Turmeric Powder (haldi)
2½ tablespoons Cooking Oil
1 teaspoon Sugar
1/4 cup Water
Salt
Directions:
Take tomato, cashew nuts, ginger, garlic, coriander seeds and cumin seeds in a mixer jar to prepare puree.

Grind them with 1/4 cup water and make a puree.

Take a kadai and heat 1 tablespoon oil. Add chopped capsicum, sprinkle salt over it and sauté on medium heat for 3-4 minutes. Transfer to a plate and keep aside.

Add remaining 1½ tablespoons oil in same kadai and sauté chopped onion until it turns light brown. Add red chilli powder, turmeric powder and garam masala, mix well.

Add puree (prepared in step 1), salt and sugar; cook on low to medium heat until oil starts to separate from it (It will take around 5-6 minutes).

Add boiled and cubed potatoes and cooked capsicum, stir and mix well.

Add 1/4 cup water and let mixture cook over medium flame.

Cook for 3-4 minutes or until gravy turns thick. Turn off the heat and transfer aloo and capsicum curry to a serving bowl.
Tips and Variations:
Add 2 chopped green chillies while making a puree in step 1 to make a spicy curry.
If you want to serve this spicy and delicious curry in a party, then prepare it 2-3 hours in advance. This setting time will allow all flavors of spices to come out and mingle with each other, giving it a unique aromatic taste.
Add 1 teaspoon kasuri methi (dry fenugreek leaves) to give it a Punjabi touch.
Taste:
This capsicum aloo curry tastes spicy and mild tangy and has nice gravy texture.
Serving Ideas:
It can be served with tandoori roti, chapati, butter naan or steamed rice for lunch or dinner.
Other Step by Step Recipes
---
54 Comments
---
Sep 26, 2017 by Charitha
Very nice recipe. It's easy and tasty.

---
Aug 24, 2017 by Tej
Came out very well! Thank you:)

---
Mar 29, 2017 by Sowmya
I love the tomato slurry base of this recipe and plan on subbing with different veggies each time I make this. Thanks for the recipe!

---
Mar 28, 2017 by Rajalakshmi
Finally a recipe that made capsicum tasty !

---
Mar 21, 2017 by Swetha
What can be replaced with aalu ?

Response: You can replace aloo with paneer.
---
Mar 03, 2017 by Shreedevi
The recipe was easy to make and delicious. Thank you.

---
Dec 14, 2016 by Shilpa
Looks yummy..can we skip the kaaju in the puree..?coz my hubby had a allergy with it..

Response: Yes Shilpa, you can skip the cashew nuts or add almonds or peanuts as a substitute of it.
---
Nov 03, 2016 by Madhura
It's awesome... Tasty and yummy.

---
Aug 07, 2016 by Shriram Subramaniam
Superb recipe. Came out super nice and tasty. Clear cut instructions made it easy to prepare. Went well with Chapati and rice. It tasted just like the restaurant. Keep up the good work. Thanks a lot for posting.

---
Aug 06, 2016 by Shreya chaudhary
Thank you food viva for such a tasty recipes.

---
Jul 18, 2016 by Swetha
I just loved your website theme. I mean step by step recepie which was very helpful for viewers.. please keep updating more and more recepies and make us happy. I wanna ask for some recipes.

---
May 29, 2016 by Shweta singh
Very easy tasty and yummy vegetable curry of potato and capsicum. Thank you.

---
Mar 27, 2016 by Swati
Just tired this recipe for lunch. It's awesome, a very big thank you. Keep posting.

---
Mar 08, 2016 by Aruna
Thanks for this awesome recipe!! A big hit with the whole family. Please keep more of these coming. Thanks once again!!

---
Feb 18, 2016 by Amruta
Tried this recipe for in my laws and they said its very tasty!! Thank you so much Foram.

Response: You're welcome, Amruta. Glad to hear your in-laws loved it.
---
Jan 21, 2016 by Ammu
Tried it.. it turned out really good.. :)

---
Dec 24, 2015 by Mini
Good recipe. Easy to make and yummy too...

---
Dec 16, 2015 by Larissa
I prepared it today it was awesome thank u for sharing this recipe.

---
Nov 26, 2015 by Sameera Tabassum
Superb recipe..I prepared it in 15 mins.

---
Oct 10, 2015 by Madhava
Excellent recipe. Loved by my 16 year old son.
Took me about one hour to prepare- start to finish.

---
Sep 16, 2015 by Madhusudhan B
Curry came really good, I tried with golden fry potatoes as main ingradient with ghee flavoring. Me and my buddies had tummy full night ;-) :-)

---
Sep 12, 2015 by Lakshmi
I tried this today. Superb.

---
Aug 08, 2015 by chetna
hey this is the dish I prepared for my fiancee to impress him
he liked it and now he is fan of my cooking
all thanks to you :P

---
Aug 04, 2015 by Vrinda
Simple and delicious. Thank you for the awesome recipe.

---
Jul 23, 2015 by sai vinay
Thanks for sharing this wonderful recipe. It is very easy to cook. And you gave a detailed step-by-step process. And the taste was also amazing. Also check out Foodpanda coupons at Grabon

---
Jul 22, 2015 by Kaviyarasi
Looks yummy.. Will try it today..

---
May 10, 2015 by Tani
Tried this recipe, it came out well. Hubby loved the curry. Thanks for sharing.

---
Feb 19, 2015 by Mitali Moitra
I read the recipe and liked it. I want to make it as soon as possible. This is so simple to make.

---
Feb 17, 2015 by Jicy
I tried this recipe yesterday. My hubby loved this curry. Thank you so much. God bless u.

---
Feb 11, 2015 by Avinash
It came out really good and that too from a first time cook!. Thanks a lot for your simple recipe and adding sugar made much difference to taste.

---
Feb 09, 2015 by Ruchi
I really wanted to thank you for this recipe. Oh, it was awesome. Tried it for dinner and my hubby became a fan of potato capsicum. You are simply superb. Mind blowing recipe.

---
Feb 07, 2015 by Divya
I made this curry today. It tasted really yummy, got lots of compliments from my family.

---
Feb 02, 2015 by Shivangi.chakravarty
Awesome dish. I love all the recipes.

---
Dec 29, 2014 by Aayusha
Awesome recipe.... Thank you.

---
Dec 27, 2014 by Vaidu
Easy to make and superb taste. Dash of kasuri methi gave it the right zing. Thanks.

---
Dec 06, 2014 by Pragati
Awesome...I loved it. When I cooked it for my hubby, he loved this curry.

---
Dec 05, 2014 by Anuradha
Simple yet tasty recipe.
What I've liked most about your recipes is that though I searched for it at 9 in the evening yet I've been able to make a delicious dish each time that too with minimum ingredients & process.
Thank you !

---
Nov 16, 2014 by Mari karthik
It is really tasty, my children like this very much.

---
Sep 18, 2014 by Sunitha
Excellent recipe, we all loved it.

---
Jul 26, 2014 by durga
Awesome recipe. I prepared this today, I even received appreciations from my family.

---
Jul 19, 2014 by Malavika
Hi,ur recipe is awesome.....i tried it today everyone liked it in my home.Thank u

---
Jun 12, 2014 by jayshree
Awesome recipe.....I tried yesterday..it was a hit among my family ...we loved it...simple yet delicious must try recipe !!!

---
May 30, 2014 by Nina
Simple and tasty, with rich aroma and flavour! And quite healthy too!

---
Apr 26, 2014 by sunil
Brillant recipe ... simple and awesome. Many thanks!

---
Apr 26, 2014 by yellankiaswani
very tasty.we like this recipe

---
Apr 12, 2014 by Ms. Khan
Hi. Any substitute for the tomatoes here? I don't have them, and capsicums and potatatoes are the only veg available to me right now. Help! :/

Response: You can add ready made tomato puree (1/3 cup) or ready made tomato paste (2 tablespoons) instead of fresh tomato in this recipe. If you want to skip the tomato then add 1 teaspoon lemon juice in the curry to balance the taste.
---
Apr 12, 2014 by Revathi .m
Taste was good and combination was good with rice.

---
Mar 19, 2014 by paras
awesome recipe simple, yummy and attractive........

---
Nov 20, 2013 by pamela
Substituted cashews with walnuts because I didn\'t have any. Tasted awesome. Just made it.

Response: Thanks Pamela.
---
Oct 08, 2013 by krishna
fast n delicious..thank u ....

---
Jul 19, 2013 by Shoba
It came out awesome.Thank you

---
Feb 07, 2013 by Priyadharshini
Tried and posted the picture in my blog. Tastes good.

Response: Thanks a lot for feedback and posting the pictures of curry prepared by you on your blog. It really helps every one.
---
Feb 01, 2013 by Meena
Awesome Recipe. I tried this yesterday. superb. My hubby loved this curry.

Response: Thank you Meena and Sapna! We are happy to know that you and your family liked this simple but tasty Indian curry.
---
Jan 29, 2013 by Sapna
Tried it. Loved it!

---