The simple but aromatic tempering of mustard seeds and curry leaves compliments the mild spicy taste of coriander, coconut and chillies. Also roasted chana dal provides it a nice texture and taste making this green coconut chutney like no other.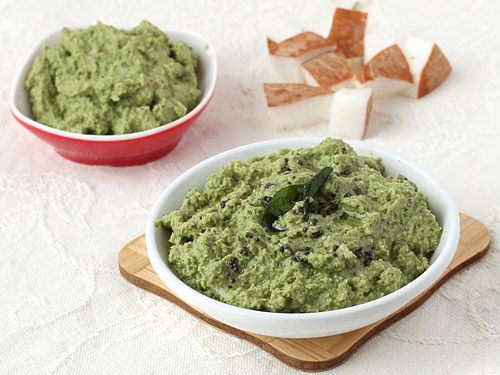 Preparation Time:
5 minutes
Ingredients:
For Chutney
1/2 cup grated Fresh Coconut
1/4 inch Ginger
2 Garlic Cloves
2 Green Chillies, chopped
1/2 cup chopped Coriander Leaves
1 tablespoon Roasted Chana Dal (daliya) or Roasted Peanuts
1½ teaspoon Lemon Juice
4 tablespoons (1/4 cup) Water
Salt
For Tempering
1/4 teaspoon Mustard Seeds
4-5 Curry Leaves
2 teaspoons Oil
Directions:
Take grated coconut, ginger, garlic, green chillies, roasted peanuts and salt in a small chutney jar of a food processor or grinder.

Grind them together until medium coarse texture.

Add coriander leaves, lemon juice and 4 tablespoons water.

Grind again and make a smooth paste. Add more water if required to get the desired consistency and mix well. Transfer it to serving bowl.

Heat oil in a small pan. Add mustard seeds, when they begin to crackle, add curry leaves and sauté for few seconds.

Take pan off from stove/cook-top and immediately pour tempering over chutney and mix well. Green coconut coriander chutney is ready; serve it as an accompaniment.
Tips and Variations:
Use coriander leaves with stems for a nice texture and taste. However, make sure that stems are cleaned properly and do not have any dirt on them.
This nariyal ki chutney tastes awesome even without tempering too.
Serving Ideas:
Serve coriander coconut chutney with steamed rice and sambhar or with rava idli and paper dosa.
Other Step by Step Recipes
---
4 Comments
---
Mar 08, 2018 by Akash Dalvi
How to preserve green coconut sandwich chutney at an ambient temperature for 6 month?

Response: Hi Akash, it is not possible to preserve green coconut chutney at room temperature for 6 months as Fresh Coconut has water in it and they will spoil the chutney after few days.
---
Sep 14, 2017 by Shirley
Excellent recipes... Thanks for sharing. God bless

---
Jul 22, 2015 by Fateema
Hi, can I use desiccated coconut in place of fresh grated coconut, as it is not available in my country?

Response: Yes, you can use desiccated coconut but you have to add more water (as required to get smooth consistency) while grinding the chutney.
---
Sep 23, 2013 by kanika
We want all paneer snacks,all kind of snacks.

Response: You can see our delicious paneer recipes at http://foodviva.com/paneer-recipes/ and snacks recipes at http://foodviva.com/snacks-recipes/ .
---