Vegetable Manchurian Gravy is yet another deliciously spicy and soupy manchurian variation prepared with vegetables like cabbage, carrot and capsicum. Whether you serve it as a spicy chewy soup starter or as an accompaniment to Chinese schezwan fried rice. Deep fried veg balls dipped in spicy gravy of cornflour is surely going to make your taste buds happiest one in the town.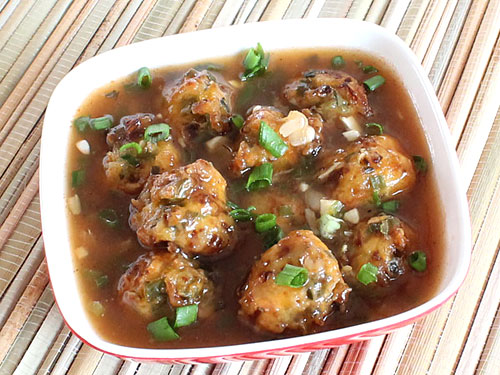 Preparation Time:
10 minutes
Ingredients:
For Veg Manchurian Balls
1/3 cup Maida (all purpose flour)
2 tablespoons Cornflour (corn starch)
3/4 cup shredded Carrot (Gajar)
3/4 cup shredded Cabbage
1/2 cup finely chopped Capsicum
1 finely chopped Green Chilli (Hari Mirch)
1/2 teaspoon Pepper Powder
1 pinch Ajinomoto (MSG), optional
1 teaspoon + for deep frying Cooking Oil
Salt
For Gravy
2 teaspoons crushed Ginger
2 Green Chillies (Hari Mirch), slit and cut into halves
1 tablespoon minced Garlic (Lasoon)
2 tablespoons finely chopped Spring Onion
1 tablespoon Cooking Oil
2 tablespoons Soy Sauce
1/2 tablespoon Chilli Sauce
2 tablespoons Tomato Ketchup
1 teaspoon Pepper Powder
2 tablespoons Cornflour (corn starch)
1 cup + 2 cups Water
Salt
Directions for Making Manchurian Balls:
Take a bowl, add shredded carrot, shredded cabbage, chopped capsicum and chopped green chilli, 1 teaspoon oil, pepper powder, a pinch of ajinomoto (MSG), maida, cornflour and salt.

Mix all ingredients properly. Prepare small round shaped balls from the mix. Do not add water in the mix for making balls as water from vegetables will be sufficient to bind them. In case mix is not binding properly and small balls cannot be made, add some water in the mixture.

Heat oil in a kadai (pan). Deep fry prepared balls on medium flame until they turn golden brown. Drain excess oil and transfer them to plate (spread kitchen paper napkin on plate to absorb excess oil).
Directions for Making Gravy for Vegetable Manchurian:
Dissolve 2 tablespoons cornflour in a 1 cup normal water.

Heat 1 tablespoon oil in a pan. Add minced ginger, minced garlic, chopped green chilli and chopped spring onion. Sauté for a minute. Add soy sauce, chilli sauce and tomato ketchup; sauté for a minute.

Pour 2 cups water, pepper powder and salt. Bring mixture to boil over medium flame. When it starts boiling, let it boil for a minute.

Add dissolved cornflour in a pan. Mix all gravy ingredients properly. Cook it on low flame for 1-2 minutes.

Add deep fried balls and cook for 3 minutes over medium flame.

Turn off flame and garnish it with chopped spring onion. Enjoy hot and spicy veg cabbage manchurian with Chinese fried rice or veg noodles.
Tips and Variations:
Do not add water in the vegetable mix while making balls as water from vegetables will be enough to bind them. In case mix does not bind properly and small balls cannot be made, add some water in the mixture.
Initially keep gravy thin and little watery otherwise it may become very thick when cooked completely.
Cook manchurian balls just before serving. Do not cook them in advance otherwise they will turn soggy.
This recipe uses Ajinomoto (MSG) to get an authentic Chinese taste. However, you can avoid it if its not available or you are not comfortable using it.
Taste:
Delicious soft veg fried balls dipped in spicy flavorful gravy.
Serving Ideas:
Serve it with hakka noodles for dinner or just savor hot and spicy food on its own.
Other Step by Step Recipes
---
37 Comments
---
Dec 17, 2017 by Maria
Best Manchurian recipe,
Each time turns out yummy. Thanks a lot for sharing.

---
Jul 09, 2017 by Zeba memon
I tried it first time and its amazing......Thanks for recipe....

---
Jun 08, 2017 by sharmi
Mast mind blowing recipe hai. Jarur banana. Mujee to ye recipe bahot kam aaee.

---
Jun 07, 2017 by Yash Solanki
Why are my balls are crispy and the gravy is bitter in taste?

Response: Hello Yash, the reason behind crispy balls is the corn flour and the reason behind bitter gravy is the soy sauce. Excess amount of soy sauce makes the gravy bitter in taste, so be careful while measuring and adding the soy sauce.
---
Mar 29, 2017 by Zahra
Hey, thanks for the recipe.
I made this but my balls were so soggy but I did not add any water. So I added more Maida but they became hard after words.
I don't know what went wrong.

Response: Hello Zahra, the main reason behind the hard balls is the excess amount of maida.
Don't keep the shredded vegetables idle for long time as they release the water as time goes.
Make the mixture at the time of making balls. If you make it in advance, vegetables will release the water and the mixture will turn watery.
If the vegetables are releasing too much water, squeeze them a little bit before mixing with the other ingredients (maida and cornflour).
---
Mar 26, 2017 by Rajni
Very tasty and very thankful to you....

---
Feb 11, 2017 by Nimrat
Can u plz tell...
If using corn starch is compulsory...or optional as I'm making it without corn starch/flour.

Response: Yes Nimrat, corn starch is necessary to thicken the gravy.
---
Jan 01, 2017 by Garima
My sauce become very bitter in taste why please tell me.

Response: Hello Garmia, the main reason behind the bitter sauce is the excess amount of soy sauce. When you try this next time, use mild sauce and add leeser amount of it.
---
Dec 20, 2016 by Naziya khan
Superb taste..
Masha Allah...
No one can judge as it is home made,& it is possible only by ur delicious recepie.

Thnxx a ton????????

---
Nov 10, 2016 by santhosh bagrecha
Its very nice and thanks for sending.

---
Oct 30, 2016 by Sheeba
Awesome. Taste is wow as if I have brought it from restaurant.

---
Sep 06, 2016 by Sangeetha
Tasty and simple recipe. Loved it

---
Aug 27, 2016 by Dillip
Really Foodviva doing a great job, all recipe are given in simple and easiest way...nice one.

Response: Thank you Dillip for the appreciation.
---
Jul 31, 2016 by Kritika sood
Thank you so much... It's very easy.. I cooked manchurian for the first time.

---
Jul 16, 2016 by Nidhi Pandey
What should be the actual quantity of maida required to be mixed with 2 tablespoons of cornflour?

Response: Hello Nidhi, 1 cup maida = 120 gm. In this recipe 1/3 cup maida is used and so, 1/3 cup maida = 40gm maida.
---
Jun 14, 2016 by Ashutosh
Simple recipe.. delicious taste. Can't get enough of it, cooking third time this week.

---
Jun 01, 2016 by Aparna
Simple procedure and easy to prepare.

---
Feb 23, 2016 by Priya singh
Awesome recipe food viva, just too good, very simple and easy way to cook such a lovely Chinese food.
I loved ur site.

Response: Thank you Priya.
---
Dec 16, 2015 by TanuShriya
Thank You Viva team your recipes are simple & sweet. I like to use.

Response: Thank you TanuShriya.
---
Oct 02, 2015 by Hema
It was delicious. I made it and all my family members liked very much. Thank you.

---
Sep 21, 2015 by Siya Malkani
Dear FoodViva Team,

First of all thank you very much for creating this website and sharing all your recipes. These make me look an expert cook in my house. Of course I haven't disclosed what's the secret. I've tried lot of your recipes and they have all turned out so delicious .

Today I cooked Hakka Noodles and veg Manchurian for a party of 25 people. These tasted awesome and now just waiting for people to come and give review.

Regards,
Your fan

---
Aug 24, 2015 by Shifalika
I used to try your dishes.....like i made paneer kofte n the was made awesome....then i tried ur nan khatai also it also made me favourite in my home....then i tried dhokla but when steamed in microwave it became hard but was looking like readymade one....plz do tell me the reason for that...i m very happy for this site...i love this site

---
Aug 24, 2015 by Disha
Can we use rice flour in place of corn flour?
Or any other alternative to corn one?

Response: You cannot use
---
Jul 30, 2015 by dolly
I have prepared manchurian ball but it got tuff, quantity was 600 gm maida, 500 gm cabbage and 2 tablespoons corn flour.

Why are we using corn floor?

Response: Hi Dolly, you have added too much maida and that's why the manchurian balls turn hard. Corn flour (cornstarch) is added to get crispy outer layer.
---
Mar 22, 2015 by Anand Lakshmi Narasimhan
The recipe works perfectly. however I did not deep fry cauliflower for health reasons. If I would have done it then recipe would be like restaurant style.
Novice to cooking and bachelors can also try this dish. It's far simpler than paneer dishes where we have to add right amount of salt and spices at the right time in right ratio to get the taste. It takes lot of experiments to learn paneer dishes but here we use sauces bought from store to get taste. Far simpler.

---
Feb 23, 2015 by Raji
Very nice recipe, my hubby & family liked very much. It's very tasty.

---
Dec 26, 2014 by Sana Mansoor
Very nice recipe. It turned out to be tasty.
Thanks,
Sana.

---
Dec 05, 2014 by DEEPIKA
I tried this manchurian gravy. It was very delicious, yummy.

---
Oct 04, 2014 by Hemani Arora
Your site recipes are so simple I tried many of them and my family love it..thanks to you..

---
Sep 01, 2014 by tulipz
Thank you for your response to my earlier comment. I am perhaps going wrong with chilli sauce. Which brand do you use? I used Maggi chilli sauce - the red one -is that okay for this recipe?

Response: Hi Tulipz, I used "Ching's secret" brand chilli sauce and soy sauce in this recipe and all other Chinese recipes on this website. You can use any brand's chilli sauce but it should have chilli and vinegar as base ingredients. Do not use tomato chilli sauce.
---
Aug 31, 2014 by vinayak shirke
I love your site and your dishes very much.

---
Aug 20, 2014 by Tulipz
I tried it today. One of the best manchurians **I made***. My earlier trials were awful !
With this recipe, manchurian balls were perfect but the gravy didnt taste like the restaurant types. Is it because I skipped MSG? However, my 6yr old licked her plate up. So its definitely tasty :)

I like your site. Thank you!

Response: Hi Tulipz, thanks for trying the recipe. MSG is not used in gravy so if you do not add it, taste of gravy will not change.
The taste of the gravy depends on the sauces you have used in the recipe. Use the tomato ketchup which tastes mild sweet and do not change the quantity of any other sauce. Add more tomato ketchup or tomato sauce to get mild sweet taste and add more chili sauce to make it spicy.
---
Jul 06, 2014 by Rajneesh satyawan
It seems that this is very yummi.

---
Jun 24, 2014 by shweta
Luks yummy will try it..

---
Jun 20, 2014 by Pragati
It seems very tasty and I will definitely try it.

---
May 29, 2014 by Sneha Naik
29 May 2014 By Sneha

Its very tasty and yummy

---
Jul 14, 2013 by Rajesh
MSG is bad, and it can cause complications that can lead upto nasty diseases like cancer.

Of course, I'll skip the MSG while preparing my manchurian, but I think it may be greatly beneficial if websites like this stop mentioning MSG in recipes.

Just a thought.

Thanks,
Rajesh.

Response: We agree with your suggestion and that is the reason why we have mentioned the MSG as an optional ingredient in ingredients table list and in the tips section as well.
---