Dry and spicy Paneer Manchurian is one of the best Indo Chinese recipes. This recipe is similar to gobi manchurian but uses soft paneer cubes instead of cauliflower florets. It is one of the easy paneer dishes of Indo Chinese cuisine and an ideal party food as well.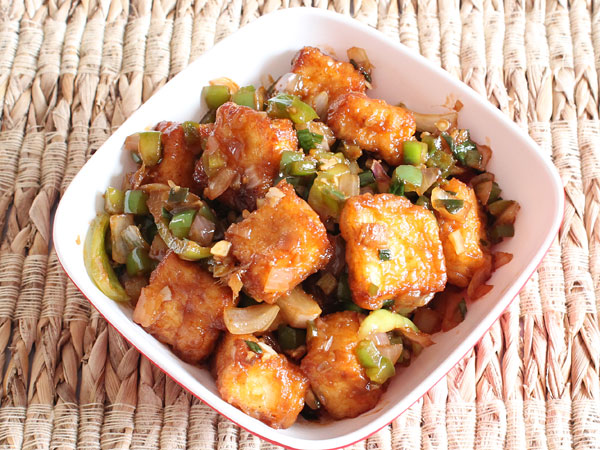 Preparation Time:
10 minutes
Ingredients:
250 gms (1/2 lbs) Paneer (cottage cheese)
2 tablespoons Maida (all purpose flour)
4 tablespoons Cornflour (corn starch)
1/2 teaspoon Garlic Paste
1/2 teaspoon Ginger Paste
Cooking Oil
Salt
1/4 cup Water
For Sauté
1/2 teaspoon Garlic Paste
1/2 teaspoon Ginger Paste
1/4 cup finely chopped Capsicum
1 small Onion, finely chopped
1 Green Chilli, finely chopped
2 tablespoons finely chopped Spring Onion
2 tablespoons Cooking Oil
1 tablespoons Soy Sauce
1/2 tablespoon Chilli Sauce
2 tablespoons Tomato Ketchup
Salt
Directions for Manchurian:
Cut paneer (cottage cheese) into small cubes. Mix maida flour, cornflour, salt, ginger paste and garlic paste with 1/4 cup water in a bowl and make a thick batter. Add paneer cubes in prepared batter, mix and let them marinate for 20 minutes.

Heat oil in kadai (pan). Deep fry marinated, batter coated paneer cubes over medium flame until they turn golden brown.

Drain and transfer them to plate having absorbent kitchen paper spread on it (to remove excess oil).
Directions for Sauté:
Heat 2 tablespoons oil in a wide, thin-bottomed pan on medium flame. Add ginger paste, garlic paste and sauté for 30 seconds on medium flame.

Add chopped green chilli, diced capsicum and diced onion. Sauté for 2-3 minutes.

Add soy sauce, tomato ketchup, chilli sauce and salt. Add fried paneer pieces and spring onion; mix well. Toss everything multiple times and cook for 1-2 minutes on high flame.

Paneer manchurian dry is ready. Garnish with chopped spring onion and serve.
Tips and Variations:
Chilli sauce and soy sauce are main flavoring ingredients in any manchurian recipe. You can adjust the quantity of these two sauces to get a desired flavor.
Prepared batter should not be too thick or too thin. Thin batter will not coat paneer cubes well and thick batter will not make crisp outer layer.
If you are staying at a place where paneer is not available in store, then either you can make it at home or use tofu.
Taste:
Soft and spicy with nice complex flavor of soya sauce, ginger and garlic.
Serving Ideas:
Serve it as a starter or as an evening snack with tomato ketch up and chilli sauce.
Other Step by Step Recipes
---
33 Comments
---
Feb 11, 2017 by kamaljit kour
Thanks for a quick and easy recipe. Thanks a lot.

---
Dec 07, 2016 by vidya
Tried Chinese fried rice.... yummy.

---
Sep 02, 2016 by Anam Shamsi
Delicious. Your recipes are so simple, easy to make and good in taste.. Thanks.

---
Jun 21, 2016 by Maninder saini
Awesome recipes indeed.
Tried panner manchurian
Yummmmm.

---
May 09, 2016 by Priya sharma
Your recipes are very simple and easy to make.They are looking very delicious.I will surely try these recipes. Whenever you post new recipes then please tell me.Thanks

Response: Hello Priya, subscribe to our email feed so when we upload the new recipe, you will get the notification via mail.
---
Feb 24, 2016 by Rakesh
Prepared paneer manchurian following your instructions and the taste came really good. Even though I didn't use soya sauce and spring onions as they were not available. Thanks to foodviva :)

---
Dec 27, 2015 by Soumya Ajit
Thanku so much. I have prepared paneer machurian dry. It was very delicious and my hubby was telling me to prepare it again and again. I will keep trying all items posted by you. Thank you once again mam.

Response: Thank you Soumya for trying the recipe and I'm happy to hear that the recipe turned well.
---
Aug 11, 2015 by Farzana farzana
This is the secind time am making this dish usibg your recipe.. realy superb dish. Here in dubai i had paneer munchurian from one restuarent and i just fall in love with it and tried difrnt recipe bt nothing gave nice taste.. and thank god i found yours

---
Jul 07, 2015 by Isha
Amazing recipes! :) Well explained, easy to follow instructions! Pictures are very helpful. This website has helped me learn how to cook. Thank you, Food viva. I wish you great success. :)

PS : Please do not post my email id incase you plan to post this comment on you website , thank you !

Response: Hi Isha, thank you. I'm happy to hear that this website helped you to learn cooking.
Email id is necessary to prevent spamming but we keep it confidential and don't post it on our website, so don't worry.
---
Jun 26, 2015 by Megala
I made this. It is so easy and tasty. Can you please tell me that adding of chilly sauce is must?

Response: Hi Megala, chilli sauce is added to get the spiciness. If it is not available, increase the quantity of green chili (if you want spiciness) and add a teaspoon of vinegar to get the flavor.
---
Jun 20, 2015 by Divya
I made it, but I did not get the crisp coating.
Instead it was soft and gooey. Can you please tell me why this happened?

Response: Hi Divya, sorry for the late reply. To make the outer layer crispy, follow the below given guidelines.

1.While making batter, do not decrease the amount of corn flour/corn starch (not corn meal) or substitute it with any other flour in the recipe.
2.Batter should have medium thick consistency like dosa batter (not too thin or not too thick).
3.Deep fry coated paneer cubes over medium flame or shallow fry them in a non-stick pan until crispy.
---
Apr 03, 2015 by Shruti Dubey
Thanks a lot for the recipe! It is really awesome & fantastic!

---
Mar 22, 2015 by Rutuja deshmukh
I made paneer manchurian. It tasted awesome! My family members loved it, please try.

---
Mar 11, 2015 by Sudita
Thanks for the recipe. Photos are really helpful. Only because of you we are preparing restaurant like food in our own kitchen and enjoying taste of good food with whole family.

---
Feb 22, 2015 by Dian
I am fond of Manchurian items. I thought it was every tough to make it. But these step wise photos helped me a lot and I made it. Thank you.

---
Jan 28, 2015 by Disha Shaji
Superb. I love it. Really yummy.

---
Nov 30, 2014 by Satish Sharma
Very good recipe. However, I have one question, the batter, which we prepared with corn flour and maida is very sticky and adhesive like paste. It is very difficult to take paneer cubes out of it. What is the solution for this problem?

Response: Hi Satish,
It is normal if batter turns sticky like paste, it happens because of the corn flour. Whenever you mix corn flour with water and keep it idle for long duration, it will turn sticky. To overcome with this problem, just stir the batter with a spoon and it will turn normal within a minute.
In this recipe, you can skip marinating the paneer cubes in step-1. Just prepare the batter, dip each cube in it and deep fry.
---
Nov 09, 2014 by Purvithahi
Hi everyone,
Very nice recipe, thanks to this website. I am going to prepare it on my brother's birthday. My friend asked about this recipe. Can I ask you something?
Can I use coriander or something else in the place of spring onions? I am allergic to soy, what else can I use instead of it?
Please answer me. Once again, it is an excellent and great recipe.

Response: Hi Purvithahi, if spring onion is not available, you can skip it, but you cannot use coriander leaves in place of it. You can't replace soy sauce with any other sauce in the recipe. If you are allergic to soy, make the manchurian without adding soy sauce, it will also taste good.
---
Oct 15, 2014 by prameela
Hi ,

I need to try out this recipe after this Sunday for a a very special day, this sounds yummy and tasty. Can you let me know the measurement for around 8 servings. I am a new bee in the kitchen section. Please help.

Response: Hi Prameela, if you are new to the kitchen section, I will suggest you to once try the recipe before making it in large quantity so you can get idea of quantity and you can easily make this for 8 people on special day. This recipe can be served as starter (for 3-4 people) and as side dish (for 2 people). However, the quantity required to serve depends on the people (to whom you gonna serve - kids or young), in which course (side dish, starter, main dish), etc.
---
Oct 02, 2014 by Anita
Easy to follow recipe... Brilliant taste!!

---
Sep 09, 2014 by amuthasivakumar
It's very easy to make with stepwise cooking photos. Its useful to all...

---
Aug 23, 2014 by Meenakshi singh
Really yummy recipe. I like it......

---
May 14, 2014 by k nibha bhat
its very nice! i liked it.

---
Jan 19, 2014 by jyothi
it has been easy for me to do it since i prepared it.

---
Dec 15, 2013 by ashutosh tiwari
Thanks a lot. I saved my lots of money the recipe is simple and nice..

---
Sep 05, 2013 by bhavana
Thank you.. My dish is Yummmy. its all because of this.. Thank you..

---
Jul 27, 2013 by Kavitha
very good
the stepwise photos helped me a lot

---
May 07, 2013 by Vandana Singh
It's v very easy to make & as well as very tasty. thanks

---
Mar 10, 2013 by savita soni
I am a new comer in kitchen. Because of ur recipe I cooked it well

Response: Thanks Savita.
---
Feb 17, 2013 by Laadgovernor
I made this and loved the fried paneer cubes in tangy sauce.

---
Nov 24, 2012 by indian recipes
Nice Recipe steps.

---
Sep 22, 2012 by anuj sharma
I never thought it would be so easy to make and so tasty. The stepwise photos helped me a lot.

---
Jul 18, 2012 by raj
good recipe but can we add cheez to it make it more delicious?

---