Anyone who likes Mushrooms, will love Mushroom Manchurian to its death. It is rich in Vitamin D and mushroom manchurian dry is one of the best ways to gorge on its goodness while pleasing taste buds with its spicy taste. Additionally, they are rich source of protein and hence it's suitable to be served to kids. It is a great party food and brings a welcome change from routine gobi manchurian.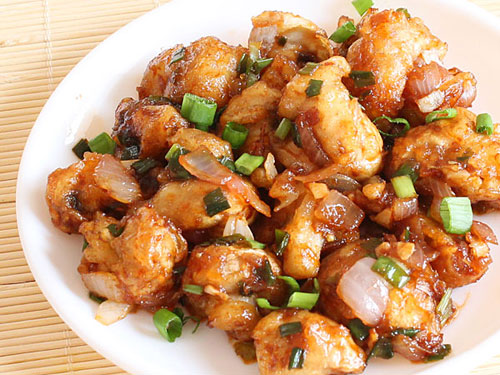 Preparation Time:
10 minutes
Ingredients:
4 tablespoons Cornflour (corn starch)
2 tablespoons Maida Flour
250 gms (1/2 lb) Fresh Mushrooms (white button mushrooms)
1/2 teaspoon Garlic Paste
1/2 teaspoon Ginger Paste
½ teaspoon Soy Sauce
Cooking Oil
Salt
4 tablespoons Water
For Sauté
1/2 teaspoon Garlic Paste
1/2 teaspoon Ginger Paste
1 Green Chilli, finely chopped
1 small Onion, finely chopped
2 tablespoons finely chopped Spring Onion
2 tablespoons Cooking Oil
1½ tablespoons Soy Sauce
1/2 tablespoon Chilli Sauce
2 tablespoons Tomato Ketchup
Salt
Method for Manchurian:
Wash and clean mushrooms to remove any dirt. Dry them with kitchen towel and cut them into medium pieces.

Mix maida flour, cornflour, ginger paste, garlic paste, 1/2 teaspoon soy sauce, salt and 4 tablespoons water in a bowl. Mix and make a medium thick batter. Dip mushrooms pieces in prepared batter and coat them with it.

Heat oil in a deep kadai (pan). Deep fry them over medium flame until they just started to turn light golden brown. Do not deep fry them long time otherwise they start to release the water and oil may be splatter. Take them out from oil and drain excess oil.
Method for Sauté:
Heat 2 tablespoons oil in a wide, thin-bottomed, pan (wok) on high flame. Add ginger paste, garlic paste, chopped green chilli and diced onion. Sauté on high flame for 1-2 minutes.

Add soy sauce, tomato ketchup, chilli sauce, salt, fried mushroom pieces and spring onion; mix them well.

Now toss and cook. Keep tossing everything and cook for 1-2 minutes. Delicious dry mushroom manchurian is ready.
Tips and Variations:
After deep frying, do not keep fried mushrooms idle for long time otherwise they may turn soggy because they release the little water after cooking.
We have used white button mushrooms to make this spicy dish. However, you can use any type of eatable mushrooms.
Chilli sauce and soy sauce forms the basic taste of any manchurian recipe. You can adjust the quantity of these two sauces to get a desired taste.
Taste:
Soft mushrooms covered in crispy outer layer mixed with dry, spicy masala.
Serving Ideas:
Serve it as a side dish with fried rice. It makes a irresistible standalone snack when served with mint chutney or tomato ketchup.
Other Step by Step Recipes
---
36 Comments
---
Mar 22, 2017 by Prakruthi
It came out well. We enjoyed your recipe..thanks.

---
Jul 31, 2016 by Shine Joseph
I loved it very much. It's very finger licking.

---
May 12, 2016 by Nimmi
Hi, recenly I came across this blog. Looks very interesting. Can I suggest some solution to the soggy mushrooms? I pan fried them till they dried up. It takes approx. 10 mnts. then added to the batter. Hope this helps. Thank you.

Response: Thank you Nimmi for sharing the wonderful tip to prevent soggy mushrooms.
---
May 08, 2016 by Sowmya
I tried for first time. It was awesome.

---
Apr 17, 2016 by Kanagamanimaran
I tried mushroom manchurian it's very awesome........

---
Feb 19, 2016 by Rashmi
Can we use tinned mushrooms instead of fresh one?

Response: Hi Rashmi, you cannot use tinned mushroom instead of fresh one in this recipe.
---
Feb 05, 2016 by Mrs V Subban
Tried this dish for the 1st time in a restaurant today & enjoyed it so much that I looked up the recipes on the internet.
Definitely going to try your easy recipe.
Looks Delish.
Thank u.

---
Dec 14, 2015 by Apoorva
I tried many dishes from this site...all were vry delicious..love this site.

---
Nov 28, 2015 by Shafeena
I tried this dish... It came out very well... I Love this mushroom manchurian very much and it was delicious.

---
Oct 29, 2015 by Nikki
Hi. Made this dish for dinner tonight. I found the mushrooms very soggy as opposed to being crispy. What is the reason?

Response: Hi Nikki, mushrooms contains more water and so they turns soggy if you keep them idle for long time after cooking. You have to serve the manchurian immediately after cooking.
---
Sep 29, 2015 by Rajeev
Hey, This was amazing. I like spicy and added extra spice for the test. Really made my day!!

I think this is going to be a weekly affair from now on :)

---
Sep 05, 2015 by Vinukrishnan
Awesome recipe.This was the easiest and tastiest manchurian ever. Everyone must try this.

---
Jun 29, 2015 by Renuka
I tried the recipe and it turned out to be amazing. I'm a huge foodie and I love all your recipes.

Response: Thank you Renuka for posting the feedback.
---
Apr 19, 2015 by Naina
I've dry mushrooms. So can I use it for cooking?

Response: Hi Naina, you can not use dried mushrooms in this recipe.
---
Apr 05, 2015 by Manga
Very helpful recipe, I tried and it came out well.

---
Mar 30, 2015 by Mearl
Hello,
Please help me with the sauce, can't I use hot and sweet tomato sauce instead of adding two different sauces (chili and tomato)?

Response: Yes, you can use hot and sweet tomato sauce instead of adding two different sauces.
---
Jan 31, 2015 by Santha
It looks good and easy to cook. Can we use rice flour instead of maida?

Response: Yes, you can use rice flour instead of maida flour. Adjust the amount of water according to it to make medium thick batter.
---
Jan 12, 2015 by Sonia
It came out yummy but not crispy. Can somebody tell me how to make this bit crispy?

Response: Hi Sonia, corn flour is used while making batter to make the fried mushrooms crispy. Deep fry the mushrooms on medium flame to make crispy. Do not keep them idle after deep frying otherwise they will turn soggy because cooked mushrooms release the water.
---
Dec 29, 2014 by Kuzhali
Very nice and yummy recipes. I am going to try everything, especially manchurians.

---
Dec 11, 2014 by Nisrin
I tried this. Everyone in my family loved it. I am going to make this again.

---
Dec 08, 2014 by jagat pal mahto
Very nice and delicious, thanks.

---
Nov 17, 2014 by varsha desai
I am a newly wedded girl and I don't know how to cook food but your recipe is so good. They help me to cook food and my family love it.

---
Nov 13, 2014 by bini
Hi, I tried it, came out really yum, very simple and delicious. Thank you.

---
Oct 25, 2014 by mankaran
Wasnt nice :( my fault maybe .

---
Sep 17, 2014 by Sujitha
I prepared this mushroom manchurian by following your step by step photos. Really superb. My 3 years old son showed his fingers as Super. Thank you.

---
Jul 21, 2014 by Beena
Perfect recipe. I tried it today and came out delicious. Thank you.

---
Jul 01, 2014 by ayesha
Very good recipe.. Tried today and everyone loves it... Thank you
I also added capsicum and carrots to it...

---
Jun 30, 2014 by purnima
looks delicious.. goin to try it today

---
Jun 02, 2014 by Preethi
superb and easy receipe .... thanks a lot... very delicious....

---
Apr 27, 2014 by Sravani Pujyam
Exelent and wonderful recipe. Today we are going to try.

---
Mar 28, 2014 by P.Saritha
This is really a simple and wow recipe...

---
Mar 25, 2014 by Aarya
the easiest manchurian ever... sounds yummy..
I am gonna try it...

---
Mar 08, 2014 by reddy yogeshwari
want to try once then will give comment , it looks nice.

Response: Thanks.
---
Jan 02, 2014 by SAKSHI.MOHAN
VERY GOOD VERY TASTY
THANKS FOR THE DELICIOUS RECIPE

---
Mar 06, 2013 by Leena
i like the dry combination manchurian .... sounds delicious......

---
Aug 27, 2012 by Mushrooms Canada
What a delicious sounding recipe! Light, easy, spicy and packed full of Vitamin-rich mushrooms!

-Shannon

---