Cold Coffee, a creamy coffee flavored milk based chilled beverage is perfect to serve as afternoon drink during hot summer days. Just blend instant coffee powder (or brewed coffee), sugar, ice cubes and milk together in a blender and your iced cold coffee is ready to enjoy. This cold coffee is made without vanilla ice cream however, you can add vanilla ice cream to make it thick and creamier.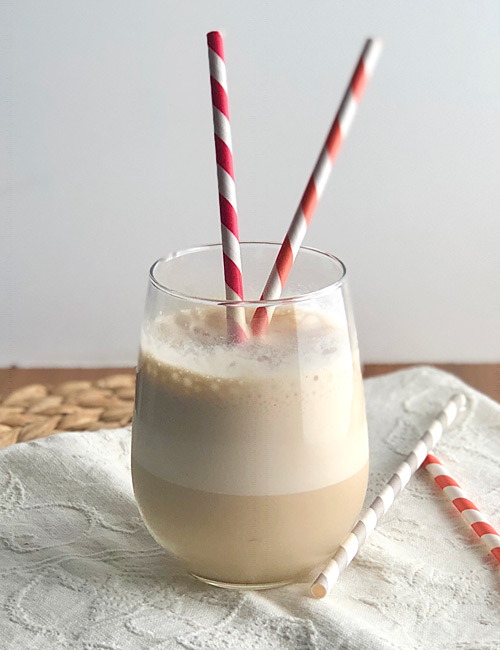 Cold Coffee without Ice Cream Video
More Summer Recipes
Preparation Time:
5 minutes
Ingredients:
1 tablespoon Instant Coffee Powder (used Nescafe)
2 tablespoons Warm Water
3-4 tablespoons Sugar (or to taste)
4-5 Ice Cubes
2 cups Full Fat Milk, chilled
Directions:
Take 1 tablespoon instant coffee powder in the jar of a blender or a mixer grinder.

Add 2 tablespoons warm water.

Add 3-4 tablespoons sugar (or to taste).

Add 5-6 ice cubes.

Pour 2 cups chilled milk.

Close the jar with a lid and blend it until the mixture turns frothy. Remove the lid and pour prepared iced coffee into a serving glass and serve immediately. Enjoy the Cold Coffee in the afternoon during hot summer days.
Tips and Variations:
Milk – use full fat milk to make more creamy coffee. You can also use low fat milk.
Coffee – You can also use brewed coffee made with ground coffee beans instead of instant coffee powder.
Adjust the amount of sugar as per the sweetness you like.
Serve it with a scoop of vanilla ice cream.
Taste:
 Coffee flavored Creamy Drink
Serving Ideas:
 Serve it in the afternoon or at any time during hot summer.