Middle eastern Cuisine has many delicious and healthy dips and Baba Ganoush is one of them. This smoky flavored creamy dip is made by blending roasted eggplant flesh with tahini, lemon juice, olive oil, garlic and salt. It has a very similar texture and taste as that of hummus, a chickpea dip, but comparatively it is more creamy and smooth and has nice smoky flavor. This Baba Ganoush recipe explains how to roast or grill Eggplant until outer skin is charred, separate the flesh and blend with other ingredients with step by step photos and makes preparing this eggplant dip at home extremely easy.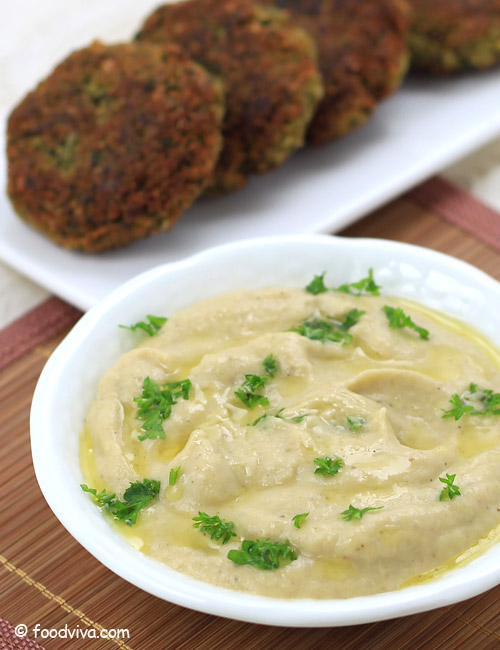 More Dip Recipes
Preparation Time:
 25 minutes
Ingredients:
2 large Eggplants (brinjal)
1-2 small cloves of Garlic, chopped, optional
2½ tablespoons Tahini
3 tablespoon Olive Oil
2½ tablespoons fresh Lime Juice or Lemon Juice (or more to taste)
1/2 teaspoon Salt (or to taste)
1 tablespoon finely chopped Parsley, for garnishing, optional
Note:
Tahini is ground sesame seeds and olive oil base paste. You can buy it in the store or make it at home. To make tahini at home, ground 1/4 cup roasted sesame seeds with 1-tablespoon light olive oil until smooth consistency.
Directions:
Prick eggplants with a fork. Roast them by choosing one of the following two method based on the availability of the Gas Stove or Oven. We recommend to choose first method as it gives nice smoky flavor to Baba Ganoush.
1) Roast eggplants over direct gas flame or grill until outer skin is charred, has become flaky and eggplant is soft. Turn the eggplant in between for even roasting.
2) Broil or bake eggplants in oven. Place eggplants on a baking tray lined with aluminum foil. Place it on top rack in oven and broil (on high heat at 500F or 550F) for 10 minutes. Turn off the broiler and then bake at 400F (200C) until soft for around 15-20 minutes.

Let them cool for around 8-10 minutes until they easy to handle and not hot to touch.

Peel and discard the skin.

Transfer to a colander or a fine mesh sieve to drain off excess liquid. Keep them in it for around 30 minutes to remove the dripping liquid. You can also use salad spinner to remove the excess liquid.

Discard the liquid.

Slit them from the middle. Remove and discard the stem.

Transfer the eggplant flesh to the small jar of a mixer grinder or a food processor.

Add 2½ tablespoons tahini.

Add garlic and 1/2 teaspoon salt (change it according to your taste).

Add 2½ tablespoons lime juice or lemon juice.

Add 3 tablespoons olive oil.

Blend until smooth. Don't add any water while blending. Baba Ganoush is ready. Transfer it to serving bowl. Drizzle some olive oil (approx. 1/2 tablespoon) over it and garnish with finely chopped parsley.
Tips and Variations:
For chunky texture of Baba Ganoush, prepare it without using a food processor. Just mix all ingredients in a large bowl and whisk with a fork until well blended.
Choose the firm eggplant which looks bigger but lighter in weight.
Tahini has a bitter flavor so don't add too much of it or the dip will taste bitter.
Adjust the amount of garlic per your taste.
Taste:
 Smooth and creamy with mild smoky flavor and a hint of garlic.
Serving Ideas:
 Serve it with pita chips, pita bread or falafel as a dip or use it as a spread for sandwich or roll.