Semiya Upma is a popular south Indian breakfast dish which is also known as vermicelli upma. It is prepared from vermicelli, mixed vegetables and other spices. When you have little time to make the breakfst, this one is perfect. Follow the below given recipe to make this upma at home.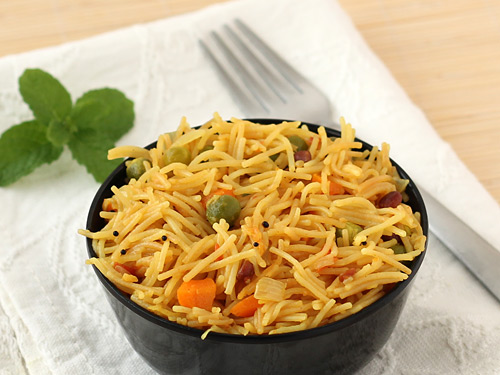 Preparation Time:
5 Minutes
Ingredients:
1 cup Vermicelli (semiya) (thin or thick)
1/2 teaspoon Mustard Seeds
1 teaspoon Chana Dal (split Bengal Gram) (optional)
1/2 teaspoon Urad Dal (optional)
1-2 sprigs Curry Leaves
1 large Onion, finely chopped
2-3 Green Chillies, finely chopped
1/2 teaspoon grated Ginger
4 tablespoons Carrot, finely chopped
4 tablespoons Fresh or Frozen Green Peas
1 large Tomato, finely chopped
1/4 teaspoon Turmeric Powder (optional)
2 tablespoons chopped Coriander Leaves
Salt
2 tablespoons Cooking Oil or Ghee (Clarified Butter)
1¾ cups + 2 tablespoons Water
Directions:
Roast vermicelli in a kadai on medium flame until it turns light brown. Cooking time may be varying according to size and thickness of your kadai. Keep stirring continuously. When done, keep roasted vermicelli aside to cool.

Heat oil or ghee according to your choice in the same kadai. Add mustard seeds and allow them to sputter. Add chana dal, urad dal and curry leaves, cook until dals become light brown. Add sliced onion, grated ginger and slit green chillies. Sauté until onion becomes translucent.

Add chopped carrot, green peas, chopped tomatoes and turmeric powder. Sprinkle salt over it and mix well.

Pour 2-tablespoons water and cook covered on low flame until vegetables become soft for around 3-4 minutes.

Add 1¾ cups water and bring it to a boil.

When it starts boiling, add roasted vermicelli.

Mix well and cover it with a lid.

Cook until water is absorbed for around 5-7 minutes. Stir in between occasionally to prevent sticking.

Turn off flame and transfer semiya upma to a serving bowl. Garnish with chopped coriander leaves and serve.
Tips and Variations:
For variation, make the white semiya upma by not adding turmeric powder.
You can add the vegetables according to your choice.
Taste:
Salty, soft and mild spicy
Serving Ideas:
Serve it with tea in the morning for breakfast. You can also eat vermicelli upma for a light dinner.
Other Step by Step Recipes
---
8 Comments
---
Nov 04, 2016 by Chhaya Bahgerwal
Hello, this foodviva is just amazing for food lovers as well as for whom who really don't know how to make items. Very very useful for me as I always prefer foodviva to make any food item. Really a best website I have ever seen. Thank you so much.

Response: Welcome Chhaya. Thank you for sharing the wonderful feedback.
---
Jul 04, 2016 by Shalini pal
Bread upma its a delicious breakfast. I loved it.

---
Jun 19, 2016 by Subrat Debta
I am suffering from high blood pressure, plz post some food items with steps for me..

Response: Sure Subrat, we will definitely try to upload the recipes good for high blood pressure people.
---
Jun 06, 2016 by Shalu kalra
Please tell some more different and tasty recipes of vermicilli.

Response: You can make the vermicelli kheer.
---
Dec 29, 2015 by Meena
Its very interesting, details are given step by step, easy to understand and cook, thanks a lot.

---
Jun 10, 2015 by Tony
Really thanks for the recipe.

---
Jan 15, 2015 by Urmi
Hey, nice website. I have seen many of website which gives lots of information with audio and video and so many other stuff but in this site I got all the short sweet clear and perfect information. Now it depends on person how they try to cook by heart. :) It's too good and super one collection, I like it a lot in real sense.

Response: Thanks Urmi, for providing the feedback.
---
Jun 02, 2014 by induja nair
Looks yummmeeee..... :)

---