Vati Dal Khaman Dhokla is a tempting dhokla made from soaked and crushed chana dal (lentils). Vati dal means soaked and crushed lentils (vateli dal). Generally when people try to make this traditional Gujarati snack at home, it does not come out fluffy and soft. The secret of making them soft and fluffy lies in preparing perfect batter and using right amount of eno fruit salt (baking soda or sodium bicarbonate). With carefully measured ingredients of this recipe, you can very easily make fluffy and mouth watering dhokla at home.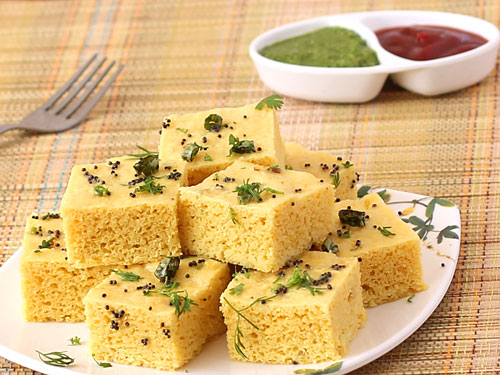 Preparation Time:
12 hours
Ingredients:
For Batter:
1 cup Chana Dal (Split Bengal Gram)
1 teaspoon Lemon juice
2 tablespoons Sour Curd
1 tablespoon Green Chilli-Ginger paste
1 teaspoon Eno Fruit Salt (or 1/3 teaspoon Baking Soda (Sodium Bicarbonate))
1/8 teaspoon Turmeric Powder (haldi)
1 teaspoon Oil (to grease)
1 cup Water
Salt
For Tempering:
1 tablespoon Oil
1 pinch Asafoetida (hing)
1/2 teaspoon Mustard seeds
4-5 Green Chillies, chopped
2 tablespoons finely chopped Fresh coriander leaves
Directions:
Wash chana dal and soak it in water for 6 hours.

Drain water and grind it coarsely. Add 1 cup water (or little less or more) and grind again until medium coarse texture.

Mix crushed chana dal, lemon juice, sour curd and salt in a large bowl. Cover with a plate and keep it in warm place for 5-6 hours to ferment. Add green chilli-ginger paste and mix well.

Grease steamer plates with oil. Pour 2-3 glasses water in steamer and heat it on medium flame. Mix Eno fruit salt in batter and stir it for a minute in one direction.

You can notice the batter is increased to almost double.

Pour it into greased plates until half of its height and place them the steamer.

Steam it for 10-15 minutes over medium flame.

After 10-15 minutes, open the steamer and insert a knife or toothpick into dhokla and check if it comes out clean. If it does, then dhokla is ready otherwise cook it more for 2-3 minutes.

Take out thali from steamer and let it cool for few minutes and cut dhokla into small squares.

Heat 1 tablespoon oil in a small pan. Add mustard seeds and asafoetida. When the seeds begin to crackle, add green chillies and sauté for few seconds. Turn off the flame and pour it over prepared dhoklas.

Garnish vati dal khaman dhokla with chopped coriander leaves and serve.
Tips and Variations:
Do not keep batter idle for long time after adding eno salt.
Steam dhokla on medium-low flame to make them spongy.
Serving Ideas:
It can be enjoyed with
green chutney
or served with a tea/coffee as a perfect breakfast or evening snack.
Other Step by Step Recipes
---
26 Comments
---
Feb 01, 2018 by Ayesha Shaikh
Not Bad recipe
It is useful

---
Jun 04, 2017 by Darshna
Very nice, tasty khaman. I made bater but it was more corse, however khaman was nice, soft. Not spongy.

---
Apr 10, 2017 by Shobhana
It is very tasty. We all enjoyed khaman. Thanks.

---
Sep 23, 2016 by Haresh gada
Very nice. We all enjoyed khaman dokla. Thanks.

---
Aug 27, 2016 by Nidhi Mahajan
Sometimes the dhokla I made gets very hard and not spongy.

Response: Hello Nidhi, it happens if the baking soda is not active (old) or the dhokla batter consistency is thick.
---
Aug 09, 2016 by Ranjeet Kaur
Thanks. It was very delicious. I have forwarded to others.

---
Jul 14, 2016 by Kavitha
Thank you so much. Finally, I learned to prepare dhokla and it was very tasty.

---
Nov 25, 2015 by Dayita
Can I use the same tempering as khaman dhokla suggested by you instead of this?

Response: Yes, you can use the same tempering.
---
Aug 01, 2015 by Khushi
Thank you so much. Finally, I am able to cook perfect dhokla with the help of this recipe. Step by step presentation makes it much easier to understand. Tasty and yummy; I am so happy.

---
Jul 14, 2015 by Darshan
Why we have to add lemon and n it?

Response: Hi Darshan, lemon is added to get the sour taste in dhokla.
---
Jun 28, 2015 by Palak Desai
Hi, I like your recipe for vati dal khaman. Khaman is my favourites dish. First time I made it at my home by go through your Step and really it was tasty..Thank you.

Response: Thanks Palak for trying the recipe an glad to hear that you liked it.
---
Jun 23, 2015 by Shruti
Hi, I liked your recipe. I want to know approx. how much grams of dal it will be required? Will it look jali type on top?

Response: Hi Shruti, in this recipe, 1 cup chana dal is used and for dal, 1 cup = approx. 200 gms. I didn't get you second question.
---
Jun 16, 2015 by Aisha
This is the best recipe I found for Dhokla, I have already made it 3 times and today will be making it again, thank you.

Response: I'm so happy to hear you liked this recipe so much.
---
May 25, 2015 by Neelam Baranwal
The best way to make this and awesome taste.

---
Mar 29, 2015 by Biji
Just tried making these dhoklas from scratch. Usual get the ready mix packets from grocers. The knife came out clean. But when I tried taking a few pieces out to serve. Bottom was soggy/ uncooked. I put back to steam for way longer than instructed. Totally disappointed after the effort put into it.

Response: Hi Biji, I am sorry to hear that your dhokla didn't turn good. The reasons behind they didn't turn good could be many.

1. If batter is too watery then they will remain soggy after cooking.
2. Always steam them over medium flame (not on high or low flame) to cook them perfectly.
3. If the knife comes out clean it means, dhokla are cooked. After removing them from the steamer, keep them open for 15-20 minutes before serving to get rid off excess moisture or sogginess.
4. If the you cook them for longer duration, then the top surface will turn soggy because of extra steaming.

I hope the above instructions helps you when you make it next time.
---
Dec 06, 2014 by Aliya
I haven't tried this yet but from where can you buy the eno salt?

Response: Hi, you can buy eno fruit salt from medical store or grocery store. If it is not available, you can use 1/4 teaspoon baking soda instead of eno fruit salt in this recipe.
---
Nov 21, 2014 by Mrs. Farzin Mahyar Chhindiawala
Superb khaman made out of this recipe. Enjoyed very much, it's yummy.

---
Oct 08, 2014 by anuradha
Perfect dhoklas....I was never able to prepare them earlier..Thanks for so much efforts ...

---
Sep 13, 2014 by sana
I have tried making dhokla 4 times but never succeed .....please help me!!!! it either become soggy or hard as barfi, but never cooked perfectly. I don't understand where I have made mistake??

Response: Hi Sana, I am so sorry that your dhoklas ate are not coming out well.... I think that there is something wrong with the batter consistency. Batter should have medium thick consistency like idli batter (adjust the amount of water to get the desired consistency). Did you add the Eno fruit salt? After adding the Eno and mixing batter for a minute, did you pour the batter immediately?
---
Jul 30, 2014 by sarita singh
i want to know whether I can use khane ka soda with oil and lemon in dhokla batter to make it more soft and spongy?

Response: Yes, you can use baking soda (khane ka soda) in place of Eno fruit salt in this recipe. Follow the directions given below to use khane ka soda.
1.Make a mixture of 1/4 teaspoon baking soda, 1 teaspoon oil and 1 teaspoon water in a small bowl.
2.Heat this mixture for 30 seconds and immediately pour it into the batter; mix well and then pour batter into greased thali.
---
Jul 04, 2014 by samiksha
We made dhokla with moong dal.

---
Jun 13, 2014 by manjusha wadekar
Fabulous recipe!!! Haven't gone wrong till now even once!! Made it many times so far!! Loved by everybody!! THANK YOU!!!

---
Mar 06, 2014 by anil patel
Its the perfect recipe you have given.

---
Jul 11, 2013 by Mrs.Rita Sundaram
Very easy to follow this recipe. Liked it a lot.

Response: Thanks Rita.
---
Nov 11, 2012 by Parul Shah
I like your thali. Where I can find this kind of thali.

Thanks

Response: The thali shown in step photo of this recipe is a part of utencil specifically made for making dhokla (known as dhokadiyu or dhokla cooker in Gujarati). However many gas steamer utensils for making idli and other similar items have such plates available in it. I am not sure if you can buy such kind of thali separately anywhere.
---
Sep 25, 2012 by sangeeta bhatt
I never succeeded in making gujarati dhokla with vati dal earlier. But with your recipe and step by step photos, I was able to make it with perfect soft and spongy texture in the first try itself. I believe that trick lies in having correct measures of all ingredients and your recipe is just spot on. Excellent!

---