Tikha Gathiya is a crunchy and spicy deep fried strands made from gram flour dough. It is a household food item in Gujarat and tastes best with deep fried chillies, carrot shreds, salad and mango pickle. Follow this easy tikha gathiya recipe and make crispy and crunchy snack which can be used as main ingredients in various types of chevdas and mixtures and enjoyed on its own too.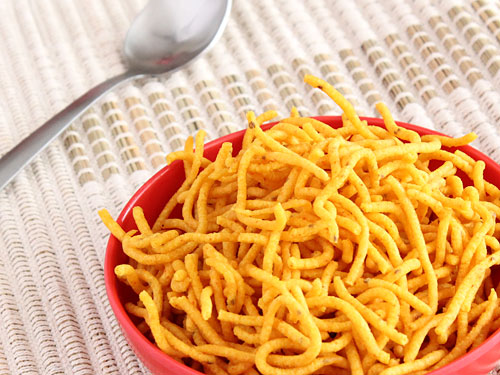 Preparation Time:
10 minutes
| | |
| --- | --- |
| Ingredients: | Amount: |
| Gram Flour (besan  / chick pea flour) | 1½ cups |
| Carom Seeds (Ajwain) | 1 teaspoon |
| Red Chilli Powder | 1 teaspoon |
| Turmeric Powder | 1/4 teaspoon |
| Black Pepper Powder | 1/4 teaspoon |
| Baking Soda (soda bi carbonate), optional | 1 small pinch |
| Salt | to taste |
| Cooking Oil | 1 teaspoon + for greasing + for deep frying |
| Water (for dough) | 1/4 cup + 2 tablespoons |
Directions:
Sieve the gram flour in a large bowl. Mix gram flour, carom seeds, red chilli powder, turmeric powder, black pepper powder, soda bi carbonate, 1 teaspoon cooking oil and salt in a bowl.

Knead smooth dough by adding (1/4 cup + 2 tablespoons) water. Dough should not be very soft as well as not very stiff. Grease the dough using 1/2 tablespoon oil.

Take a handy Sev Machine (seviya machine). This machine comes with different type of moulds.

Use a mould for thick sev (a mould with big holes) to make gathiya.

Place mould at bottom in the machine and place dough in it. Close the machine tightly.

Heat oil in a frying pan or kadai over medium flame. When oil becomes hot, holding the machine over oil and turn handle of machine to force the dough through moulds. Move machine in circular motion over oil and turn handle continuously.

Fry strands of gram flour until they become light brown for around 2-3 minutes. Remove gathia from oil and drain on kitchen paper. Do the same process for remaining dough.

Crispy Tikha Masala Gathiya is ready. Keep it in airtight container and store in a cool and dry place for 15–20 days.
Tips and Variations:
If you do not like flavor of black pepper corns or carom seeds, you can avoid them.
You can find sevai machine in any Indian vessel store.
Taste:
Salty, spicy and crispy
Serving Ideas:
Serve this crispy gathiya snack with tea at any time during day. It is a perfect snack for your kid's lunchbox.
Other Step by Step Recipes
---
6 Comments
---
Sep 20, 2017 by Juliet Crasta
I tried the Gathia, turned out nice and crispy. Thanks a ton for the recipe. Do I store it when it is cool is the question I have in mind.

Response: Yes Juliet, store them in an airtight container when they cool down.
---
Jun 28, 2016 by Sarita Angadi
Hi. I tried this recipe exactly the way you explained. But, after a few minutes they became soft but not crisp. Where did I go wrong?

Response: Hello Sarita, fry the gathiyas on medium flame and until they turn crispy. If they turn soft, deep fry them again until crispy. Generally, it will take 2-3 minutes for frying however, the time required for frying may vary as it depends on thickness of the pan and temperature of oil.
---
Mar 24, 2016 by Miriam
Made two batches of this recipe as it turned out exactly as per your step by step recipe. Lovely!

Response: Thank you Miriam for trying the recipe and glad to hear that it turned out well.
---
Mar 23, 2016 by Miriam
Just discovered your site a few days back. Gathiyas came out perfect.

---
Aug 17, 2015 by zarina
I had been looking for the recipe for the steam chakri and found it on your site and it says to steam the flour wrapped in cotton cloth for 17 minutes. What if I do it for 6 cups or 8 cups? Do I need to steam for 45 minutes or 60 minutes? Please advise.

Thank you so much. I had been looking for this recipe for the longest time. My mother did it and I was young to notice the time and now she is no longer.

Response: Hi Zarina, if you want to make chakri in larger quantity, the time required to steam the flour is also increased. For 4-6 cups, steam it for 40 minutes. The flour should be transformed into a large lump, if it is not, steam it for few more minutes. Never make chakri from raw flour.
---
Apr 17, 2014 by Irene
Hi thanks for the recipes in English.i really like it.it was so hard for me to translate from Gujarati to English .Thnaks again .

---