Rice is a staple food in south India and there are various recipes which either calls for direct use of rice or in its some other form like flour, etc. However, among all rice recipes, ghee rice is best recipe due to its simple preparation and heavenly incomparable taste.
This recipe is not just about mixing ghee in steamed rice but for preparing more delicious steamed rice wherein raw rice grains, nuts and flavoring spices are sautéed in ghee before cooking them in pressure cooker. The use of cardamom, bay leaf, black peppercorns and cloves simply makes it stand out from others.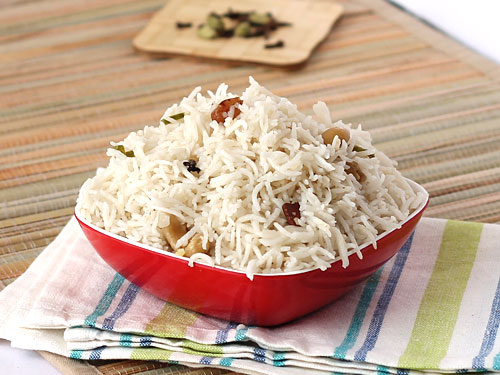 Preparation Time:
20 minutes
Ingredients:
1 cup Basmati Rice (long grain rice)
1 medium Onion, finely chopped
1 small Cinnamon stick
2-3 Cloves (lavang)
1 Green Cardamom
1/2 teaspoon Black Peppercorns
1 small Bay Leaf
4-5 Cashew Nuts
3-4 Raisins
1 teaspoon crushed Ginger-Garlic
1 Green chilli, finely chopped
1 tablespoon Ghee (Clarified butter)
2 cups Water
Salt
Directions:
Wash rice grains 2-3 times in water to remove excess starch. Soak them for 20 minutes. Washing them will also prevent them from becoming sticky while cooking. After 20 minutes, drain soaked rice.

Heat ghee in a pressure cooker (approx.3-5 liter capacity steel/aluminum cooker). Add cinnamon, cloves, cardamom, black peppercorns and a piece of bay leaf and sauté for few seconds.

Add chopped onion and sauté until it turns light brown.

Add cashew nuts, raisins, crushed ginger-garlic and chopped green chillies and sauté low flame for a minute.

Add drained rice in pressure cooker and stir-fry for a minute.

Add salt to taste and 2 cups water. Mix them properly and close the lid. Pressure cook on low flame for 2 whistles.

Turn off the flame and let pressure come down naturally. It will take approx. 5-8 minutes to come down. Open lid carefully and fluff rice with fork to separate rice grain.

Transfer it to serving bowl and serve.
Tips and Variations:
In this recipe, steel pressure cooker with 3-litre capacity is used. If you want to use aluminum pressure cooker then pressure cook it on medium flame.
If you do not have pressure cooker then cook it in a pan. Add same amount of water and cover it with a lid while cooking for around 10-12 minutes.
You can prepare it in more quantity by simply using rice and water in 1:2 ratio (i.e. for every 1 cup rice use 2 cups water).
Add few drops of lemon after adding water to make separated cooked rice grains.
Taste:
Very mild spicy with nice aroma of ghee.
Serving Ideas:
Enjoy South Indian ghee rice with curd. It is more delicious and palate satisfying when served with pickle, Dal and tomato chutney.
Other Step by Step Recipes
---
20 Comments
---
Apr 17, 2017 by Saisri
I'm doing it now. How many whistles for aluminum cooker? And, should it be in low flame?

Response: Hello Saisri, cook it for 2-whistles over medium flame in the aluminum pressure cooker.
---
Jul 03, 2016 by Naznin
Thank you for this awesome recipe. It's simple and easily explained with pics. It turned out really well. I made today in a pan. Closed & on medium to low flame, it took me 21 mins.

---
Jun 18, 2016 by Saldi
Rice with ghee.
My wife and I loved it - thank you for the recipe!

---
Mar 23, 2016 by Victor Pavamani
My first attempt at ghee rice. Having grown up with it in Kozhikode in the 1950's, and my mother unable to remember the recipe, you came to the rescue. Incredibly easy and three times incredibly tasty! Thank you so much.

---
Jan 20, 2016 by Minakshi Hhosh
Hi, how many people can be served by this amount?

Response: Hi Minakshi, rice prepared by this recipe is enough for 4 people if you want to serve it with dal, curry and roti. f you wan to serve it alone, then it is enough for 2 people.
---
Dec 25, 2015 by Priya Kumar
First attempt at ghee rice, and it turned up well. I am happy and thank you for sharing. You are very generous!

---
Jul 21, 2015 by Jon
How long is two whistles when using the pressure cooker?

Mine only has a high/low pressure setting?

Thanks in anticipation... :)

Response: Hi Jon, I have always used the Indian style pressure cooker and it has not pressure settings. So, I am not sure about how long you have to cook the rice.
1. You can use the same settings for this recipe, which is used to cook plain rice.
2. Or you can cook the rice in a pan by following this cumin flavored rice recipe. It will take only 12-minutes to cook the soaked rice in a pan.
3. Time required to cook for two whistles is around 10-12 minutes (but it changes according to the flame settings).
---
Mar 30, 2015 by Thavamalar Chelvi
Can we add some curry powder to make it a little spicy?

Response: Yes, you can add 1/2 teaspoon (or to taste) curry powder to make it spicy.
---
Mar 15, 2015 by Usha s
Yummy and tasted good. We can prepare in less time.

---
Feb 02, 2015 by Priya
Excellent recipe in terms of the quality versus time/effort spent. Thanks a lot!!!!!

---
Oct 25, 2014 by keerhi
It was very nice, aroma was very good.

---
Oct 13, 2014 by anusha prashant
I prepared ghee rice for dinner. It turned out very well, finger licking. The aroma was inviting to have more and more. Thanks for the easy and tasty dish.

---
Aug 19, 2014 by yatika dinesh
I cooked this last night its turned out well. My hubby n my family liked it and even my 2 yrs old daughter liked it a lot. Thank you foodviva team....I love cooking and thanks for supporting us by posting best recipes . Please keep posting new recipes.

---
Aug 08, 2014 by Somebatchelor
Came up really well. Though I slightly applied my own style. I cooked rice half the way. Fried onion and spice in ghee and mixed with rice. Finally let them slow cook in the pan. It was yummy and crispy.

---
May 31, 2014 by sudha
it was very tasty and the taste of ghee was very excellent.

---
May 30, 2014 by chinki
Can we make this rice without onion ?

Response: Yes, you can make this rice without onion.
---
May 26, 2014 by Sahana
Tried this last night. Wonderful ghee rice. Easy , yummy and super quick...we are rice eaters and get bored with plain rice often, this will be my go to alternative here after. Thank you for posting this up. I did add a dash of lemon concentrate before closing the cooker and no raisins cause I didn't have any at home.

---
Apr 15, 2014 by sumihasanah
Yummy and Easy cooking,,,

---
Dec 21, 2013 by ramya
useful and good one..i tried it was yummy.

Response: Thanks Ramya.
---
Jun 05, 2013 by BHAVNA
Simple yet nice with authentic aroma of spices blended in ghee.

---