It's hard to image any Diwali go by without someone offering you a Kaju Katli; it's a one of the most appreciated sweets of Indian cuisine. Contrary to popular belief, it's one of the easiest sweet recipes to follow, requires only three ingredients and knowledge of very basic cooking techniques to make perfectly healthy sweet at home and enjoy it without worrying about adulterations that you keep hearing about now a days for store bought ones. Traditionally, this soft and sweet kaju barfi is garnished with silver vark (varakh) and it can be easily found in most of the Indian sweet shop. With step by step photos and cooking tips of this recipe, preparing it at home and surprising your family is super easy.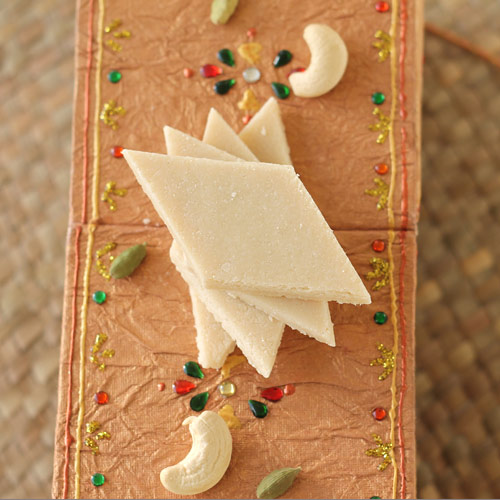 Preparation Time:
10 minutes
Ingredients:
1 cup Cashew Nuts (Kaju)
1/2 cup Sugar
1/4 teaspoon Cardamom Powder
1/4 cup Water
Ghee, for greasing
Directions:
(If you are using frozen/cold cashew nuts, bring them to room temperature before grinding.) Transfer cashew nuts to the small jar of a mixer grinder and grind until smooth powder. Do not grind cashew nuts too much otherwise it will start to ooze oil and it makes powder sticky. If required, scrape the sides with spatula and pulse again.

Add sugar and water in a pan and cook it over medium flame.

Stir continuously and cook until sugar dissolves completely.

Cook until syrup turns thick and little sticky. Do not wait until the syrup reaches to the 1-string consistency because if it is cooked more than 1-string consistency, the kaju katli will turn hard.

Reduce heat/flame to low and add cashew nut powder and cardamom powder.

Stir with spatula and mix properly.

Cook and mix continuously until mixture thickens and turns into a big single lump – it will take around 5-7 minutes to reach this stage. Don't over cook the mixture. Turn off the flame and let it cool for 3-4 minutes.

Grease the back side of thali with ghee in the meantime. Transfer prepared mix over greased surface. Grease your palms with ghee and knead it for few minutes until it has smooth surface while it is still warm. If mixture turns dry, add few drops of milk and knead it to make it smooth.

Roll it out into 1/3 inch thick round shape using a rolling pin.

You can also place butter paper over it to prevent dough sticking to rolling pin and easy roll out.

Cut it using knife into diamond shape pieces. Let it cool for 3-4 minutes. Separate the pieces and enjoy your favorite Kaju Katli. It stays good for 5-6 days at room temperature and for 20-25 days in refrigerator.
Tips and Variations:
Make sure that cashew nuts are at room temperature before grinding.
Add the cashew nut powder immediately as the syrup turns little sticky and thick. This will prevent Kaju Katli from turning the crumbly after cooking.
If the mixture turns hard after cooking (in step-8), add few drops of milk and knead until smooth. If you add the milk, shelf life of kaju barfi will decrease and you need to store it in an airtight container in the refrigerator if you are not planning to consume it same day.
Do not over cook the mixture after it turns thick (in step-6) otherwise kaju katli will turn hard once it cools down after rolling.
To give it a tempting look, use silver vark (varakh) for garnishing.
Taste:
Sweet with mild cardamom flavor
Serving Ideas:
Serve this diamond shaped sweet with savory snacks like chivda,
namak para
, gathiya,
farsi puri
etc.
Other Step by Step Recipes
---
9 Comments
---
Oct 10, 2016 by Hajra Qureshi
I will try it definitely, it seemed to be easy.

---
Sep 25, 2016 by Yamini
Please tell me can I make it with sugarfree? If I mix sugarfree for chashni?

Response: Hello Yamini, I have never tried to make kaju katli with sugarfree but once I have tried to make chasni with sugarfree and I was not successful. Basically, it's not possible to make sticky chasni with sugarfree so if you try to make the kaju katli, you wil not get the perfect texture.
---
Aug 26, 2016 by Swati Das
I have cooked kaju katli and it was too much so I took 1/4 at a time for the last step and until I reached 3/4 it became hard so I mixed some water with it and now its sticky, I made laddo out of that but its still sticky. What should I do to make it normal so at least one can eat?

Response: Hello Swati, the mixture turns hard as it cools down because of the sugar. The stickiness is because of the dissolved sugar as you added the water. There are two options given below.
1. Cook the mixture again to get rid of stickiness (moisture) but I'm afraid, the kaju katli will turn hard.
2. Do one thing, make the cashew flavored milk dessert like rabri or badam kheer by adding some milk and saffron in the mixture (for 1/4 cup mixture, add 1 cup milk) and boil for 5-6 minutes (or as required).
---
May 14, 2016 by Nalin patel
I want to make kajukatri using powdered sugar, how can be done?

Response: You can make the kajukatli in same manner using the powder sugar. Use 3/4 cup + 2 tablespoon powdered sugar in place of 1/2 cup granulated sugar in this recipe.
---
May 01, 2016 by NISHA
Thanks for the easy recipe, it is very simple and understandable. I'will try this and share my feedback.

---
Feb 20, 2016 by Lea
My were very sticky after cooking, also after 3 hours. After cooking, I kept them into the fridge only for few minutes. Should I add more kaju powder into the syrup? Thank you very much for response!

Response: The main reasons behind sticky kaju katli are - either the sugar syrup is not cooked enough in step-4 or the cashew-sugar syrup mixture is not cooked enough in step-6. You should cook the sugar syrup until little less than 1-string consistency (when the syrup is little sticky and little thick) and the cashew-sugar syrup mixture (in step-6) until turns thick.
---
Jan 07, 2016 by Hetal
Thanks for easy recipe and handy tips, will try it over weekend and share my feedback.

---
Dec 09, 2015 by Anisha
If I want to make a larger quantity can I double/triple the ingredients?

Response: Yes Anisha, you can double the recipe. If you double/triple any recipe, cooking time may increase.
---
Apr 08, 2015 by Suneeta
I tried Kaju Barfi; when sugar started to boil, I added kaju poweder and stir well after taking it into rolling pan but immediately it turned hard and powdery, it didn't come like chapati dough after kneading and I was unable to make khaju burfi. Please give reasons and solution.

Response: Hi Suneeta, it happens if sugar syrup is cooked for longer period after reaching the one-string consistency. As I have already mentioned in the tips section, do not cook the mixture for longer duration after adding kaju powder into sugar syrup (cook until mixture starts to turn thick).
The solution of this problem is to add few tablespoons of milk in the mixture (when it is little warm) and knead the dough in step-8 until smooth.
---