It is a best and simple Indian sabzi that can be served in a lunch or dinner as a main curry. This no-fuss okra curry recipe uses finely chopped tomatoes and common Indian curry spices to give it a palatable texture and taste respectively. Follow this bhindi bhaji recipe and learn how to make simple and easy Indian vegetable curry of okra and tomato.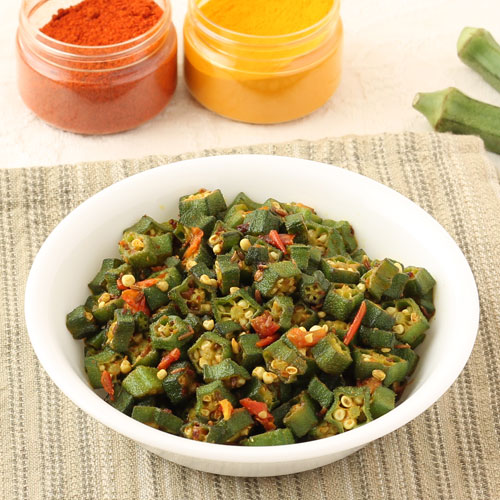 Preparation Time:
5 minutes
Ingredients:
250 gms (1/2 lb) Bhindi (Okra)
1 large Tomato, finely chopped
3-4 Garlic cloves, finely chopped
1/2 teaspoon Cumin Seeds
1/4 teaspoon Garam Masala Powder, optional
1/2 teaspoon Red Chilli Powder
1/4 teaspoon Turmeric Powder
1 teaspoon Coriander Powder
Salt
2 tablespoons Oil
1 tablespoon Coriander Leaves, finely chopped
Directions:
Wash bhindi in water and dry it using cloth or paper napkin. If possible, complete this process 2-3 hours prior to cooking. Remove head and tail and chop it into 1/3-inch thick round circles.

Heat oil in a non-stick pan or heavy based kadai over medium flame. Add cumin seeds and when they begin to crackle, add chopped garlic. Sauté for 30 seconds.

Add chopped bhindi and mix well.

Cook on medium-low flame until bhindi turns dark green and shrinks. It will take approx. 6-8 minutes. Stir in between occasionally.

Add chopped tomatoes, turmeric powder and salt; cook until tomatoes turn tender, approx. 2 minutes.

Add red chilli powder, garam masala powder and coriander powder; mix well.

Cook for a minute over low flame and turn off the flame.

Transfer prepared bhindi bhaji to a serving bowl. Garnish with coriander leaves and serve with roti or paratha.
Tips and Variations:
Choose small and tender bhindi for fast cooking and better taste. Do not choose hard or stringy one. You can check tenderness of it by quickly bending its tail. If it breaks as soon as you bend it, then it's fresh and tender. If it bends completely but does not break, then it's not fresh and tender. Also its color should be glowing green or dark green and should not have yellow tinge.
If you are using frozen okras, then thaw them and wipe using cloth or paper napkin to remove excess moisture.
Add boiled and finely chopped potatoes in step-5 for a delicious change.
Do not add salt until bhindi turns dark green otherwise it will turn soggy.
If you are preparing it in large quantity, then it will take more time to cook.
Use wide bottomed pan for faster cooking. Do not cover cook; it will make them sticky and gooey.
Serving Ideas:
Serve it with roti, phulka and steamed rice as main vegetable dish for lunch or dinner. Since this Indian lunch recipe has dry texture, lunch or dinner is more wholesome and healthy when dal fry or kadhi is served along with it.
Other Step by Step Recipes
---
13 Comments
---
Feb 17, 2018 by Iona
Followered all the steps ..... liked it thank you.....

---
Oct 07, 2017 by Samkutty
I tried bhindi masala. According to my taste I enjoyed it. Thank you for the wonderful recipes.

---
Sep 29, 2017 by Daniel Samuel
It was nice. Thanks.

---
Aug 25, 2017 by Marina
Thank you so much for the receipe. I followed your guidance step by step first. It turned up better than the one I used to have in my favourite Indian restaurant in the UK. Second time I adjusted the cooking time (for less) as okra I choose is very young and tender and cooks very quickly. The third time I added a second tomato. Finally.. my last creation was by adding chopped long beans. All these within two weeks. I am loving it!

---
Mar 13, 2017 by Bud Bhayani
Excellent way to teach Indian cooking. Precise photogenic and simple ways to present recipes. I am really attached to the site

Response: Thank you. We appreciate the feedback.
---
Jan 29, 2017 by Saira banoo
I learned simple bhindhi recipe and its very simple and delicious.. I love it. Thank u for your amazing recipes.

---
Jul 11, 2016 by Sindhu
Your receipe are very easy. Step by step process was excellent to prepare dishes. Thank you.

---
Mar 14, 2016 by Joyi
I was cooking bhindi for the first time today and followed this recipe. Turned our perfect! SO loved it. It took more time to shrunk than 8 mins and I didn't add garam masala. Yumm.. looking forward to trying more recipes on this site.

---
Sep 11, 2015 by Pooja singh
It's awesome. Thank you so much.

---
Apr 11, 2015 by Anindita Chakrobarty
Your all recipe are to good. Thank you.

---
Jan 16, 2015 by Ranu Rock
It is very easy to cook and healthy food.

---
Apr 21, 2014 by Briskeby
Easy and extremely tasty. Make sure you allow the okra to darken. I think it's a great accompanying dish rather than main dish, though.

---
Jun 27, 2013 by Moez
I love this recipe and all the photos. Very simple directions. Thank you

---