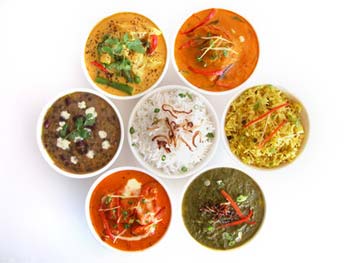 Mint sauce is a popular dip prepared from fresh mint leaves and vinegar and basic sauce ingredients. There are many different preparation of it ranging from thick paste to watery gravy. This recipe prepares thick sweet and sour sauce which can be served as a dip or relish to snacks and roasted meats.
More Sauce Recipes
Preparation Time:
5 minutes
Ingredients:
1 cup Mint Leaves (pudina)
1 teaspoon Vinegar (sirka)
1 teaspoon Salt
3 teaspoons Sugar
Directions:
Take one cup mint leaves (stems removed previously) and wash thoroughly in running water. Chop them finely or ground them in a mixer grinder and transfer to a bowl.
Boil sugar, salt and vinegar on low flame in small pan. Stir continuously until sugar is dissolved. Turn off the gas and pour sweetened vinegar over the mint leaves. Mix them well.
Let mint sauce cool for 15 minutes and transfer to a serving bowl.
Tips and Variations:
If you do not like sharp taste of vinegar, then add some more sugar.
Serving Ideas:
Serve it with chaat, samosa, kachori or dhokla as a dip or use it as a relish for roasted meats.