It is a deliciously soft and spongy idli like snack prepared from rava (sooji, semolina), generally served with
green chutney
. There are two ways to make it at home, either using a traditional fermentation method or using Eno. This recipe follows the second approach.
Also, making soft and spongy instant dhokla with sooji is an art and many beginners fail to get it right. However, with this rava dhokla recipe's step by step photos, you can be sure of making your best ever homemade white dhokla regardless your cooking expertise.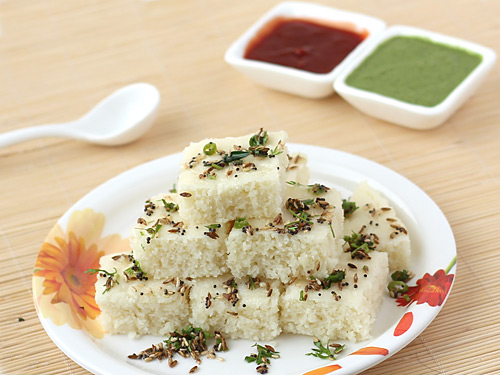 Preparation Time:
10 minutes
Ingredients:
For Batter:
1 cup Fine Rava (sooji / semolina)
1 cup Sour Curd
1/3 cup Water
1 teaspoon Eno
1 teaspoon + 1 teaspoon Cooking Oil
Salt
For Tempering:
1 tablespoon Oil
1/2 teaspoon Mustard seeds
1/2 teaspoon Cumin seeds
1/2 teaspoon Sesame Seeds (til)
1 small Green Chilli, seeded and finely chopped
4 to 5 Curry Leaves
1 tablespoon finely chopped Fresh Coriander Leaves
Directions:
Mix rava, curd, water and salt in one bowl and beat until smooth. Make sure that there are no lumps. Let it set for 15-20 minutes.

Add approx. 1 large glass water in steamer and heat it over medium flame. Grease its trays (thalis) with 1-teaspoon oil. Add 1 teaspoon oil and Eno in batter.

Mix well until it starts to bubble on surface or for approx. 1 minute, make sure not to over mix it.

Pour it into a greased tray until its half capacity and place in steamer. Steam it for 3 minutes over high flame and then 12 minutes over medium flame.

After 15 minutes, insert knife or toothpick in it and check if it comes out clean. If it does, then it is ready. If not, then steam it 2-3 minutes more.

Take out trays from steamer and let it cool for 3-4 minutes. Cut prepared suji dhokla into small squares.

Heat 1 tablespoon oil in a small pan for tempering. Add mustard seeds and cumin seeds in it. When they begin to crackle, add sesame seeds, green chilli and curry leaves and sauté for few seconds and turn off the flame.

Pour prepared tempering over rava dhoklas and garnish them with chopped coriander leaves.
Tips and Variations:
You can use 1/4 teaspoon cooking soda in place of Eno in above recipe.
Don't keep batter idle for a long time after adding Eno. Add it just before pouring the batter in greased thali.
Steam cook on a medium flame to make them spongy. Do not steam on high flame for long time.
Serving Ideas:
Serve it with green coriander chutney and tomato ketch up for yummy taste. Add mutter, chopped carrot and chopped capsicum in batter to make healthy Vegetable dhokla for kids. It is a perfect snack for kid's lunch box.
Other Step by Step Recipes
50 Comments
---
---
I tried rava dhokla today and followed exact steps as mentioned and it came out very soft and yummy. Thanks for narrating it so well with fotos !!! I will soon try your other recipes.

---
Can I use meetha soda in place of baking soda or Eno ?

Response: Yes, you can use meetha soda instead of baking soda.
---
Is cooking soda same as Saji kohro?

Response: Yes Malti, cooking soda (baking soda) is same as "saji na phool" but "kharo" is a different thing. Kharo (khar) is generally used in making papad.
---
Nov 09, 2015
by
Vandana patel
The white dhokla recipe we tried came out perfect, apparently we ran out of yoghurt and substituted half of its amount with sour cream. This is the most mouth watering dhokla ever. Thank you for this recipe. Happy Diwali to you all.

Response: Happy Diwali Vandana. Thanks for trying the recipe and sharing the tip of using sour cream instead of yogurt.
---
Got it perfect the first time I tried it!! Everyone loved it :) and my mom was surprised you can make such soft dhoklas with just rava ... thanks for sharing this great recipe!!

---
This recipe is so delicious.

I want cook this dhokla for 15 people. What to do? Can I prepare the batter for 15 people at once only?
Please reply soon.

Response: Hi Vinita, you can prepare the batter at once without adding eno fruit salt. Divide the batter and cook dhokla in batches. Mix eno fruit salt to the batter just before the time of cooking.
---
By sour curd do you mean "sour cream"?

Response: No, it doesn't mean sour cream. Sour cream is different than sour curd. You can use homemade or store bought plain curd (yogurt) in this recipe.
---
You make recipes so easy and tasty for learners. Thanks a lot.

---
Superb simple recipe my in laws loved it ;) and a daughter in law got appreciation ;)

---
Jul 15, 2015
by
Shubhangi
Hi, I tried rava dhokla and it was simply superb. My husband loved it. The recipe is so easy to cook and dhoklas are yummy and very light. It is a very good breakfast recipe.
My kids also liked it. Thank you for sharing..... :)
Shubhangi

Response: Thank you Shubhangi for trying the recipe.
---
I tried the white dhokla.... Amazing.... Very easy recipe.

Response: Thanks Neha for trying the recipe.
---
I like your recipes very much.

---
Hello
I just tried the sev it turned really awesome thanks for the recipe.

---
All the recipes are yummmmy. Great site....

---
Feb 10, 2015
by
Urvashi Rathore
Hi,

I just want any food "everything is here".

Thanks a lot for such a nice site.

---
Hello from Fiji,

I tried this recipe in the weekend and the dhokla was perfect. My husband is a Gujarati but I am a North Indian and I have tried many recipes to make dhokla but each one turned out to be a disaster.....but thanks to you and to your website that I nailed it this time. My hubby liked the dhokla to the core. Many thanks for the recipe. Regards.

---
Is cooking soda (in place of eno) also known as baking soda?

Response: Yes Ritika, cooking soda is also known as baking soda.
---
Can i mix jowar malt into this batter?

Response: Hi Sonal, I have never tried to make dhokla with jowar malt so I don't have any idea about it.
---
What is fine rava? Is rava use for making ladoos or halwa? Please replay as soon as possible.

Response: Yes, it is the same rava we use to make halwa.
---
Nov 02, 2014
by
MONIKA SONI
Awesome dhokla. Thank you for this recipe, it was very tasty. When I made this my hubby gave compliment, he said "special magic in your hands". Thank you for this recipe.

---
Thanks for this recipe, I tried using the same recipe following the exact instructions, but my dhokla turned out very dense. Wondering if the rava needs to be roasted? Any advice?

Response: Hi Shraddha, it is not necessary to roast the rava to make dhokla. The reason behind your dhokla turned dense is given below.
Did the batter rise after adding the eno fruit salt? If Eno is expired or not active, batter will not bubble up after adding eno and dhokla will turn dense.
---
Dhoklas have always failed for me but this one surpassed all expectations. Thank you so much. Never thought this would work.

---
The best site which helps to cook. I love your recipes the way you write and your photos.. superb......
Thanks a lot for these lovely recipes....

---
What is eno fruit salt? is it same as we use for acidity?

Response: Yes, eno fruit salt is the same thing that is used for acidity.
---
Sep 16, 2014
by
Navpreet Kaur Bhalla
If curd is not sour, what alternative can be used with curd to make this white dhokla ????? Please reply as soon as possible.

Response: Hi Navpreet, you can add lemon juice (as per your taste) with curd while making batter to get the desired sourness in dhokla.
---
Sep 11, 2014
by
Roshni Palan
Can I use medium rawa which is bit thicker than fine rawa?

Response: Hi Roshani, you can not use medium thick rava in this recipe because it absorbs more liquid compared to fine rava and requires more soaking time (in step-1). If you want to try with thick rava then adjust the amount of water in step-1 to get the medium thick batter consistency and set the batter for 30 minutes before making the dhokla.
---
Sep 10, 2014
by
Radhika maheshwari
Tried your other recipes also...hats off..thanks..looking forward for other new recipes.

---
Aug 19, 2014
by
Ramaa Nath
Hi there I tried Vati dal dhokla, it turned out awesome. Thanx a lot.

---
Aug 19, 2014
by
pramila saha
Your tips are very nice and easy to follow. Thanks for your rawa dhokla recipe.

---
First time ever ...my dhokla was perfect.....and it was just lovely....plzz share reciepe of muthia also.....

Response: Hi Anupama, we will definitely post the recipe of muthia dhokla soon. Please subscribe to our recipe feed so when we publish it, you will get the notification via mail.
---
What can we add in the mixture to change its colour from white... kindly advice....

Response: Hi Saika, you can add turmeric powder to get light yellow color, beet puree to get dark pink color and spinach puree to get green color.
---
Lovely & tasty recipe. I was searching for this nice recipe. I tried it, it came out excellent Tasty + spongy. Good work. Keep it up.

---
Jul 03, 2014
by
bhamagirish
thanx for the recipe..prepared dhoklas for the first time and it came out very soft..

---
first time my dhokla was came out really spongy & soft.my son loved it. Thanks for the easy recipy......

---
May 06, 2014
by
bhagya lakshmi.kr
It's very tasty I like this recipe.

---
May 02, 2014
by
Lalit Dubey
Excellent recipe the dhokla was came out really spongy & soft.my daughter loved it. Thanks for tip

---
---
Awesome recipe... I made it yesterday for a get together and everyone loved it. It was so quick n easy to make.

---
Dec 26, 2013
by
Jayashree
Yummy, amazing! I tried Rava Dhokala first time and turned out superb. Thank you:)

---
Nov 18, 2013
by
Cherishia
I tried the recipe today and I must say it turned out to be superb. Thanks for sharing the recipe.

---
i love this site bcos description is so well n its pictures of making recipes itself is enough for anyone to make an exact dish.

---
Amazing..I made it for the first time and it turned out so well...my children now want me to make it every time..Thanks a lot for the recipe...:-)

---
Thanks for the tip. That can definitely be the case, coz excess water in the curd can be soaked by semolina. Thanks.

---
It's perfect recipe, dhokla turned out very soft & spongy......my kids loved it.

---
Apr 12, 2013
by
hiral rathod
its very easy and yummy... i made it with capsicum and my hubby also loved it.. thank u foodviva

---
The recipe turned out to be great. Dhoklas turned out to be slightly smoother than I am used to, but i guess thats probably coz i over-beated it. It was great otherwise. Thanks for posting.

Response: Thanks for the feedback. It happens, If your curd is too watery.
---
i love this recipe... My dhokla came out just perfect with the exact specifications. Thank you so much for sharing this with us. My Mom use to make it this way and since they stay far I missing it....

Response: Thanks a lot Meena and everyone for the feedback and appreciation.
---
Excellent recipe, the dhoklas came out real spongy and soft. The step by step recipe makes it so easy! Thanks for the recipe!

---
Jul 07, 2012
by
rajalakshmi
I have tried many gujarati recipes of yours but this is the 1st time I am writing a comment as it got overwhelming of how selfish i am that i never shared how good all recipes came out....I tried gujarati rava dhokla mentioned in this recipe multiple times and every time it was a soft and spongy experience. Simple and super quick..the tips given are very helpful and helps me avoid making mistakes plus it allows me to make my own changes to suit my familie's taste needs. awesome work.

---
---