Pav Bhaji – a spicy curry of mixed vegetables (bhaji) cooked in a special blend of spices and served with soft buttered pav (bread bun shallow fried in butter), is any Indian food lover's dream. The boiled and mashed veggies give it a smooth yet chunky texture while specially blended Pav Bhaji Masala gives it a irresistible, mouthwatering aroma and taste – serve it with a piece of buttery shallow fried bun and voila! – it's a perfect party food that can be made in advance. It's also a best way to make your kids eat some veggies as sometimes kids don't like the taste of a particular veggie, but in pav bhaji they wouldn't even notice any veggie and eat joyfully. Whether you want to entertain the guests or feed your kid, this recipe's step by step photos, tips and variations will help you make best pav bhaji at home in just 40 minutes.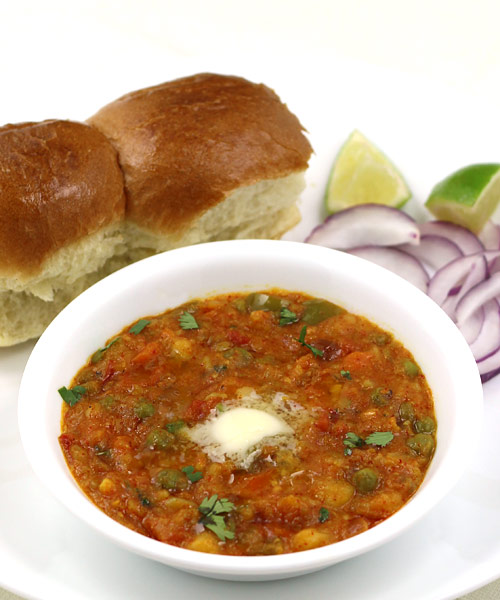 Preparation Time:
15 minutes
Ingredients:
2 medium Potatoes (approx. 1½ cups chopped)
1/2 cup Green Peas (fresh or frozen)
3/4 cup chopped Cauliflower (approx. 1/4 head of cauliflower)
1/2 cup chopped Carrot (approx. 1 medium)
1 large Onion, chopped (approx. 3/4 cup)
1 tablespoon Ginger Garlic Paste
2 medium Tomatoes, chopped (approx. 1¼ cup)
1/2 cup chopped Capsicum (approx. 1 small)
1½ teaspoons Red Chilli Powder (or less)
1/4 teaspoon Turmeric Powder
1 teaspoon Cumin-Coriander Powder, optional
1 teaspoon Readymade Pav Bhaji Masala Powder
1 teaspoon Lemon Juice
Salt to taste
2 tablespoons Oil + 2 tablespoons Butter
Butter for serving
2 tablespoons finely chopped Coriander Leaves
8 Pav Buns, for serving
Directions:
Take all the vegetables listed in the ingredients. Wash them in running water and cut them into small pieces.

Transfer chopped potato, cauliflower, carrot and green peas into a 2-3 liter capacity pressure cooker. Add 1/2 cup water and salt to taste.

Close the pressure cooker with a lid and cook over medium flame for 2-whistles. Turn off the flame. Open the lid after pressure releases naturally; it will take around 5-7 minutes.

Mash the boiled vegetables gently with potato masher or using the backside of a large spoon until little chunky texture. You can mash cooked veggies into a texture you like – with small chunks or smooth with no chunks at all. The texture of your bhaji would depend on how you mashed the veggies.

Heat 2-tablespoons oil and 2-tablespoons butter together in a pan over medium flame. Add chopped onion and ginger-garlic paste. Sauté until onion turns translucent.

Add chopped capsicum, chopped tomato and salt.

Sauté until tomatoes and capsicum turn soft.

Add 1½ teaspoons red chilli powder, 1/4 teaspoon turmeric powder, 1-teaspoon cumin-coriander powder and 1-teaspoon readymade pav bhaji masala powder.

Stir and cook for a minute.

Add 3/4 cup water, mix well and cook for 2-3 minutes.

Add boiled and mashed vegetables and 1-teaspoon lemon juice.

Mix well and cook for 4-5 minutes. Taste for the salt at this stage and add more if required. Turn off the flame. Add chopped coriander leaves and mix well. Bhaji is ready for serving.

Cut the pav buns horizontally into halves. Heat tava over medium flame. Add a tablespoon of butter and place halved pav buns over it. Shallow fry both sides until light brown spots appear, it will take around 30 seconds for each side to turn light brown. Transfer to the plate. Shallow fry remaining pavs.

Transfer prepared bhaji to a serving bowl and garnish with a cube of butter. Serve hot with butter roasted pav, sliced onion and lemon wedges.
Tips and Variations:
Add veggies like brinjal, broccoli, french beans, sweet corn etc per your preference for variation in taste and texture.
Mash boiled veggies until it has the texture that you prefer (in step-4) your bhaji to have – little chunky or smooth paste.
Add a small piece of beetroot along with vegetables while boiling to get the deep red color of bhaji. Additionally use Kashmiri red chilli powder instead of regular red chilli powder.
Garnish hot bhaji with grated mozzarella cheese to make cheese pav bhaji.
The taste of bhaji greatly depends on the butter, so don't reduce its quantity.
In this recipe we have used Badshah brand readymade pav bhaji masala but you can use any other brand's masala.
Serving Ideas:
 Serve bhaji with roasted pav buns, chopped onion and sliced tomato in dinner. It can be also served as a party snack.
Other Step by Step Recipes
---
45 Comments
---
Mar 17, 2018 by Sachin Meshram
Nice & quick recipe to fill your hunger..love it thank you very much

---
Mar 03, 2018 by Patrisia
Very well explained recipe.. turned out really good. . thanks

---
Feb 02, 2018 by Rani
It's yummy, thank you ji

---
Jan 23, 2018 by Sumàntara
Thank you. Easy n helpful

---
Jan 10, 2018 by niketa
thanks..the recipe is very well explained..lovd it.

---
Jan 02, 2018 by Nalini
It came out delicious.thank you so much

---
Jan 01, 2018 by Farhin Majumder
Itz too easy to make pav bhaji at home..really amazing...thnxxx 4 shareing your recipe??

---
Dec 29, 2017 by dipti shikha
a very easy to make reciepe.my hubby loved it.. how much butter should i use???

Response: You can use as much butter as you like.
---
Dec 24, 2017 by UMESH
Fantastic. Nice... Very good

---
Dec 21, 2017 by Thiruselvam
Way of descriptions good

---
Nov 24, 2017 by Jude
Awesome.. my family loved it.

---
Oct 31, 2017 by Vasuki
I cooked this recipe for my wife for our anniversary and it was delicious and tasty!
Thanks for the wonderful and detailed description of the entire recipe.

Thanks,
Vasuki

---
Oct 22, 2017 by Julie
I made this for a party and everyone loved it. I used MTR pav bhaji masala.

---
Sep 24, 2017 by ravi singh bhadauria
Realy very easy and fantastic recipe....loved it thanks.

---
Aug 26, 2017 by Sameerahmed chapparband
Hum dry Mattar dale to?

Response: You can add dry matar (dry peas) which are soaked and boiled in place of fresh green peas.
---
Jul 06, 2017 by Neha Kale
I tired the pav bhaji recipe. It was awesome, it's very simple to make food.

---
Jun 23, 2017 by Vineeta
I made the bhaji too spicy. How to balance it. Please help ?

Response: Hello Vineeta, you can add the boiled and mashed potato, lemon juice and little amount of sugar to reduce the spiciness.
---
May 07, 2017 by Sadrudin Lalji
Very good recipe explanation so step by step. Shall try. Really tasty food.Thanks

---
May 07, 2017 by Sadrudin lalji
Thank you very interesting recipe with nice step by step explanation. Shall try soon.

---
Mar 11, 2017 by Allison
Looking to make this as it is my favourite dish! Just wondering do you make the ginger garlic paste (if so how) or do you buy this?

Response: We will publish recipe for making Ginger Garlic Paste. You can also buy it in a store and use it.
---
Mar 07, 2017 by AMRITA P S
Truly delicious. Taste was the best, mild spice and lovable by all.

---
Feb 06, 2017 by Lavina
Too good. Easy to make step by step.

---
Jan 26, 2017 by Matin Chilwan
Easy recipes with the help of photos, crystal clear explaination.

---
Jan 08, 2017 by Vamsi
I am currently staying out of India..but I perfectly made this Pav bhaji..really thanks a lot. For the easy explaining of this delicious dish.. it's so yummy and full of my tummy..

---
Dec 20, 2016 by Deeksha
I tried this one and it came out super delicious. Thanks for this one, everyone at home just loved it.

---
Nov 05, 2016 by Subadharshini
Mouthwatering outcome!!! Easy steps to follow!!! Waiting for my hubby and mom to taste:-))

---
Nov 05, 2016 by Sandhya
I tried various other recipes but none came as delicious and awesome as this one. Tried the recipe today Simply loved it.. Thanks for sharing

---
Oct 06, 2016 by Sweta
I tried it yesterday, it came out delicious....

---
Sep 14, 2016 by Khushboo
How much raw veggies needed for 15 people?

Response: This recipe serves 3 persons, so you need to multiply all ingredients by 5.
---
Sep 02, 2016 by Viji
Thanks for sharing, tried this today and it came out good!

---
Aug 30, 2016 by Gurmeet kaur
Yummy and tasty recipe easy to follow.

---
Aug 30, 2016 by BAISAKHI SAHA
It was awesome. Thank you so much for sharing this recepi.

---
Aug 19, 2016 by Sujatha N
I tried this..and it was yummy.

---
Aug 13, 2016 by Ashwini
Thank you so much for this recipe. Its so good and delicious.

---
Jun 30, 2016 by Anusuya
Very nice easy to follow steps.
Good.
Thanks

---
Jun 23, 2016 by Maari
Nice and best way to prepare dishes.
All the best.

Response: Thank You.
---
Jun 09, 2016 by Priyanka rastogi
Awesome recipe...A big big hit in my family. Thanks a lot for sharing it with us.

---
Jun 05, 2016 by Anu Kumari
I always follow your page to cook new dishes, and it has helped me to cook food in a better way.

---
May 22, 2016 by Sampada
Today I tried ur recipe & it turned out perfect!!
My guests just loved the taste of paw bhaji.
Thanks a lot for explaining in such simple steps!

---
Apr 18, 2016 by Seema
Perfect step-by-step directions!! The pav bhaji tasted superb and is a big hit with my kids :) They wanted it in their tiffins too! Capsicum gives it a wonderful flavour.

Response: Thank you Seema for trying the recipe. I'm glad to hear that your kids enjoyed it.
---
Mar 04, 2016 by Alka
I love your website and your recipes and way of explaining. I am a working professional and have been just an average cook, your recipes are my life saver. Thanks so much.. really grateful.

---
Mar 01, 2016 by Sarah
This turned out ok. Will try some more recipes from this site

---
Feb 02, 2016 by Payal
For me the small piece of butter on top of the pav bhaji is like the cherry on top of a cake. The dish is never quite complete without it. Gowardhan butter adds just the right flavour and buttery goodness.

---
Jan 22, 2016 by Swati
Superb.... You explained all these recipes with colourfull pictures and in proper steps.. I like it very much.... Is there any free ebook of recipes of your website?

Response: Thank you Swati for sharing the feedback. Right now, we don't have any ebook of recipes.
---
Dec 25, 2015 by Aishwarya Srivastava
Very good site to become a perfectionist in cooking.

---