Farsi Puri is a crispy and delicious melt in mouth deep-fried Indian bread. It gets its name "Farsi" from a Gujarati word meaning crispy. In old times, it was considered as exclusive snack, prepared only during festivals. This deep fried snack tastes best with sweet and sour mango pickle or tea and coffee. It is prepared from maida, semolina, black pepper, cumin seeds and other spices and is stomach filling.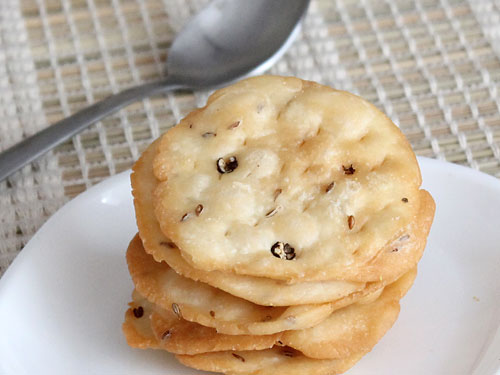 Preparation Time:
15 minutes
Ingredients:
1½ cups Maida (Plain White Flour)
3 tablespoons Semolina (Suji/Rava)
1 tablespoon Whole Black Peppercorns
3 tablespoons Ghee (clarified Butter) or Cooking Oil
1 teaspoon Cumin Seeds
Cooking Oil for deep frying
Salt
Water
Directions:
Take maida (plain white flour), semolina, cumin seeds, 3 tablespoons cooking oil and salt in a deep wide mouthed bowl and mix well using your hand.

Add water as required and knead a stiff dough. It should be harder than paratha or masala puri dough.

Cover it using plain muslin cloth and keep aside for 10-15 minutes. Divide it into 2-3 equal portions and give them a long cylindrical shape. Cut it into small portions using a knife and give each portion a round shape of pattie.

Take each portion of dough and roll it out on chapati maker board into approx. 3-4 mm thick small circles of 3-4 inch diameter. Put 2-3 whole peppercorns over rolled puri and crush them with a pestle. Prick rolled puri with a knife or fork. 4-5 pricks in entire raw puri at different places are sufficient.

Heat oil in a frying pan or kadai over medium flame. Deep-Fry pricked raw puris until they become light brown on both sides.

Drain and transfer to plate having kitchen paper spread on it. As they cool, they will turn slightly dark brown. Fry remaining puris. Crispy and crunchy farsi puris are ready, store them in airtight container and enjoy for 10-15 days.
Tips and Variations:
Knead hard dough to make it crispier.
If you do not like whole peppercorns then crush them coarsely and add while kneading the dough in step-1.
Add 1 tablespoon more oil while kneading the dough to get melt in the mouth texture.
Serving Ideas:
Serve it with tea as an afternoon snack. You can also serve it in the morning as breakfast  with tea. Pack it in kid's lunch box and enjoy it with sweet and sour mango pickle. This is an ideal snack for students staying away from home and missing homely food due to its stomach filling capabilities.
Other Step by Step Recipes
---
12 Comments
---
Jan 04, 2018 by Shashi dube
All your recipes are yummm

---
Jan 20, 2017 by Shafina
Excited to try this recipe. Please provide amounts for water and salt......(i am a complete beginner) How much more oil/butter should I add to get the 'melt in the mouth" texture?

Response: Hello Shafina, follow the below given tips for the amount of salt and water.
1. Mix flour with oil/butter and salt and then taste the raw flour and adjust the salt according to it.
2. For water, add water little by little (as needed) to bind the hard dough.
3. Add the amount of oil/butter as given in the recipe to make "melt in mouth texture". If you add too much oil/butter, puri will turn oily/greasy and may break while deep frying.
---
Aug 31, 2016 by Mohammed
Ghar me jamai hui malai ka upyog kar me malai khaja banane ki recipe chahiye plz share it..

Response: Hello Mohammed, we don't have the malai khaja recipe right now but we will definitely try to upload it soon.
---
Apr 28, 2016 by Batul
Hello!
There's no doubt regarding taste of the puri, but what troubled me was when I deep fried the puris they were perfectly crunchy and crispy but on the very next day when I had puris their all crunch and crispiness was gone.

I look forward for your reply!
Thank you in advance.

Response: Thank you Batul for trying the recipe. When you make this puri next time, follow the given tips for perfect crispy puri.
1. Deep fry it over medium-low flame.
2. After deep frying, cool the puris at room temperature completely and then store in an airtight container to preserve the crispiness.
---
Apr 14, 2016 by Tina Fernandes
I love this website. Very nicely explained!

---
Nov 13, 2015 by Katie
Great recipe, so easy! I used half a cup of chickpea flour and no semolina (just didn't have any!) they turned out amazing. Happy Diwali.

Response: Happy Diwali Kattie and thanks for trying the recipe.
---
Oct 24, 2015 by Clem
Hi,
What a great and EASY recipe! Thanks.

However, you may need to do one correction in your description:
In the ingredients list, it says, "2 tablespoons Ghee (clarified Butter) or Cooking Oil", but in the directions it says, "3 tablespoons cooking oil".

You may have to change one of them, I think. Is it not?

I used 2.5 TB of oil and 3/4 TB of melted butter!

The taste of my puries was Ok, but it was very dry with a little powdery feeling in the mouth.

How can I make it less dry?

Thanks and cheers!
Clem

Response: Hi Clem, thanks for trying the recipe, writing the feedback and notifying me about the typo mistake. I have corrected it, it's 3 tablespoons oil. The puri should taste like crackers and I am not sure why they tasted dry.. Did your puris turn crispy? Fry them on medium-low flame in a heavy based frying pan to make them crispy and not dry. One more thing, cover the rolled puris with paper napkin to prevent them from drying (before deep frying).
---
Aug 25, 2015 by Risha
Do you use cold or warm water?

Response: You can use normal water.
---
Aug 08, 2013 by samidha nande
best & easy recipe.

---
Jul 03, 2013 by deepali shelar
awesome recipe, with its unique taste & crispness.

---
Jun 17, 2013 by Chandrika
A perfect tea time snack. I tried this recipe as given and it turned out very well.

---
Jun 15, 2013 by Hetal
awesome receipe...i loved it the only variation i did was i used ghee after heating it. thanks alot for such a tasty snack.

---