Veg Manchurian Dry! The name itself makes juices flowing in mouth. It is a tempting appetizer prepared by sautéing vegetable balls in soy, tomato and chili sauces. Chinese manchurian dry and its sibling, vegetable manchurian gravy, are preferred starters of Indo Chinese cuisine and making it at home was never easy. However, with this recipe, you'll be able to make best vegetable Chinese dry manchurian you ever tasted.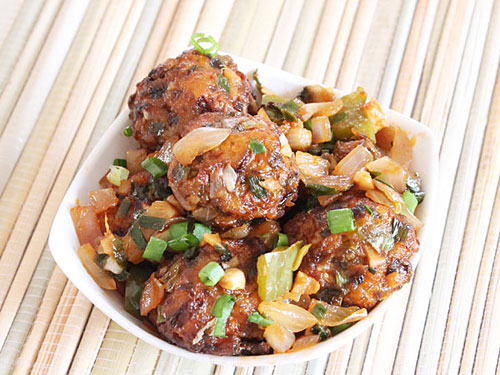 Preparation Time:
10 minutes
Ingredients:
For Manchurian Balls
1/3 cup Maida (all purpose flour)
2 tablespoons Cornflour (corn starch)
3/4 cup grated Carrot
3/4 cup grated Cabbage
1/2 cup finely chopped Capsicum
3 tablespoons finely chopped Spring Onion
2 Green Chillies, finely chopped
1 teaspoon + for deep frying Cooking Oil
Salt
1/4 teaspoon Pepper Powder
For Spicy Sauté
1 medium Red Onion, diced
1/2 cup Green Capsicum (bell pepper), diced
1/2 tablespoon finely chopped Ginger
2 Green Chillies, slit and cut in halves
1/2 tablespoon finely chopped Garlic
2 tablespoons finely chopped Spring Onion
2 tablespoons Cooking Oil
1 tablespoons Soy Sauce
1/2 tablespoon Chilli Sauce
2 tablespoons Tomato Ketchup
Directions for Chinese Manchurian Balls:
Take a medium size bowl, add grated carrot, grated cabbage, chopped capsicum, chopped green chilli and spring onion followed by 1 teaspoon oil, pepper powder, maida, cornflour and salt.

Mix all ingredients properly. Prepare small round balls from the mix. Do not add water in the mix for making balls, as water released by vegetables will be enough to bind them. In case mix does not bind properly and small balls cannot be made, add some water in the mixture.

Heat cooking oil in a pan. When oil is hot enough to deep fry, add and deep fry raw balls on medium flame until they turn golden brown.

Drain oil from cooked balls and transfer to plate having paper towel spread on it (to remove excess oil from deep fried veg balls)
Directions for Sauté:
Heat 2 tablespoons oil in a wok (wide mouthed, thin-bottomed pan) on high flame. Add diced onion, diced capsicum, green chilli, chopped ginger and chopped garlic and sauté for 2-3 minutes or until they become slightly tender.

Add soy sauce, tomato ketchup, chilli sauce and salt; mix well.

Add fried manchurian balls and spring onion. Toss and cook on high flame for 1-2 minutes.

Best dry vegetable manchurian is ready.
Tips and Variations:
Do not add water in the mix for making balls as water from vegetables will be sufficient to glue together all chopped veggies. However, in case mix does not bind properly and small balls cannot be made, add 1 or 2 tablespoons water in the mixture.
We have avoided MSG (Ajinomoto) in this recipe to make it healthier and suitable for kids. However, you can add a pinch of Ajinomoto (MSG) while preparing veg mixture for balls to get authentic Chinese taste.
Garnish it with finely chopped spring onion for eye catchy appeal.
Serving Ideas:
Due to dry texture of this dish, it is generally served as starter or snack. It tastes best when served with hot and spicy
veg fried rice
or hot and sour soup.
Other Step by Step Recipes
---
46 Comments
---
Feb 14, 2018 by Ghins kunjipalu
Very good for the everyone. Recipes are great.

---
Nov 30, 2017 by Vps
Very nicely step by step explained I have a small snackshop n my customers are relishing Thanx

---
Mar 28, 2017 by usha
Very happy...Thanks for giving easy methods of recipe...Turned out veryb delicious...

---
Jan 06, 2017 by Suma
Vegetable manuchira : Steam the vegetables and let it cool then add flour, this makes manchuria soft, also add right amount of flour to the steamed vegetables - just enough to bind the vegetables together

Palak paneer: - add nutmeg and yogurt to the palak paneer instead of cream - it tastes like dhaba style.

Response: Thank you Suma for sharing the tips.
---
Jul 19, 2016 by Anita
Wow thanks!!! Such an easy recipe and the result was yummy. Thank you so much! Going to try more recipes from this site.

---
Jun 09, 2016 by Abhishek
How can I increase the content for 20 people.

Response: Hi Abhishek, this recipe can be served as starter to 4 people and as side dish or accompaniment to 2 people. You can multiply (either by 5 to serve as a starter and or by 10 to serve as a side dish ) all the ingredients of recipe according to your requirement of serving.
---
Mar 16, 2016 by Karishma
Delicious. Everyone loved the dish.
Thanks.

---
Mar 06, 2016 by I L N S MURTHY
Excellent snacks for holiday evening time.

---
Aug 30, 2015 by Aditya
Good recipe but my manchurian balls were sticky and chewy. What should I do?

Response: Manchurian balls turn sticky and chewy if they are deep fried over low flame or if the flour is added more than given measurements.
---
Jun 11, 2015 by Shalini
Every one from my family liked the taste. The main thing is without using MSG it turned out well. Thanks for sharing this recipe.

Response: Hi Shalini, I'm glad to hear that your family loved it.
---
Jun 04, 2015 by Bhoomiben Patel
I made vegetarian machurian following by your recipe but my manchurian balls always turn soft with too much oil that is why my family does not like and I would prefer crispy manchurian balls.

Can you please advise me how I can make crispy balls?

Thank you,
Bhoomi

Response: Hi Bhoomi, thanks for trying the recipe. If you deep fry the manchurian balls over low flame then they will absorb more oil. Follow the given steps to make them perfect.
1. Add the balls in oil when oil is medium hot. To check the oil is hot enough or not, drop a small portion of batter in oil and if it comes on the surface immediately without changing its color then it is ready.
2. Always deep fry them over medium flame until light brown and crispy from outer side.
3. Do not deep fry them over low flame or high flame.
---
May 03, 2015 by Karthick
:-) I'll try it but don't know the result but still I wish to obtain better output.

---
Apr 28, 2015 by Jas
Well this is the first time I cooked this dish using your recipe. It came out very nice. I go through other websites too for this dish but I liked yours as you have presented it in a very easy and simple way. Good job and thanks. You have made my day good.

---
Apr 27, 2015 by Ankit kaushik
Is there any substitute of cornflour / corn starch? If it's not available then?

Response: Hi Ankit, corn flour/ corn starch is used to make the outer layer crispy. If it is not available, you can use arrowroot powder.
---
Mar 15, 2015 by Himani Khaneja
I tried this recipe just now and it's so yummy. Just so love it.

---
Feb 25, 2015 by Falguni
Excellent. Manchurian came out as the recipe was said. It was perfect every one enjoyed.
Thanks

---
Feb 19, 2015 by Kanchan
Hello,
I tried it yesterday, it was very yummy.... just wanted to say that this is the best recipe I have ever tried..
Thanks a lot! Keep sharing such wonderful recipes..

---
Feb 18, 2015 by Falguni
It was best way explained step by step usually I am nervous with reading recipe and doing but it came out very good. Only one problem was that the balls were very soft what could be the reason? The mixture was not too soft, it was perfect. The balls coming out brown and nice but too soft.

Response: Hi Falguni, thanks for trying the recipe. Let me ask you one question, were the balls crispy from outside or not?
1. I think the reason behind the soft balls is the wrong temperature of oil. If you deep fry the balls when oil is too hot (when smoke comes out), balls will turn brown immediately but they will remain soft and uncooked from inside. Deep fry them over medium flame to cook them evenly and crispy from outside.
2. Do not skip the corn flour (corn starch) because it helps to make outer layer crispy.
---
Feb 09, 2015 by Jarin
Very nice and tasty recipe. I make it every week. Well done. When we fry the veg balls, they are crispy, but as soon as we deep the balls in gravy they become soft. So what can we do so that the balls remain crispy in the gravy also? Please suggest. Thanks.

Response: Hi Jarin, you cannot keep the balls crispy in gravy for longer period because manchurian absorbs the moisture from the gravy and turns soft. If you like the crispy balls then add them in the gravy just before the serving.
---
Dec 27, 2014 by Sonali
Why do you not use ajinomoto in chinese fried rice & manchurian dry receipe?

Response: Hi, ajinomoto enhances the flavor but not good for health so, we have not used it in our most of the recipes.
---
Dec 13, 2014 by Smita
Tried the recipe today. The recipe is explained well however, the balls turned out very soft and started breaking while frying. Is there any way could I fix this issue the next time I try to make it?

Response: Hi smita, the reasons behind the balls started breaking while deep-frying are given below.
1. Make sure that oil is hot enough when you add the ball in oil for deep frying otherwise ball starts breaking. To check oil is hot enough or not, add a drop of batter in oil and check 1. if it comes upward immediately without changing its color then oil is ready, 2. if it comes upward immediately and turned brown then oil is too hot, 3. if it doesn't come on the surface, oil is not enough hot.
2. If you are not able to make the balls from the mixture because of excess water released from vegetables, add a tablespoon of maida and mix again. You can also squeeze out the excess water from grated carrots and cabbage before making the mixture.
---
Nov 24, 2014 by ravishankar
Well explained recipe, I tried it and it came out very well. Keep posting.

---
Nov 09, 2014 by Priya
It's yummy, thank you for this excellent recipe !!!
Can you suggest something in replacement of soya sauce and chilli sauce?

Response: Hi Priya, you cannot replace soy sauce with any other ingredient, and for chili sauce, either you can add same amount of vinegar in place of it or skip it.
---
Nov 01, 2014 by Harshit
Nice. My family liked it very much. It is nicely explained with relevant pictures. I also liked manchurian.Thank You Very Much.

---
Oct 29, 2014 by simi
Do we use green chilli sauce or red chilli sauce?

Response: You can use any chilli sauce (either red chilli sauce or green chilli sauce) according to availability.
---
Oct 28, 2014 by nidhi
Nicely explained. Very good and easy recipe, my family loves manchurian.

---
Oct 28, 2014 by aishwarya
It was absolutely awesome and easy way to make delicious dishes at home.

---
Oct 02, 2014 by saba
Awesome.... really great i made it today.. fabulous..
Thanks for this, i can now try different recipes
I used to see video but this one is more better and well explained..
I want hydrabadi recipe n chicken manchurain recipe please upload..

---
Sep 27, 2014 by vaibhav
I tried the recipe today it was good but they were hard from the outside. Please help me to make them softer and still there in my fridge help.

Response: Hi Vaibhav, manchurian balls turn hard and chewy from outside if they are deep fried over low flame. Make sure that you deep fried over medium flame.
---
Sep 23, 2014 by jignesh doshi
Hi....dear all,
My son likes Manchurian very much.
I am planing to make it....please pl pl..give give me good luck. I am nervous.......
Hey this message window before posting asking me to tick in a box to confirm that i am human..ha ha so funny....I am an alien....liking manchurian ho ho ho..

Anyways thanks for the recipe madam...

Response: Hi Jignesh, good luck for the recipe and I'm sure your kid will love it.
---
Sep 12, 2014 by Mansi
That turn out the perfect recipe for manchurian I have ever tried, everybody is asking for recipe now.....

---
Aug 20, 2014 by sara
Wow!!! awesome recipe.....
Just now I made It..
Excellent explanation dear..
Thank uuuu sooo much..
I love manchurian dry...

---
Aug 09, 2014 by vedika gujalwar
So nice explained can\'t wait to eat.

---
Jun 11, 2014 by simran
Awesome recipe.....
Thankyouu soo mch..... :D ;D

---
Jun 07, 2014 by kinjal jain
It seems to b good i hope you post punjabi recipes.

Response: Hi Kinjal, you can find the punjabi recipes by following the given link http://foodviva.com/punjabi-recipes/ .
---
Jun 04, 2014 by Manisha
Hey.. Can you plz tell how to make softer manchurian ball as the time I made.. They were hard..

Response: Hi Manisha, thanks for trying the recipe. Please see the response provided to the following comment for the answers.
---
Jun 03, 2014 by Monika
manchurian balls are too hard n tough to eat...

Response: Hi Monika, thanks for trying the recipe. Manchurian balls could turn hard in following situations.
1. If quantity of flour used is higher than the quantity mentioned in the ingredients measurement. Please make sure that it is used in same quantity as given in the measures.
2. If prepared mixture (in step-2) is too hard then manchurian balls will turn hard. Make sure that prepared mixture is smooth. If vegetables do not release enough water then add additional water in the mixture.
3. If they are deep fried on low flame instead of on medium flame - they will turn hard and oily.
---
May 05, 2014 by pranitha
good explaination and plse tell us the recipe of panner butter masala

Response: We already have recipe of Paneer Butter Masala - see http://foodviva.com/curry-recipes/paneer-butter-masala-recipe/
---
Apr 02, 2014 by Sammy
Very well n clearly explained with images giving a brief idea n outlook of the dish.. Thanks.

---
Mar 30, 2014 by Aakanksha
Wow. The way you explain recipes step by step with pictures is the best. Easy recipe & can be made quickly & healthy at the same time.
Thanks.

---
Feb 13, 2014 by Hetal
Very nice way explain each recipes. So it is very easy to cook. Please add Mexican hotpot & veg lasaniya if possible.

Response: Thanks Hetal. We will definitely upload the recipe soon. Subscribe to our recipe feed so when we publish it, you get the notification via mail.
---
Sep 18, 2013 by Manjushree Sharma
Excellent recipe, just cooked for my hubby. He finished entirely,h e was just overjoyed and said its just finger licking one. Thank you soo much, i love to cook yummy food for my hubby. Now I have to prepare some more Manchurian, he's just loving it.

Response: Thanks Manjushree.
---
Jan 24, 2013 by Sejal
Thanks for the explain my mistake I forgot to squeeze out water but I think it\'s plain flour as well because it\'s not only soft it\'s test flour as well but any way I\'ll try it again thanks again.

Response: Hi Sejal,

Note that you need to squeeze out only the excess water but not all water otherwise balls will not bind together and they may split during deep frying.
---
Jan 23, 2013 by Sejal desai
Hi I made manchurian using ur recipe & when I tried to eat it's soft inside can u tell me why it's soft inside thanks for ur recipe

Response: Hi Sejal,

Thanks for the feedback and trying our recipe. The manchurian balls will never be as crispy inside as outside. However, if it's gooey inside then there could be two reasons for it; 1) Too much water being released from vegetables and 2) Insufficient deep-frying or deep-frying on high flame. The solution to this problem is to squeeze out the excess water from grated carrots and cabbage as well as deep-frying it on low to medium flame so that inside of balls cooks properly while outside layer doesn't burn. If this still doesn't solve the problem then you can reduce the quantity of maida to 1/4 cup and increase the quantity of corn flour to 3 tablespoons. Extra cornflour will give it a crispier texture. However, we recommend that you try the first two solutions first.
---
Jul 24, 2012 by sajida
very well explained recipe, can't wait to try it.

---
Jul 11, 2012 by Manu
This is an excellent recipe. i made it as it is with little modification in amount of soya sauce and chilli sauce as my family likes bit spicy dishes and it was a super hit at the table. next time i am going to make it with ajinomoto as i believe it will add more taste.

---