This recipe is about making best soft and spongy khatta dhokla in traditional way. It requires fermentation of batter to get desired sourness and make it spongy. It is best enjoyed when served with lasun chutney and ground nut oil.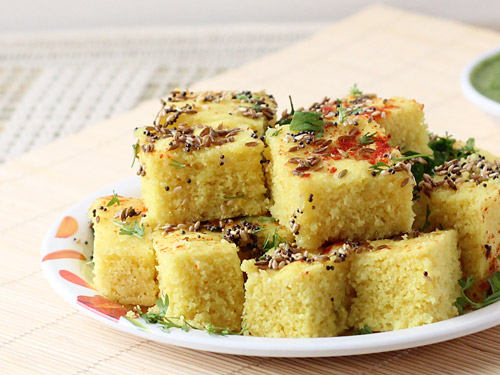 Preparation Time:
8 hours
Ingredients:
For Batter:
1/2 cup Chana Dal(Gram Lentils)
1 cup Rice
1½ tablespoons Chilli-Ginger-Garlic Paste
1/2 cup Sour Curd
1/2 cup Water
3/4 teaspoon Eno Fruit Salt (or 1/4 teaspoon Baking Soda)
1/4 teaspoon Turmeric Powder, haldi
1 teaspoon Oil
Salt
For Tempering:
2 tablespoons Oil
1/2 teaspoon Mustard seeds
1/2 teaspoon Cumin seeds
1/2 teaspoon Sesame Seeds, til
4-5 leaves Curry Leaves
2 tablespoons chopped Fresh Coriander Leaves
Directions:

Soak chana dal and rice in water overnight or for around 8 hours.


Drain excess water and grind them with curd and water (approx. 1/2 cup) to make a smooth batter in a mixer grinder. Batter should not be diluted or too thick, its consistency should be like idli batter.


Transfer it to a large bowl and add salt and turmeric powder. Mix well and put it to ferment in warm place for 6-8 hours.


Grease steamer plates (thalis) with oil. Pour 2-3 glass water at bottom of the steamer and heat it over medium flame. Add 1 teaspoon oil and chilli-ginger-garlic paste in fermented batter and mix them properly. Add eno fruit salt and stir in one direction for 1 minute.


After stirring for a minute, you will notice bubbles on the surface of a batter and its size is increased.


Pour it immediately in to greased plates and fill them until half its capacity.


Sprinkle cumin seeds and red chilli powder on top and place them into steamer.


Steam it for 10-15 minutes over medium flame. After 10-15 minutes, insert a knife in the center and check if it comes out clean. If it does, then it is ready otherwise steam it more.


Let it cool for few minutes and cut it into small squares.


Heat 2 tablespoons oil in a small tempering pan. Add mustard seeds and cumin seeds. When they begin to crackle, add sesame seeds and curry leaves. Sauté for 30 seconds.


Turn off flame and pour it over dhokla and mix well to coat dhoklas evenly with tempering. Transfer khatta dhokla to a serving plate and garnish with chopped coriander leaves and serve.
Tips and Variations:
Do not make batter too thick or too thin. Otherwise it will not come out spongy.
If you are using baking soda in place of Eno, then follow the given directions.

Make a mixture of 1 teaspoon oil, 1 teaspoon water and 1/4 teaspoon baking soda in a small bowl.
Heat this mixture for 30 seconds and immediately pour into the batter; mix well and then pour batter into greased thali in step-6. Follow the remaining steps as given above to cook dhokla.
Serving Ideas:
It tastes best with green chutney and ground nut oil. Serve it with tea/coffee with as an evening snack or light dinner.
Other Step by Step Recipes
---
14 Comments
---
May 29, 2017 by Radhika
How to store khatta dhokla for a day or two.

Response: Hello Radhika, khatta dhokla stays good for 2-3 days in a container in the refrigerator.
---
Feb 16, 2017 by Dharti
Hi I made it. It's awesome but I have a question, can we taste it mitha along with khatta with same procedure if yes then tell me how?

Response: Hello Dharti, add the powdered sugar with dhokla while tempering to make them sweet.
---
Jan 31, 2017 by Aparna Datt
Don't you use urad dal in Khatta dhokla ? Also if I am vegan I cannot use curds, can I make without curds?

Response: Hello Aparna, urad dal is not used in this dhokla recipe. Yes, you can make it without curd; it's added to get the sour (khatta) taste in dhokla.
---
Aug 10, 2016 by Priya
Hi, my dhokla does not turn out fluffy even after using baking powder.

Response: Hi Priya, use baking soda or Eno fruit salt to make the dhoklas. Don't use baking powder. Baking soda and baking powder, both are different.
---
May 11, 2016 by Bk puneet
Hi, maine dhokla try kiya lekin dhokle ka texture bread ki tarha hota h matlab jb usme pani wala tadka lagate he to dhokla gila or gala hua ho jata h jaise pani me bread dalne pr ho jati h jabki hum market se dhokla lete h to uska texture kaafi chikna hota h jo ki pani me kafi bheega hone pr bhi gala hua nhi lagta to kya ap bata sakte ho ki aisa texture kaise lau apne bane dhokle me by d way batana chahunga ki maine dhokla besan se banaya tha or rising k liye maine eno bhi try kiya or baking powder+ soda bhi, plz tell how to make texture like dis in dhoklas. Thank you.

Response: Hello, after pouring the tempering water over dhoklas, toss them well and keep them idle for at least 1-hour. Dhokla will absorb the water and they will not turn soggy.
---
Apr 27, 2016 by Rupalini sastry
How was it made traditionally when baking soda or eno was not available?

Response: Heloo Rupalini, traditionally it was made by fermenting the batter like we make the idlis without adding Eno or baking soda. Eno/baking soda is added to make the dhoklas extra soft and spongy.
---
Dec 26, 2015 by Gomathi
Hi, I don't have a dhokla cooker or anything so could you please guide me if I can cook in normal cooker and also show me the pictures.

Response: Yes Gomathi, you can cook dhokla in a normal pressure cooker by following the same method. Remove the whistle from the lid while cooking the dhokla.
---
Jun 06, 2015 by Mimi
You need the baking soda to make the bubbles. The fermentation makes an acid that reacts with the baking soda to make CO2 gas. If you were making wheat bread the gluten would hold the bubbles made by the yeast but this batter isn't strong enough.

Response: Hi, there is a difference between texture of dhokla and bread. Dhokla have more moisture and less air pockets compared to bread.
---
May 30, 2015 by Neha
In khata dhokla, idli, which type of rice is used?

Response: Hi Neha, short grain rice is used to make khatta dhokla and special idli rice is used to make idli.
---
Oct 11, 2014 by Ruchica Bagga
Hi, can u tell me what can be done if the batter gets diluted a bit?

Response: Hi Ruchika, if the batter gets diluted, add some semolina (rava / sooji) to thicken it and keep it at room temperature for 10-15 minutes to settle before making the dhokla.
---
Oct 01, 2014 by Darshna
I made khata dhokla but the color is reddish not exactly yellow
What can i do for this..??

Response: Hi Darshna, if you have added the more baking soda then it may happen. The baking soda reacts with the turmeric powder and as a result dhokla turns redish, it doesn't happen every time but sometimes it does. So, when you make it next time, either use eno instead of baking soda or do not add turmeric powder to prevent dhokla from turning redish.
---
Sep 19, 2014 by annya sharma
very ---------sweet. I loved the taste of the dhokla....

---
Jun 04, 2014 by neelam japanwala
Really good informative love it cannot wait to try all 4 of the recipes

---
May 06, 2014 by gowri
I don't like using eno/soda/baking powder etc. Is there another method to naturally ferment? I am sure the traditional gujaratis don't use raising agents as they kill the natural good bacteria….

Response: Hi gowri, I am from Gujarati family and we add baking soda after fermentation process.
Dhokla batter is naturally fermented for 6-8 hours (as you can see in step-3) in this recipe. After fermentation process, you have to add either eno or baking soda to make spongy dhoklas.
---