Kulcha stuffed with spiced grated paneer can be prepared at home by following the similar method as making
stuffed paneer paratha
. Making paneer kulcha at home is a three-stage process. 1) prepare dough 2) prepare stuffing and 3) combine dough and stuffing and cook kulcha. Ideally, they need to be cooked in clay tandoor but that's hardly an option for anyone at home. Hence, this recipe follows an approach to cook them on tawa. However, you can read and follow tips given below to cook it in grill oven or gas tandoor.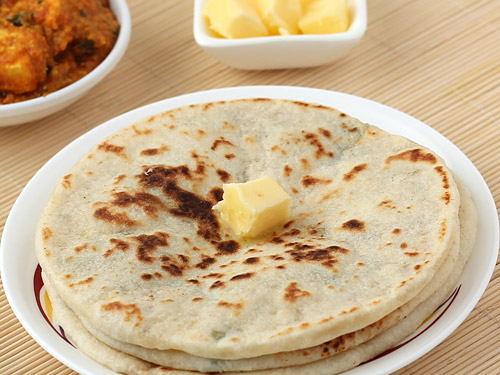 Preparation Time:
2 hours
Serves:
3 servings (9 pcs)
For Dough:
2 cups Maida (all purpose flour)
3/4 teaspoon Baking Powder
1/2 cup Luke Warm Milk
1 teaspoon Sugar
1/3 teaspoon Salt
3 tablespoons Curd (Yogurt)
2 tablespoons Oil
1 tablespoon Ghee
For Stuffing:
3/4 cup grated Paneer
1/2 teaspoon grated Ginger
2 tablespoons finely chopped Coriander Leaves
2 Green Chillies, finely chopped
1/2 teaspoon Chaat Masala Powder
1/4 teaspoon Black Pepper Powder
Salt
Directions For Making Dough:
Sieve maida in a large bowl. Add baking powder, salt, sugar, milk, curd, ghee and 2 tablespoons oil and mix well.

Add water as required and knead smooth dough. Place dough in a bowl and cover it with a wet cloth. Let it set at room temperature for 2 hours.

After 2 hours, knead it again for 1-2 minutes and divide it into 9 equal portions. Give each portion a round shape of ball. Place them in a bowl and cover with a cheesecloth. Now proceed to make a paneer based stuffing.
Directions For Making Paneer Stuffing:
Take grated paneer, grated ginger, chopped coriander leaves, chopped green chilli, chaat masala powder, black pepper powder and salt in a medium bowl.

Mix well and divide prepared paneer stuffing into 9 equal parts.
Directions For Making Paneer Kulcha:
Take one dough ball and roll it out into small puri like a circle (approx. 4-5 inch diameter) on rolling board using a rolling pin. If required, dust some dry flour over it while rolling to avoid sticking. Put one portion of stuffing (approx. 1½ tablespoons) in the center of the circle. Wrap and enclose it with all sides of the dough circle and seal its top merging point. This process will make a stuffed ball.

Now, gently press it and flatten its surface from top and bottom (like pattie).

Dust rolling board a little and roll it out into 6-7 inch diameter circle (like paratha).

Heat tawa over medium flame. Once it's hot enough, place raw kulcha over it and cook on medium flame for 30 seconds. Flip it and cook for 20-30 seconds. Flip and cook until brown spots appear on the bottom side, flip again and cook until brown spots appear on another side.

Take it away from heat and spread butter or ghee as per your preference. Prepare remaining kulchas in the similar way and serve hot.
Tips and Variations:
Use wheat flour as a substitute of maida or use both flours (wheat and maida) in equal parts to make it healthier.
Spread some black and white sesame seeds on one side of stuffed pattie while rolling it for variation.
This recipe uses salt in both stuffing as well as dough. Make sure that you do not add too much salt in any one of the parts thinking it will compensate for other part.
If you have a grill oven, you can make more delicious paneer stuffed kulcha in it. Pre-heat grill oven to approx. 400 degree Fahrenheit (200 degree Celsius), place raw kulcha in a baking dish and place it inside the oven. Let it cook until top side starts to get brown spots (approx 3-4 minutes). At that point, flip it upside down and cook another side for approx. 2 minutes or until it gets brown spots.
You can also prepare it in gas tandoor as you would normally cook it in clay tandoor.
Taste:
Soft and savory with nice aroma of butter.
Serving Ideas:
Traditionally, paneer kulcha is served with spicy
Punjabi chole masala
. However, it can also be enjoyed with
vegetable kolhapuri
, curd, pickle, papad and green chutney as healthy and stomach filling lunch or brunch. Serve it as an alternative of stuffed aloo paratha to kids.
Other Step by Step Recipes
---
17 Comments
---
Aug 07, 2017 by Seema Dhir
I like these recipes very much as my kids munch on them and always ready to eat.They are easy to cook. Yummy!

---
Jul 03, 2016 by Yamine
Hi there,

I had a quick question about the paneer. Does it need to be cooked before combining with the other stuffing ingredients?

Thanks foe your help!

Response: No, it doesn't need to cook paneer before making the mixture.
---
Feb 12, 2016 by Laita Singh
Good website for food recipes.

---
Sep 09, 2015 by Jasmin
Thank you for a delicious receipe. I also tried and enjoyed with my family. All are praised me. This one is also very easy to cook. I tried paneer kulcha with aloo chole receipe.

---
Jul 28, 2015 by Bhavika kataria
I m gonna try this tonight and will let u know.

Response: Sure, Bhavika and best luck for the recipe.
---
Jun 03, 2015 by Jaishri Khanna
Tried this recipe, all my family member and my friend liked it very much. It was very easy to make. I had tried your other recipe also. You make them very easy and thanks for it. Good job. Keep it up. Please give some ice cream recipe (egg less).

Response: Hi Jaishri, thanks for trying the recipe and I'm glad you loved it. We will try to upload the recipe of egg less ice cream.
---
Apr 30, 2015 by Aasma
Can I make a dough with only milk?

Response: Yes Aasma, you can make a dough with only milk.
---
Mar 16, 2015 by Pamela
Can I freeze the uncooked but stuffed and rolled out paneer kulcha to be cooked another time? I am only one person and 9 pieces is a bit too much. I would like to freeze the uncooked ones to be cooked at a later time. These look so yummy!

Response: Hi Pamela, if you are making this for only one person then I will suggest you to half the quantity of all ingredients in the recipe. Yes, you can store uncooked kulcha in ziplock bag in the refrigerator and consume it within 4-5 days.
---
Jan 06, 2015 by Deepika
Sir, is backing soda required? What happened if we do not add?

Response: Hi Deepika, baking powder (not baking soda) is used in this recipe as a leavening agent (raising agent) to make the soft kulcha. You can add 1/4 teaspoon baking soda instead of 3/4 teaspoon baking powder in this recipe.
---
Dec 16, 2014 by Pooja Patel
Awesome website,I have tried some recipes and they were good. Thank you very much.

---
Oct 26, 2014 by Sita Srinivasan
I made this plain, without paneer stuffing - with roti atta. Came out very good!

---
Sep 20, 2014 by Uzma
I will try this today! Looks awesome! Yummmm!!

---
Sep 09, 2014 by Namrita
Simply adorable all recipes are good and tasty.
Very tasty

Response: Thanks, namrita.
---
Sep 08, 2014 by Namrita
What is lukewarm milk?

Response: Lukewarm milk means slightly warm milk.
---
Aug 29, 2014 by Annu
Agar me step 1 me maide me milk na dalu to kya taste different ayega..

Response: Hi Annu, lukewarm milk is added to help accelerate fermentation process, so if you skip it then kulcha may not turn soft.
---
Nov 21, 2013 by amita
The way of presentation is excellent. All the recipes I went through helped me out a lot ...you are the best..

Response: Thanks Amita.
---
Nov 14, 2013 by Rajan Tiwari
Tried this recipe (about 10 days ago) with my own filling of peas, potatoes, grated gouda cheese etc (didnt have time to make paneer) - came out absolutely divine!!! Pity that as soon as it melts in the mouth it finds its way to the wrong places - tummy for us men and hips for the women!!! Just prepared fresh paneer and shall use it this time. Thank you.

Response: Thanks Rajan for providing the feedback.
---