Rasmalai – soft and spongy cottage cheese patties in dry fruit laced saffron flavored creamy milk rabri. This step by step photo recipe explains how to make Ras Malai at home from scratch with homemade chhena (fresh paneer) and thick milk (rabri) as well as how to make it instantly in just 15 minutes using readymade Rasgulla and condensed milk. No matter which way you are going to prepare, this delicious Bengali sweet cum dessert recipe will become your favorite way to satisfy your sweet cravings.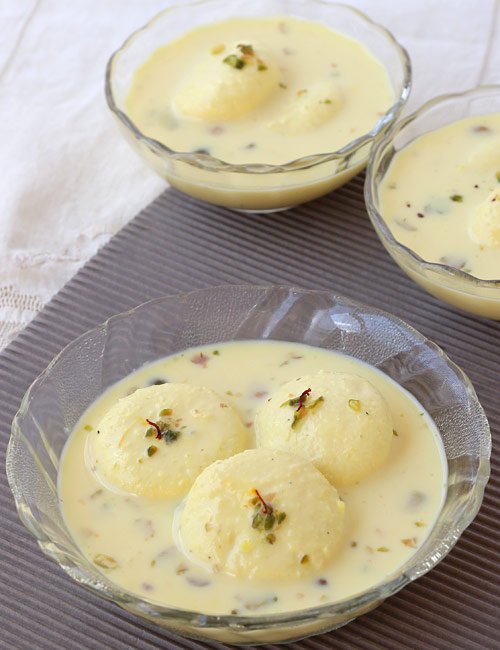 Preparation Time:
15 minutes
Serves:
6 servings (12 pieces)
Ingredients for Malai Pattie (Chhena Pattie):
1 liter Milk
2 tablespoons Lemon Juice
1½ cups Sugar
4 cups Water
For Rabri:
1 liter Milk
3 tablespoons Sugar
1 teaspoon Corn flour (corn starch), optional
10-12 Saffron strands (Kesar), optional
1/4 teaspoon Green Cardamom Powder
2-3 tablespoons chopped Pistachio
How to Make Instant Rasmalai (Easy Recipe)
To make it in shortest possible time, we need to use readymade rasgullas and condensed milk to make rabri.
Take readymade rasgullas and drain excess liquid by pressing each ball gently between two flat spatulas or spoon.
Make rabri by cooking 1/2 cup condensed milk, 2 cups milk and 10-12 saffron strands until thick and creamy.
Add drained rasgullas and 2 tablespoons chopped pistachio in cooked rabri and cook for 5-minutes. Instant rasmalai is ready.
Directions:
Make fresh paneer (chhena) using 1-liter milk and 2 tablespoons lemon juice. Take a clean muslin cloth or cheesecloth and tie chhena in it. Squeeze it gently to remove excess water and hang it over the hook (or tap) for around 30-45 minutes to drain the excess water. – See detailed steps (1 to 5) with photos in

this recipe of chhena.

After about 30 minutes, untie the muslin cloth and transfer chhena to a plate.

Crumble the chhena with hand. It should be crumbly yet little moist. If it has too much moisture, rasmalai may break while cooking. To remove excess moisture, press chenna gently between paper napkins.

Mash and knead crumbled chhena with hand until it comes together and turns into dough. Stop kneading when your palm starts to turn greasy – it will take around 5-8 minutes depending on the quality and quantity of chhena prepared from milk.

Divide it into 12 equal portions. Make a small ball from each portion, press it gently between your palms to flatten it and turn into round pattie as shown it the photo. Pattie should be thick; do not press it too much otherwise it may turn thin from sides and it will break from sides while cooking.

Take 4 cups water and 1½ cups sugar in a deep pan or in a pressure cooker and start to heat over medium flame. Stir water with spatula to dissolve the sugar completely. When it comes to rolling boil, gently slide all patties (one piece at a time) from the side.

Cover pan with a lid (if using pressure cooker, remove whistle and rubber ring from the lid and then cover it) and boil for 5-minutes over medium flame. After about 5-minutes, open the lid and flip each pattie gently with a spatula.

Again, cover with a lid and cook for 7-minutes. Turn off the flame and remove the lid. As you can see, size of the pattie increases to almost double after cooking in sugar syrup. This is due to chhena absorbing the sugar syrup.

Transfer it gently to a large bowl and let it cool to room temperature for 1-2 hours. After that drain each pattie and press gently between two spoons to remove excess sugar syrup. Be gentle while doing this process as it may break if you apply too much pressure.

Lets start to make Rabri – pour 1-liter milk in a heavy based pan (thick bottomed pan) and heat it over medium flame. When it comes to rolling boil, reduce flame to low and add saffron strands.

Stir at regular intervals in between to prevent sticking and cook until its quantity reduces to half; it will take around 15-minutes. You can also cook it over medium flame to speed up the process but make sure that milk doesn't burn and stick at the bottom of the pan; stir frequently to prevent it from burning. Mix 1-teaspoon of corn flour with 1 tablespoon water and make sure that it doesn't have any lumps. Add 3-tablespoons sugar, corn flour-water mixture and 1/4 teaspoon cardamom powder.

Increase flame to medium, stir continuously and cook for around 3-4 minutes until sugar dissolves. Add drained patties and chopped pistachio.

Cook for 4-5 minutes. This helps pattie absorb the milk and get the flavor from inside as well.

Turn off the flame and transfer it to serving bowl. Let it cool to room temperature and then place it in refrigerator for at least 2-3 hours. Serve chilled ras malai as a dessert.
Tips and Variations:
If possible, use cow's milk to make rasmalai pattie as it will softer texture.
Chhena should have right moisture consistency (little moist and not dry) to make perfect pattie.
You can add crumbled paneer or mawa to thicken the rabri as well as to get authentic chunky texture.
Add dry fruits of your choice like sliced almonds, cashew nuts etc. for variation.
Serving Ideas:
 Serve rasmalai as a sweet dish along with meal or as a dessert after dinner.
Other Step by Step Recipes
---
16 Comments
---
Oct 28, 2017 by Navjeet Saggu
Hello there, I have tried most of your recipes, they all turned out great. I just made the ras malai first the first time, it looks great, I will be trying it tomorrow with some friends and family. It looks really good, so, i can't wait. Thank you.

---
Jul 06, 2017 by Anshul
Hi, Its a very nice recipe, but when I made it the rasmalai was greasy, leaving a coat of ghee on tongue. Please suggest.

Response: Don't knead the chenna too much to prevent rasmalai from turning greasy.
---
Jan 13, 2017 by Meenu
Thanks for the delicious receipe. I tried this. My rasgullas were soft and spongy at room temp but when I kept in refrigerator they turned hard. Tried 2-3 times but happened the same. Please guide me.

Response: Hello Meenu, follow the given tips to prevent rasgullas from turning hard.
1. Keep the rasgullas in a container in the refrigerator.
2. Remove them from the refrigerator at least 30 minutes before serving.
---
Aug 17, 2016 by Zeeshan
Very nicely explained. I tried for first time and the taste was good but my paneer patties broke. Only 4 were good others got dissolved. What could be the reason?

Response: Thank you Zeeshan for trying the recipe. It happens if the chenna is too wet (excess moisture).
---
Jul 17, 2016 by Mr khera
I love rasmalai but my patties were hard. I don't know why it was like this and the rabri goes on consistent so plz help me out.

Response: Thank you Mr Khera for trying the recipe. The main reason behind hard rasmalai is the dry chenna. If the chenna has not enough moisture, the rasmalai will turn hard.
---
Jul 05, 2016 by Mr khera
Awesome explanation of the recipe.
It was very yummy as I tried it for the first time really very delicious.

---
Jun 18, 2016 by Bina
My husband loves rasmalai and was very worried that the cheese balls will break when boiling in the hot sugar syrup. Thankfully it didn't. Will make a bigger batch tomorrow. He's in for a treat. Thank you for showing us step by step.

---
Apr 15, 2016 by Sonia
Thank you thank you thank you so much. You explained the recipe so well. I tried rassmalai first time and it came out so well.

Response: Hi Sonia, glad to hear that it turned out well.
---
Mar 04, 2016 by Ankita
I love rasmalai but my patties are soft in touch and also in taste. GILGILI kind of. Can you tell me the reason why patties are flabby instead of SPONGEY?

Response: Hi Ankita, it happens if the chhena has excess moisture or they are not cooked enough. When you try next time, if it looks like chenna has too much moisture, press it between papaer napkin to get rid of excess moisture.
---
Mar 03, 2016 by Paritosh panda
Nice recipe simple words, try at home, excellent.

---
Mar 01, 2016 by Arati panchariya
Very nice recipe.I tried it...

---
Mar 01, 2016 by Savita
So good. Thank you so much.

---
Nov 21, 2015 by Shruthi
Superb explanation. Tried it... loved it...Thank you so much...

---
Oct 22, 2015 by Shubhangi
The patties were coarse in texture... Otherwise wonderfulll...............

---
Sep 01, 2015 by Swetha
Delicious recipe for rasmalai. It was easy to make.

---
Aug 01, 2015 by hiral
very nice. i love rasmalai

---