This simple and healthy cluster beans curry is known as Gawar ki sabzi in hindi Guvar nu Shaak in Gujarati and Gawar ki phalli ki Sabzi in Hindi. Its preparation varies a bit in different parts of India (e.g Gujarati style, Rajasthani style, Andhra style, Maharashtrian style, etc). However, no matter which regionalized version you make, its healthy and delicious all the way as it requires very minimal preparation and uses only basic Indian cooking spices. This step by step photo recipe prepares this curry in traditional Gujarati style and requires using pressure cooker.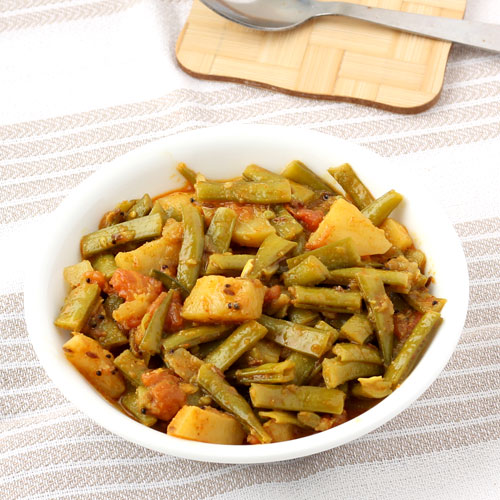 Preparation Time:
10 minutes
Ingredients:
250 gms Cluster Beans
1 medium Potato, peeled and cut into cubes
1 small Tomato, chopped
2 tablespoons Oil
1/4 teaspoon Mustard Seeds
1/2 teaspoon Cumin Seeds
1 teaspoon Ginger-Garlic Paste
A pinch of Asafoetida
1/4 teaspoon Turmeric Powder
1/2 teaspoon Red Chilli Powder
Salt to taste
1/2 cup Water
1 teaspoon Cumin-Coriander Powder
Notes:
Choose tender cluster beans to prepare this curry as mature beans are bit harder and fibrous than tender ones. If the cluster beans are not tender then it requires stringing – break the top with hand and pull it towards the bottom to remove fibrous thread. If cluster beans are tender then it doesn't require stringing, just trim the top and bottom sides and cut beans into 2-3 inch long pieces.
Directions:
Heat oil in a 2-3 liter capacity steel/aluminium pressure cooker over medium flame. Add mustard seeds; when they start to crackle, add cumin seeds, ginger-garlic paste and a pinch of asafoetida and sauté for 30-40 seconds.

Add chopped cluster beans, cubed potato and chopped tomato, mix well.

Add turmeric powder, red chilli powder and salt.

Stir them to mix properly and cook for 2-minutes.

Add 1/2 cup water and cook for a minute.

Close the pressure cooker with lid and pressure-cook it for 4-whistles (If you are using stainless steel pressure cooker then do 1-whistle over medium flame and remaining 3-whistles over low flame. If you are using aluminium pressure cooker then do all 4-whistles over medium flame.) Turn off the flame and let the pressure releases naturally. Open the lid and sprinkle cumin-coriander powder. If you do not like more gravy then cook it over medium flame until desired gravy consistency or for 2-3 minutes. Garnish gawar ki sabzi with fresh coriander leaves.
Tips and Variations:
You can also cook it in a pan like batata nu shaak recipe. However it will take more time to cook.
For variation, add cut vegetables like brinjal, green peas etc.
Taste:
 Mild spicy and salty
Serving Ideas:
 Serve this curry with paratha or steamed rice for lunch or dinner.
Other Step by Step Recipes
---
7 Comments
---
Aug 07, 2017 by Sana
Just a quick question, I'm in USA ans I have a stainless steel pressure cooker but it's not one with a whistle! It lets steam build up and gradually realeases without a whistle sound at all, any tips for this type of pressure cooker? I need tips on timing of course! Thank you.

Response: Hello Sana, I am not able to give you the answer as I have used cookers with whistles only.
---
Jul 05, 2017 by Avni
I trued this to say, indeed amazing with mild flavors exactly how i like it. Thank you mam.

---
Apr 03, 2017 by Carlton
Simplified cooking even for beginners.

---
Jun 20, 2016 by Gemma
Very easy to make recipes !
Definitely one of the best Vegetarian food website !

---
Jun 01, 2016 by Rakesh Giri
Thank you.. This is the first time I m cooking and it got all well.. Loved it. Thanks again

---
May 20, 2016 by Nimmi
This really had a refreshing taste. We all liked it. Thank you so much.

---
Jul 13, 2015 by Ranjana
Awesome...made it for first time and it was superb.

---