Few Indian vegetarian curries that never go out of fashion and are always makes you salivate by just hearing its name. One such curry is Malai Kofta and this easy step by step photo recipe gives it a unique taste and twist making it suitable to be served as a party snack or traditional curry. This recipe's simple yet unique way of filling malai (homemade fresh cream) and dry-fruits in the center of mashed potato balls (kofta) gives heavenly experience in every bite and makes preparation easy. The crispy outer layer, soft and creamy inner filling of kofta and sweet and sour tomato and onion based spicy gravy is a marriage made in heaven, simply yummy!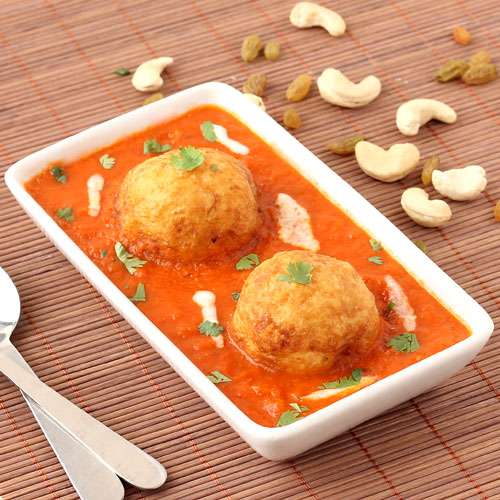 Preparation Time:
10 minutes
Ingredients For Gravy:
5 large Tomatoes (should not be sour)
3 medium Onions
4 Cashew nuts, soaked in water for 20 minutes
2-inch piece of Cinnamon
2 Cloves
1/2 teaspoon Cumin Seeds
1 tablespoon Green Chilli Ginger Paste (freshly made)
1 teaspoon Coriander Powder
1/2 teaspoon Red Chilli Powder
2 teaspoons Sugar
Salt to taste
3 tablespoons Oil
Ingredients for Kofta:
3 large Potatoes (boiled, peeled and mashed)
8-10 Cashew nuts, roughly chopped
14-16 Golden Raisins or Black Raisins, optional
1/4 cup Homemade Fresh Cream, freeze for 6 hours
4 tablespoons Corn Flour
Salt to taste
Oil for deep frying
Preparations:
Make tomato puree – you can choose one of the following two options that suits you best as it does not affect the final taste of the curry; it only affects the texture of gravy. The first method (blanch method) gives smooth texture to the gravy and is used in this recipe. The second option (crush in food processor) gives little coarse texture and takes less time to prepare the puree.

Crush tomatoes in food processor (or mixture grinder).

Make onion puree – follow this onion puree recipe. You can also make the onion puree (without blanch method) by crushing the onion in a small jar of mixer grinder. However, it will take more time to cook compared to blanched onion puree.
Make cashew nut paste by crushing soaked cashew nuts with 2 tablespoons of water using mixer-grinder.
This recipe requires semi frozen fresh cream and uses malai (prepared at home from milk). First, put malai in freezer for 6 hours to make it solid and then remove it from freezer 15 minutes before making koftas balls so that it softens a bit and can be easily scraped/scooped with spoon or cut with a knife for easy stuffing. Make sure that cream is not in liquid state, otherwise you cannot stuff koftas with it easily and they may break while deep frying. (If you find this to be difficult then read Tips and Variation given below for fresh cream alternatives.)
Method for Gravy:
Heat oil in a deep pan or kadai over medium flame. Add cinnamon, cloves, cumin seeds and green chilli ginger paste, sauté for a minute.

Add onion puree (prepared in step-2 in preparations).

Sauté until it turns light pink – will take around 2-3 minutes.

Add tomato puree (prepared in step-1 in preparations).

Stir and cook for 3-4 minutes over low flame. Add red chilli powder, coriander powder, sugar and salt to taste. Mix well and cook until oil starts to separate, stir frequently in between. If it starts bubbling, do not worry – stir and turn flame to low to reduce bubbling.

Add cashew nut paste (prepared in step-3 in preparations) and cook for 2-minutes.

Turn off the flame. Gravy is ready. Keep it aside and proceed to prepare the malai stuffed kofta.
Method for Kofta:
Take boiled, peeled and mashed potatoes in a bowl. Add salt if you have not added it while boiling the potatoes.

Divide potato mixture into 8 equal portions and give each portion a round shape of ball. Take the cream (as mentioned in step-4 in preparations) in a small bowl. Make sure that cream is in semi-solid consistency otherwise you may not be able to stuff the balls easily.

Take corn flour in a plate. Take one ball and flatten it by pressing it between palms and make 1/3 inch thick pattie. Put approx. 1/2 tablespoon cream, 2-raisins and 3-4 pieces of cashew nuts in the center of the pattie.

Carefully wrap filling from all sides and make round ball. Make sure that cream is wrapped properly because it will melt and may come out while deep frying. Coat the ball evenly with corn flour from all sides – this will act as a binder and give crispy outer layer to kofta. Repeat the process for remaining portions.

Heat oil in a kadai (or frying pan) over medium flame for deep frying. When oil is medium hot, slide 2-3 balls in oil from side of kadai (making sure to not to splash the hot oil) and deep fry until golden brown and crispy. Take out and transfer them on to kitchen absorbent paper on a plate. Deep fry remaining ones.

Take koftas in deep bowl or a plate. Heat the prepared tomato gravy and pour it over koftas. Garnish with fresh cream and coriander leaves. Malai kofta curry is now ready for serving. It can be served alone as snack or as a curry with tandoori roti or naan.
Tips and Variations:
Filling koftas with frozen cream is a little bit tricky process and needs some prior knowledge of cooking. If you do not want to fill them with cream, then use grated paneer or cheese and pour fresh cream over koftas at the time of serving.
If you want to stuff balls with malai, use only homemade cream for best result because ready made cream is very hard to scrape or cut after freezing.
Make sure that you remove the cream from freezer at least 15 minutes before making kofta balls so that it can be easily scrapped or scooped without creating a mess.
Use deep pan to make gravy because it may bubble while cooking and you may need to stir to control it.
Taste:
Mild tangy and mild sweet taste with rich cream flavor.
Serving Ideas:
Serve it as a birthday party snack or as dinner with any type of Indian flat bread like tandoori roti, naan, kulcha or paratha.