Manchurian made from gobi (cauliflower) is one of the best starters you can have in any party. Among dry and with gravy variants of it, dry one is widely preferred due to its versatility as a snack that can be served as a starter or as an accompaniment for dinner. There are two parts for making dry manchurian with gobi 1) make florets and 2) make spicy sauté. Learn how to make restaurant like delicious phool gobi manchurian dry with this easy step by step photos recipe.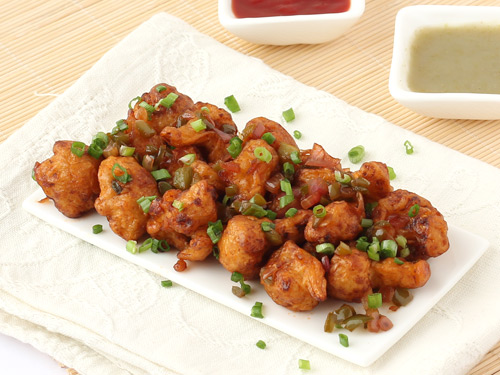 Preparation Time:
10 minutes
Ingredients:
For Florets
1/2 cup Corn Flour
5 tablespoons Maida (all purpose flour)
1 medium size Cauliflower (Phool Gobi), broken into medium size florets
1/2 teaspoon Garlic Paste
1/2 teaspoon Ginger Paste
Oil, for deep frying
Salt
1/2 cup Water
For Sauté
1½ teaspoons Garlic Paste
2 teaspoons Ginger Paste
2 Green Chillies, finely chopped
1 large Onion, finely chopped
1 small Green Capsicum, finely chopped
1½ tablespoons Soy Sauce
1/2 tablespoon Chilli Sauce
2 tablespoons Tomato Ketchup/ Tomato Sauce
2 tablespoons Cooking Oil
2 tablespoons Spring Onion, finely chopped
Salt
Directions for Florets:
Boil cauliflower florets in salted water over medium flame for 3-4 minutes. After boiling, drain excess water and pat dry florets on tissue paper.

Mix maida, corn flour, 1/2 teaspoon ginger paste, 1/2 teaspoon garlic paste and salt in a bowl. Add water (approx. 1/2 cup) little by little and stir to make a batter. Make sure that batter is not too thick or not too thin. Its thickness should be similar to thickness of dosa batter. Add all florets in batter and mix well. For perfect manchurian, batter should coat florets evenly.

Heat oil in kadai (frying pan) over medium flame. Carefully drop or slide 6 to 8 florets in oil and deep fry over medium flame until they turn golden brown. Drain and transfer deep fried florets over paper napkin to a plate. Deep fry remaining florets.
Directions for Sauté:
Heat 2-tablespoons oil in a wide, thin-bottomed pan or wok on medium flame. Add 2 teaspoons ginger paste, 1½ teaspoons garlic paste, chopped green chillies, chopped capsicum and chopped onion.

Sauté them on high flame for 3-4 minutes.

Add soy sauce, tomato ketchup, chilli sauce and salt.

Stir continuous and cook for a minute

Add deep fried florets.

Toss and mix deep fried florets with other ingredients in pan for 1-2 minutes keeping flame on high. (Tossing everything on high heat in wok or pan is must for making best Chinese gobi manchurian dry.)

Transfer it to a plate and garnish with spring onion. Serve it hot with tomato ketchup and chilli sauce.
Tips and Variations:
Do not keep deep fried florets idle for long time otherwise they will turn soft and you will not get the crunchy taste.
Serve this dish immediately to get crispy taste of florets.
Dry manchurian of gobi gets its primary taste from chilli sauce and soy sauce. You can adjust the quantity of these two sauces to get a desired flavor.
To clean cauliflower florets, soak them in hot salted water for 15 minutes.
Do not try to deep fry all florets in a single go, as they may not cook evenly.
If you like crispy dry cauliflower manchurian, then deep fry batter coated florets for little longer than suggested time in this recipe.
Serving Ideas:
Serve it as a starter or appetizer or as an accompaniment with
Chinese fried rice
or Schezwan fried rice.
Other Step by Step Recipes
54 Comments
---
Mar 08, 2015
by
Cassandra
Tried it today. It is very nice and delicious.

---
Jan 28, 2015
by
Disha Shaji
Very awesome dish. I love your blog.

Response: Thanks Disha.
---
Steps are very clear and easy for even the beginner. Thanks.

---
Jan 16, 2015
by
Jyoti Gandhi
Very nice I love it. Thanks foodviva.

---
I love this recipe and it''s very simple to make.

---
This is great. Nice recipe thanks.

---
Can we use little bit sugar instead of tomato sauce?

Response: Hi Neerja, you can use a pinch of sugar (not more) instead of tomato sauce but the taste will change a little bit.
---
It was deliciously fantastic. Happy Thanksgiving.

---
Hi, can you please give the measurement to cook this recipe for 50 members? Appreciate your immediate response. Thanks.

Response: Hi Julie, this recipe can be served as starter to 4 people and as side dish or accompaniment to 2 people. You can multiply all the ingredients of recipe according to your requirement of serving.
---
Hey, can I use sweet soya sauce instead of the regular one? Will that make any major difference to the dish?

Response: Hi, I have never used the sweet soy sauce to make manchurian, but I think sweet soy sauce makes the manchurian little bit sweet.
---
I tried this recipe today and it came out very well and awesome comments from my family members. Thank you so much for the dish. I love your blog.

---
Hi this recipe is super, I love that.

---
Thanks, I get the recipe today and I tried also. All appreciated.

---
Oct 22, 2014
by
Sita Srinivasan
The first time I enjoyed this homemade manchurian.Thanks!

---
Oct 01, 2014
by
Shubhangi
Hi, it turned out bad. I think the proportion I took for maida & corn flour was wrong. All purpose flour & corn flour got separated from florets & settled down in the oil. Nonetheless, I had to fry only florets without coats :( & had to dip them in manchurian gravy which was very tasty.

Response: Hi Shubhangi, was the batter mixed properly and medium thick? Did you deep fry the florets on medium flame? This could happen if batter is too thin or the oil is not hot enough for deep frying.
---
wow....superb. today i tried it on my kitty party. all the members liked it, thanks for this dish.

---
Sep 22, 2014
by
Kautya Mhakal
My sister loved this dish!! :D Yummmm!!

---
The dish turned out to be yummy. My husband liked it. Thanks a lot

---
Just want to know if there is any other way of garnishing instead of using spring onion?

Response: Hi, you can use chopped cilantro (coriander leaves) or finely shredded cabbage or lettuce for garnishing.
---
Can this be prepared one day prior or will it become soggy? Is there a way to prepare ahead of time?

Response: Hi priyanka, if you prepare it in advance, it will become soggy. For crispy manchurians, serve it immediately after preparing.
---
It is a very yummy dish .... too good .... but it is not remaining crispy .... why? may I ask?

Response: Hi Annie, serve the manchurian immediately after preparing it to get the crispy taste. If you deep fry the cauliflower florets in advance then moisture from the cauliflower will turn them soggy.
---
Aug 24, 2014
by
Sophia sriram
Came very well. Thank you so much

---
Aug 21, 2014
by
Elizabeth
It looks delicious but I just want to know if I can make it without soy sauce since I and my daughter are allergic to soy. Thanks

Response: Hi Elizabeth, if you are allergic to soy, you can skip the soy sauce, the taste will change a bit but it will still taste good.
---
Good...i made it...lovely taste...

---
Can I use wheat flour instead of maida?

Response: Yes, you can use same amount of wheat flour in place of maida in this recipe.
---
Aug 04, 2014
by
shiny antony
thank u 4 such a wonderful recipe.

---
It will become more fluffy if you apply egg to it. Cabbage for garnishing also looks good.

Response: Thanks larsen for suggestion.
---
Jul 16, 2014
by
Jini Kuruvila
can we skip chilli sauce?

Response: Hi, if you want to skip chilli sauce then add white vinegar (1 teaspoon) instead of it.
---
Jun 02, 2014
by
Rakesh Sharma
Its an awesome recipe. Very easy to make. Thank You so much. Everyone who's tries it has loved it. Frying the cauliflower takes very long. Is there a faster way of doing it?

Response: Hi Rakesh, thanks for trying the recipe. There is no faster way to get crispy and crunchy cauliflower florets. You should fry it over medium flame until they turn light golden brown.
---
May 11, 2014
by
kavipriyakarthik
Its really superbb....can i use red chilli paste instead of chilli sauce?

Response: yes, you can definitely use red chilli paste.
---
May 05, 2014
by
panchi gupta
wow it tastes awesome

---
Wat kind of chilli sauce? Red or green?

Response: You can use any type of chilli sauce. However, if you use red chili sauce then it will also give nice color to the manchurian.
---
They are not crispy when fried and comes with a lot of oil

Response: HI Raji, thanks for trying the recipe. If you deep fry the florets on very low flame or oil is not properly hot then florets will not turn crispy and comes with lots of oil.
Deep fry them over medium flame while oil is medium hot.
---
Wow... Superb ! And easy too!

---
I like this step by step recipe of Manchurian....
i\'ll try diz superb recipe.

---
Apr 10, 2014
by
Alekyakonline
Can we skip tomato sauce or use anything instead of this...

Response: You can not skip the tomato sauce. It is added to get mild sweet and tangy taste. If you skip it then taste of the dish will change.
---
Very awesome. Yummmmm - luv it.Hey, thanks for the yummy recipe.

---
Apr 04, 2014
by
sreelekha
Mmm...yami....!I love it.

---
Easy to make gobi manchurian. I tried it and it was superb.

Response: Thanks.
---
Mar 17, 2014
by
dharmendra jain
Today I tried it wow very tasty and easy to cook at home only one thing use tomato sauce more in place of soya.

Response: Thank you for trying the recipe. Soya sauce has mild bitter taste and specific smell, you can adjust it's quantity according to your taste. If you like the more tangy and mild sweet taste then add more tomato sauce.
---
Wow superb and very easy way to learn loved recipes and i just love it.........

---
wow....!!! m trying dis...vry tasty n supeb. love dis recipe step by step...dis help me a lot... thnku.

---
---
wow ...... its great ya . i loved it too much.

---
Wow! This recipe seems very easy. I will definitely try out soon. Thank u!

---
Wow superb and very easy way to learn loved recipes and i just love it.........

---
Tried it today. Best gobi manchurian recipe !!!

---
Jul 09, 2013
by
Nita Sameer
Excellent and easy to make loved it.....

---
simply superbbbbbbbbbbbbbb..............
It's finger licking, awesome..

---
superb and easy to make..............

---
Jan 26, 2013
by
Prabha Natarajan
gimme more stars ya...... superb....

---
---
---
Jul 29, 2012
by
Mallika Basu
I love this step by step recipe of cauliflower manchurian... the step photos helped me a lot and it was a winner on the table with everyone making second helpings. I am now seriously thinking about trying this recipe with chicken instead of cauliflower.

---
---