Once you learn how to make a sauce and/or gravy for manchurian, you can make manchurian of almost any of your favorite vegetable. In this step by step photo recipe of baby corn manchurian, baby corns are first dipped in a batter of cornflour and maida and then deep-fried until crispy. After that, they are mixed with ginger, garlic, onions, green chillies, capsicum and various types of sauces that make it an ultimate spicy and crunchy starter.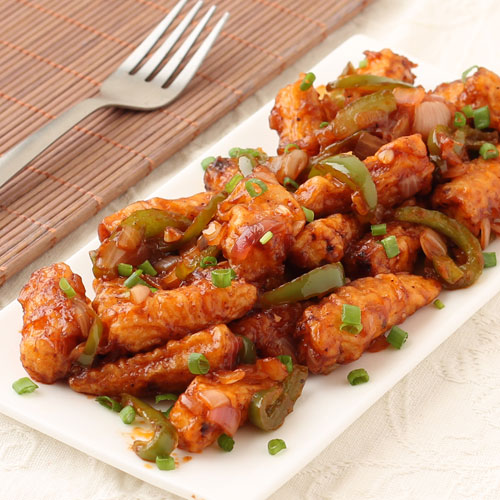 Preparation Time:
10 minutes
Ingredients:
10-12 Baby Corns
1/4 cup Cornflour (corn starch)
2½ tablespoons Maida
1 teaspoon Ginger-Garlic Paste (or crushed)
1/2 teaspoon Soy Sauce
Salt to taste
1/4 cup Water
Oil, for deep frying
For Sticky Sauce:
1 teaspoon minced or crushed Ginger
1 teaspoon minced or crushed Garlic
1-2 Green Chillies, slit vertically and halved
1 medium Onion, finely chopped
1/2 Capsicum, thinly sliced
1/4 cup finely chopped Spring Onion
1½ tablespoons Soy Sauce
1½ teaspoons Red Chilli Sauce or Green Chilli Sauce
2 tablespoons Tomato ketchup
1/4 teaspoon Black Pepper Powder
1 teaspoon Cornflour (corn starch) dissolved in 2 tablespoons Water
1 tablespoon Oil
Salt to taste
Directions for Making Fried Baby Corn:
Cut baby corns into half and chop other vegetables.

Mix cornflour, maida, ginger-garlic paste, soy sauce and salt with 1/4 cup water in a medium size bowl and prepare a batter. Make sure, that there are no lumps in the prepared batter. Add halved baby corn pieces in it and coat them evenly with batter.

Heat oil in a frying pan over medium flame. When it is medium hot, take one piece of batter coated baby corn and gently drop into the oil. Make a batch of 4-5 pieces at a time and deep-fry them until light golden brown and crispy. Transfer them using slotted spoon over oil absorbent paper in a plate. Deep-fry remaining pieces.
Directions for Sticky Sauce
Heat 1-tablespoon oil in a wok or wide mouthed pan over high flame. Add minced ginger, minced garlic, slit green chilli and chopped onion and sauté them for a minute.

Add sliced capsicum and sauté for a couple of minutes.

Add spring onion, red chilli sauce, soy sauce, tomato ketchup and black pepper powder. Mix well and cook for 30-40 seconds.

Add dissolved cornflour, mix well and cook for a minute.

Add fried baby corn pieces.

Toss until all ingredients are mixed well and corns are coated well with sauce and cook for approx 2-minutes.

Baby Corn Manchurian is ready for serving. Serve it hot.
Tips and Variations:
Do not keep fried baby corns idle for long time otherwise, they will turn little bit soft and you will not get the crunchy taste.
If you are preparing this Chinese dish for kids party or snack then reduce the quantity of ginger and garlic and do not add green chilli and red chilli sauce.
You can add ginger and garlic in any one of the form – crushed, minced or paste as per your convenience.
Taste:
Spicy, crispy and crunchy
Serving Ideas:
You can serve it by itself or with tomato ketch-up as appetizer or starter. It can also be served as a side dish with fried rice and Chinese soup.
Other Step by Step Recipes
---
19 Comments
---
Aug 30, 2017 by Chanda
Awesome and easy receipe very tasty.

---
Dec 13, 2016 by Saraswati panda
Awesome recipes. I tried many of them of recipes thanks a lot.

---
Aug 25, 2016 by Monali
Awesome n very simple receipe. Love all the receipes on this site. Thank u.

---
Aug 21, 2016 by Afreen khan
Awesome recipe. My in-laws liked it very much...Thanks a tonne for sharing this recipe !

---
Aug 10, 2016 by Zoya
Hey, I relly loved this dish... Can u please tell me how can I get baby corn? Is it available in a grocery shop?

Response: Hello Zoya, you can get fresh baby corns in the fresh produce/ vegetables section of store in India. In USA, it's hard to find fresh baby corns. If fresh baby corns are not available, use the canned baby corns instead of it, which are easily available in the grocery stores.
---
Aug 02, 2016 by Pawan Raju
Wow, thank you for the recipe. I prepared it and had it with a colleague. Both of us loved it. Tastes good with bread and mayonaise.

---
Mar 14, 2016 by Imelda
Hello, thank you for recipe. Please, could you tell me what is Maida? I am from Europe and never heard about it, but I would like to try this recipe. Thanks a lot. Imelda

Response: Hi Imelda, maida means all purpose flour (white flour).
---
Mar 05, 2016 by Mary roja
Very delicious, thank you food viva.

In the absence of maida, can we add wheat flour?

Response: Yes, you can add wheat flour.
---
Jan 01, 2016 by Shaila
I prepared the dish as per the recipe. But the dish turned out blackish not reddish and the taste wasn't absorbed by the babycorn. What was the reason? Also is there a way to cook the dish without the artificial flavour of the sauce.

Response: Thank you Shaila for trying the recipe. The color depends on the sauces, if you add more soy sauce or less tomato ketchup, manchurian will turn darker. Don't forget to add salt in step-2 (add little bit more salt) so the baby corn tastes batter. You cannot cook the manchurian without adding sauces.
---
Nov 28, 2015 by Kruthi Narayan
Thanks a ton !! This is the easiest way i've ever seen on internet.

---
Jul 23, 2015 by Manisha
Thank you for recipe of Baby Corn. Every one in my family and I loved it.

---
Jun 28, 2015 by Ssamrah Nauman
Recipe turned out nice..simple and yumm..

---
Feb 17, 2015 by Swaroop Das
Very nice explanation ma'am and thanks a lot for creating this wonderful website which is definitely a boon for the people who actually wants to prepare food as well want to learn new recipes.

---
Feb 07, 2015 by Poonam Naik
Awesome! Thanks for suggesting this dish Deepthi. It is really tasty. After reading this truly I became your fan.

---
Jan 30, 2015 by Deepthi
Thanks for the recipe. May I know the name of the person who has created this site :)

Response: Hi Deepthi, this site is created by me and my husband. Here is the author link. I am the author of most of the vegetarian recipes on this website.
---
Dec 07, 2014 by Rasheeda siddiqui
Delicious recipe, I want to try this at my home.

---
Nov 22, 2014 by shubha
Mouth watering recipe. Thank you for this.

---
Sep 16, 2014 by sreelakshmi
Should we boil the baby corn?

Response: Hi, you can parboil (half boil, boil in salted water for 3-4 minutes) the baby corns if you like, however it is not necessary to boil them.
---
Jul 06, 2014 by maahi gupta
Mast hai yaar thank you for recipe. I prepared it and every one in my family loved it.

---