South Indian cuisine is known for its healthy recipes and rava idli (suji idli) is one of the simple recipe which combines the goodness of many dals and spices. It's not just healthy and irresistible but also very easy to prepare too. Now a days there are few ready-made instant rava idly packs available in market which just required adding some water and steaming. However, nothing can beat the taste of authentic preservative free soft and fluffy home made idli.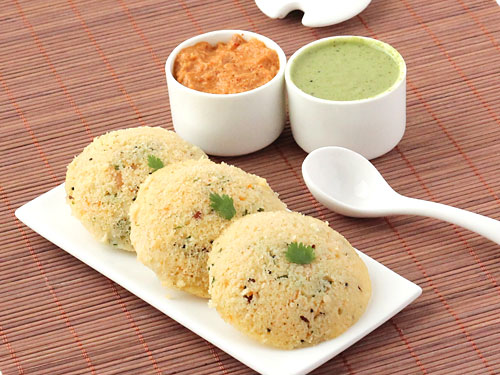 Preparation Time:
5 minutes
Ingredients:
1 cup Rava (suji / semolina)
1/2 teaspoon Mustard Seeds
1/2 teaspoon Cumin Seeds
1 pinch Asafoetida (hing)
1 teaspoon Chana Dal (gram dal)
1 teaspoon Urad Dal (black split lentils without husk)
1-2 sprigs Curry Leaves
1 Dry Red Chilli
6-7 Cashew Nuts, broken into pieces
1/3 cup Thick Yogurt (curd)
1/2 cup grated Carrot
2 Green Chillies, finely chopped
1 teaspoon grated Ginger
1 cup + 2 tablespoons Water
2 tablespoons finely chopped Coriander Leaves
1 teaspoon Eno Fruit Salt
2 tablespoons Oil
1/2 tablespoon Ghee
Salt
Directions:
Heat 1/2 tablespoon ghee and 1 tablespoon oil in a heavy based pan or kadai. Add mustard seeds; when they start to crackle, add cumin seeds, asafoetida, chana dal and urad dal. Sauté until dal turns light brown. Add curry leaves, dry red chilli and cashew nuts and sauté for 30-40 seconds.

Add rava (semolina) and mix well.

Roast it on medium flame until it turns light brown, stirring continuously. Make sure that it does not burn. Turn off the flame and transfer it to a plate. Allow it to cool for 7-8 minutes.

Prepare a mixture of curd, chopped green chillies, grated ginger and salt in a large bowl.

Add roasted rava and (1 cup + 2 tablespoons) water and mix well. Make sure that there are no lumps.

Add grated carrot and chopped coriander leaves and mix properly. Keep batter aside for 15 minutes to settle.

Pour 2 glasses water in steamer and heat over medium flame. Grease Idli molds (plates) with oil. Add Eno fruit salt in batter and stir for a minute.

After adding eno, you will notice bubbles on the surface of a batter.

Pour batter in greased molds and steam it on medium flame for 10-15 minutes. Do not steam it on very high or very low flame.

After 15 minutes, turn off flame and remove molds from steamer. When it cools down a bit, remove prepared idli from it.

Instant rawa idli is ready, serve with coconut chutney.
Tips and Variations:
After adding Eno fruit salt in batter, stir well for a minute and immediately pour it into molds otherwise idli will not be soft and spongy.
You can add cabbage and onion for variation.
Steam it on a medium flame to make it spongy.
Serving Ideas:
Serve it with coconut chutney and sambhar. It is a perfect dish for breakfast but can be served in lunch or dinner too.
Other Step by Step Recipes
---
75 Comments
---
Mar 21, 2018 by Reema Thomas
Hey how was this traditionally made without baking soda or enough or soda bicarbonate. So how do ferment

Response: For natural fermentation, you need to add yeast and let batter sit at room temperature for 12 hours.
---
Jan 22, 2018 by Akhila Shetty
Can I keep this batter overnight?

Response: Rava Idli batter doesn't require fermentation and should me and fresh each time for best results. However, if you have lefrover batter, you can store it in refrigerator and use it within 24 hours.
---
Dec 29, 2017 by susmitha
instead of eno i used baking soda of less than half spoon and still idli is fluffy. Thanks for ur recipe..

Response: Thank you for the feedback Susmitha. This would be helpful for our readers.
---
Dec 14, 2017 by sumathi
Superb & simple receipe! Will try it today! Thanks to food viva!

---
Oct 10, 2017 by Aruna
Good recepie worthy of trying.

---
Aug 01, 2017 by Amrita
Tried out your recipe today and it turned out so tasty. Thank you very much for posting. God bless. I wish I could show you the result.

Response: Thank you Amrita for trying the recipe. You can send the photo to our mail (support@foodviva.com) or at the facebook page.
---
Jul 07, 2017 by Bhanu
Can we store better in fridge for long time use or we have to cook it same time.

Response: You can roast the sooji (dry mixture) in advance and store it but you cannot store the batter for long time in fridge.
---
Jun 24, 2017 by Neha
Tried it. It was awesome. Thank you for the recipe.

---
Apr 10, 2017 by Sapna
Hi..your idlis looking delicious. I want to try your receipe but do not have eno, can I replace it with baking soda? If yes, how much baking soda should be added?
Thanks :)

Response: Yes Sapna, you can replace eno with 1/3-1/4 teaspoon of baking soda.
---
Mar 23, 2017 by Reema
Made this Rava Idli , the result was delicious. My whole family relished it.

---
Mar 12, 2017 by Jyotsna Dalvi
I followed your recipe and my idlis turned out nice and spongy. Thank you. But I did not get the nice light yellow colour that your picture shows. Mine turned out light brown. I prefer light yellow. Any idea why? Thank you.

Response: We are not sure why Rava Idly would get brown color. However, this could happen if you roast Rava for too long or Rava you are using is old and is brown.
---
Feb 13, 2017 by Shanta
I made them as a quick snack yesterday and the idlis turned out brilliantly. Thank you. You are a star.

---
Feb 10, 2017 by Sanvi Kapoor
How many idlis will be made with above mentioned quantity??

Response: Around 10 idlis will be prepared from the given recipe.
---
Dec 29, 2016 by Silvish
I had come across this site from net, it seems very useful for my cooking style. Every day I can cook in different style with different taste with your favorite menu.

Thank you so much ...

---
Nov 24, 2016 by Sindhuja
I am a beginner in cooking and I tried this recipe. It came out very well. And I took pics to share with my family and friends while preparing.

Response: Thank you Sindhuja for trying the recipe. Glad to hear that it turned out well. Please send the pic to our facebook page or mail at "support@foodviva.com", we would love to share it on our facebook page.
---
Oct 22, 2016 by Godziphetha4 always
Hi did you use fine rava for this recipe? Some say fine rava will not work.. :(

Response: Yes, fine rava is used in this recipe. This is an instant type idli and that's why fine rava is used.
---
Oct 20, 2016 by Deepak
How much ENO to be added for 6 serving.

Response: For 6 servings, you will need 3 teaspoons eno (1 tablespoon eno).
---
Oct 14, 2016 by Shweta
What kind of rawa to use fine or coarse.... is it ok if i use very very fine rawa?

Response: Hello Shweta, fine rava is used in this recipe. Yes, you can use very very fine rava.
---
Sep 09, 2016 by Parnila Chand
I made it today followed the recipe turned out amazying. Thanks so much.

Response: You are welcome, Parnila.
---
Aug 21, 2016 by Manvi
I used to make them earlier but they never came out this perfect. Your tip about the flame is what did the wonders I guess. Thanks a lot :)

Response: Yes Manvi, you are right about it. It's necessary to keep flame on medium to cook perfect dhokla/idlis.
---
Jun 12, 2016 by Aks
Can I avoid eno fruit salt? Wish to make it more natural and healthy.

Response: No, you cannot avoid eno fruit salt to make this instant idli.
---
May 26, 2016 by Preet
I made it. Absolutely delicious. Easy and systematic process. Yummilicious. Thank you so much.

---
May 14, 2016 by Divya Rajvanshi
How much eno can be added?

Response: Hello Divya, 1-teaspoon Eno Fruit Salt is added in this recipe.
---
May 05, 2016 by Amrutha
It's with great joy I am giving my comment here.I have been trying to make rava idlies from quite some time. They never came out as soft as I had wanted. But after trying this recipe the idlies came out really soft and fluffy my family enjoyed it. Would like to thank you and shout A big HURRAY to you.

---
Apr 24, 2016 by Manjusha Ladha
Hello,
Can this be made in a microwave idi maker?
Thanks!

Response: You can make this in microwave idli maker but the result would be not as good as steam cooked on stove top using idli maker. Follow the instructions given in the manual came with microwave or cook it for 3-minutes in microwave and then check the idli and cook more if required (after 3-minutes of cooking, check after every 30 seconds).
---
Feb 01, 2016 by Sreepriya
Actually I want to make this for my son but he wont eat if ginger and green chilly are in pieces. So, is it a good idea to ground green chilly and ginger into fine paste? Whether it will affect the taste of the dish?

Response: Yes Seepriya, you can grind the chilli and ginger instead of adding chopped ones or skip them.
---
Jan 03, 2016 by Namita
Hello,I tried this idli recipe today and it was awesome and felt so good that it was very nice, in fact I had taken pics and shared with friends and family and everyone was impressed. Thank you for sharing this recipe and now I am gonna try khamman also some time.

Response: Thank you Namita for trying the recipe and I am glad you liked it. You can send us the photo via mail (support@foodviva.com) or via facebook message and we would love to post it on our facebook page under "Tried and Tested Recipes" section.
---
Dec 15, 2015 by Preeti
Nice..tried..came out well..my hubby liked it. Recieved applauds..thanks.

---
Nov 29, 2015 by S M Dhingra
Very good recipe. Idlis came out perfect. Could not be better. Details and small tips were very helpful.

---
Nov 18, 2015 by Lovely
Wow..I tried them and they really turned out well and were absolutely delicious. So quick and easy. Thankyou so much!

---
Oct 29, 2015 by Neerja Yakhmi
Superb recipe. .and an excellent way of narrating it with images!

---
Sep 27, 2015 by Harshad
Hi, I made these Idli's. They tuned out good to taste however they were not soft and spongy instead they were sticky from inside.I don't know what mistake I made. Also when I added 1/3 yogurt to 1 cup rava, it became dry so I added a bit more yogurt and half cup water. Should I increase the amount of eno salt to make soft?

Response: Hi Harshad, you have added the less water that's why idli didn't turn soft and spongy. For 1 cup rava, 1/3 cup thick curd and 1 cup water is required.
---
Sep 22, 2015 by Ammu Kuty
Vanakkkam ... the "Rava Idli recipe" was so nice, turned out very well and quick & easy.

Thanks for the step by step recipe with pictures.

Really appreciated.

---
Sep 18, 2015 by Swathika Venkatesh
This recipe is awesome, I tried it and it came out awesome as well. Those step by step pics helped me a lot. :-)

---
Sep 14, 2015 by Komal
Hey, I tried your this recipe today and it came out very tasty and wonderful. Had it with coconut chutney and sambar. Just followed as you mentioned. I am a first timer on this site. I will surely follow your more recipes. Thanks a ton.

---
Aug 21, 2015 by joji
Superb!! Ur recipe is a big hit!!!I made idlis for the first time and they turned out spongy and soft. We had them with sambhar. We are punjabis.My husband couldn't believe I Can make so yummy idlis. Thanks for this wonderful recipe.

---
Aug 06, 2015 by Rufeena
I liked this recipe and want to try it soon. But please tell me what is eno salt, where is it available and any for it. Thanks.

Response: Hi Rufeena, ENO fruit salt is avilable at medical store or grocery store, it is generally used for indigestion (acidity). If it is not available, you can use 1/4 teaspoon baking soda instead of it.
---
Jun 11, 2015 by Kiran
I have read thru your recipe. It's temping and will try soon.
Wish me luck.

Response: Hi Kiran, good luck. I'm glad you are going to try this recipe. Let me know how it turns out after trying the recipe.
---
May 22, 2015 by Charu Arora
Can we make it in microwave? If yes, then how much time will it take?

Response: Hi Charu, you can make it in a microwave. Use microwave steamer and microwave idli on high for 2-3 minutes. After 2 minutes, check the idlis and if they are not cooked then cook for another minute.
---
Apr 29, 2015 by Anita Kumar
Nice recipe....will try this weekend.

---
Apr 08, 2015 by Suneeta
I tried idly but i couldn't pick up idlis from mold because it was so sticky. Please give any suggestion about the mistakes I did. Do I need to change rava or eno fruit salt quantity?

Response: Hi Suneeta, no need to change the quantity of rava or eno fruit salt. The reason behind sticky idli is watery batter. The water absorbed by rava depends on the quality of rava. When you try it next time, reduce the quantity of water and grease the idli mold properly to prevent it from sticking.
---
Apr 01, 2015 by Sonu
What is the difference between meetha soda baking powder or baking soda?

Response: Hi Sonu, meetha soda and baking soda are same. But, baking soda and baking powder are different. In some recipes (not all), you can substitute baking soda with baking powder but the amount will be different.
---
Mar 31, 2015 by Amritha
Am I able to store this batter? And if yes for how many days? Thanks.

Response: Hi Amrita, I have never stored this instant idli batter because this is the instant version and takes less time to prepare. However, if you want to store the batter then store it without adding eno fruit salt in a container in the refrigerator for around 1-2 days.
---
Mar 27, 2015 by Ratna
Beautiful recipe, hubby and me truly enjoyed it (plans were to save some for breakfast tomorrow but none were left!)

Thank you,
Ratna

---
Feb 14, 2015 by Patty
Can we replace ENO by fermentation process. If so what are the changes in the steps. Appreciate your response.

Response: Hi, you cannot ferment this batter because it is prepared from rava / sooji (NOT IDLY RAVA). If you want to make the idli with fermentation process, you have to use the idly rava (rava which is prepared from rice) with cooked rice (or poha). You can google the recipe of idly with fermentation process for exact ingredient measurements, I hope you will find the recipe.
---
Jan 29, 2015 by Lalita
I do not have Idli moulds; could I use muffin cases to put the idli mixture and then steam it?

Response: Hi Lalita, if the muffin cases are made of metal or can be used for steam cooking then you can use them. You can also use a deep plate(which is generally used to cook dhokla).
---
Jan 28, 2015 by Amrutha nagesh
I am going to cook rava idli. But I don't know how it will come out, please wish me best of luck.

Response: Hi Amrutha, best of luck for making the idli. Please, provide the feedback after making the idli.
---
Jan 24, 2015 by Mohini
What is proportion of idli batter to Eno (Fruit Salt)? Please reply soon.

Response: Hi Mohini, add 1 teaspoon eno fruit salt in around 2 to 2.5 cups idli batter (prepared by above recipe). If you want to use ready made batter (store bought batter) then no need to add eno fruit salt.
---
Jan 21, 2015 by Smitha Chethan
Hi, I prepare rava idli often but I don't use any soda. Is it must to use soda?

Response: Hi Smitha, Eno fruit salt (or soda) is a must ingredient because this is the instant recipe for idli and we do not ferment the batter. It is added to make the soft and fluffy idli.
---
Jan 21, 2015 by Sunita
Semolina is of two types - fine and coarse, which is better or both will do? Since it's winter, can we keep it for overnight fermentation after putting curd and not Eno? My idlis were not soft and they just came out like upma. If we double the quantity of ingredients, do we need to increase the quantity of Eno too?

Response: Hi Sunita, the answers for your queries are given below.
1.It is necessary to use fine semolina in this instant idli recipe because it takes lesser time of soaking. Do not use coarse semolina for this recipe.
2. Fermentation process is not required in this recipe. After mixing all the ingredients, just keep the batter aside for 15 minutes to settle.
3.To make the soft idlis - after keeping the batter aside for 15 minutes, 1. add the eno in batter, 2. stir for a minute. and 3. immediately pour into greased plate.
4.If you double the quantity of all ingredients, you need to double the quantity of Eno too.
5.If you want to prepare them in batches, then divide the batter and eno according to it and mix the eno at the time of cooking for each batch.
---
Dec 28, 2014 by Ameena Aneesh
Thanks for the wonderful recipe! We had it with Sambar. In fact, it tasted yummier than the conventional idli.

---
Dec 12, 2014 by Ashwini
Wow, yummy to taste and easy to prepare. I loved it. Thanks for your recipe.

---
Oct 27, 2014 by Divya mohan
Excellent recipes, I have tried all your recipes, mind blowing ones.

---
Sep 30, 2014 by Kusha Sood
My idlis turned out to be very soft but when I used baking soda the colour of idlis were slightly brown. May I know how to keep them white?

Response: Hi Kusha, whether you use eno or baking soda, the color of the idli will remain the same. In this recipe, we have used the grated carrot and roasted rava. This makes batter turn light brown (in the step-6 photo) and as a result, idli has light brown color (not white color like rice idli) as you can see in the photo.
---
Sep 17, 2014 by tanvi
Recipe looks yummy.. is there a substitute for Eno fruit salt?

Response: Hi Tanvi, you can use either eno or baking soda in this recipe but eno makes the idlis more porous and soft compared to baking soda. If you do not have eno on hand, you can add 1/4 teaspoon baking soda instead of it in this recipe.
---
Sep 16, 2014 by karthikeyan
excellent and mouth watering...

---
Sep 15, 2014 by rohini
Hey hi

I have one question. Can we use normal rawa or special idli rawa for rawa idli?

Response: Hi Rohini, you should use normal rava (fine rava) to make this instant type of idli, you can not use idli rava in this recipe.
---
Sep 13, 2014 by priya
Hi
Can we use rice rava instead of upma sooji

Response: Hi priya, you can not use rice rava in this recipe because it absorbs more liquid and requires extra time to soak.
---
Aug 07, 2014 by neha
My idlis were a lil flat.. how can we make them to rise. In fact they were soft n spongy. But I feel that they need to be risen up a little. Any tips for that plzzz...

Response: Hi Neha, thanks for trying the recipe. The reasons behind flat idlis could be..
1. If the batter is thin and too watery. This could happen if curd is watery or you have added more vegetables. Make sure that batter has medium thick consistency like normal idli batter.
2. If quantity of eno fruit salt is reduced or batter is left to sit idle for long time after adding Eno fruit salt.
---
Aug 01, 2014 by Tappy
I tried your recipe for the first time. It tasted really good. But somehow my idlis came out to be super super soft..I mean they were breaking from middle..Any suggestion how can I avoid breaking of idlis?

Response: Hi Tappy, there could be multiple reasons behind this. make sure that,

1. Rava is roasted properly. If its not roasted properly, then idli will turn sticky and would break easily.
2. Consistency of batter is not watery and thin.
3. Do not use watery curd and do not add more water than recommended. If you are using watery curd then reduce the amount of water.

Take care of above when you make it next time. I hope this helps you.
---
Jul 31, 2014 by G Manjunath
Good and easy recepie for newly married couples.

---
Jun 05, 2014 by seema
Thanks for share with us your recipe very useful us for daily making foods.
Thanks in ton . :)

---
Jun 03, 2014 by Savita
One question is it same suji which we use for Upma?

Response: Yes, Suji is another name for Rava which is used for making Upma.
---
May 30, 2014 by Seena Rajsekar
Very easy and so nice I like it ...

---
May 22, 2014 by farhana
Thnk u so much for sharing this recipe. Out of blue i tried it nd i cant believe that perfect rava idli came out. Yummy!! Kudos to u buddy

---
May 08, 2014 by DSOUZA JDS
Excellent recipe, Tried & turned out well,, wow.
Thx for sharing

---
Apr 28, 2014 by Arti
Thank you for sharing this recipe set by set. I tried this and it was amazing.

---
Apr 08, 2014 by Yatri
Amazing...loved ittttt

---
Mar 29, 2014 by Monica
Amazing receipe. I am not a great fan of semolina except when its prepared as a dessert in gujarati culture. But trust me this recipe is the best. I
am going to prepare them now actually, just referring back to recipe. Many thanks.

Response: Thanks Monika.
---
Mar 10, 2014 by Rajeev
Urad dal is not Arhar dal. Arhar in North India is Tuar in Gujarat & in many areas. Urad Dal is split black lentils dehusked. Small correction.

Response: Thanks Rajeev for notifying me. I have changed the ingredient name according to suggestion.
---
Feb 19, 2014 by Vidya Vijayan
Tried the Rava Idli and Rava dokhla recipes ... came out yumm... really great explanation and perfect methodology!!!! Thanks.

---
Aug 06, 2013 by SK
All the recepies that I have read are wonderful ...........

---
Jul 12, 2013 by Rakhi
Excellent steps of cooking with step by step photo , very helpful and moreover the tips given below provides basic knowledge of cooking.

---
May 03, 2013 by swati
i love your cooking so much. i like the way you have showed the recipe step by step it\'s really helpful. keep updating new recipe. thank you.

---
Dec 15, 2012 by nadia
Wow, this is such a great twist to the regular idli! Thank you for sharing this recipe. I love the step-by-step pictures.

---