Schezwan Sauce, a fiery hot and spicy sauce made from dry red chilli, garlic and sauteed onion, is a must have condiment with Indo-Chinese snacks like
vegetable momos
, spring rolls, French fries etc,. It is also an important ingredient for making Schezwan Fried Rice and
Schezwan Fried Noodles
. This Schezwan Sauce Recipe uses Dry Kashmiri Red Chillis since they are less spicy compared with other red chillies to tame down the spiciness of this fiery sauce. However, you can use combination of any dry red hot chillis and Kashmiri chillis to make this sauce as spicy as your taste buds can tolerate.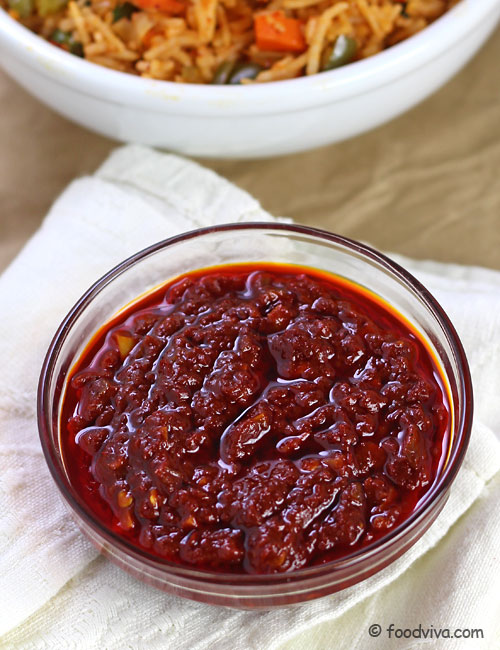 More Chinese Recipes
Preparation Time:
40 minutes
Ingredients:
15-18 Dry Red Kashmiri Chillis*
3-4 tablespoons Sesame Oil or any Cooking Oil
1/4 cup finely chopped Onion or 3-4 Shallots
10-12 small Garlic Cloves, chopped (approx. 2½ tablespoons)
1/2 tablespoon finely chopped Ginger (approx. 1-inch)
1/4 teaspoon Dark Soy Sauce or 1/2 teaspoon Light Soy Sauce
1 tablespoon Vinegar or lemon Juice
1/4 teaspoon Black Pepper Powder
1½ tablespoon Tomato Sauce
1 tablespoon Sugar
Salt to taste
Directions:
*This recipe uses only dry Kashmiri red chillis to make it little less spicy. However, you can use 3-4 any dry red chilli (medium hot) and 10-12 dry Kashmiri red chilli (less hot) to make it spicier.

Remove stems from dry red chillis. Cut chilli into halves, open them and remove seeds. Discard the seeds.

Soak chilli halves in warm water for 30 minutes.

Drain excess water from soaked red chillis. Transfer them to a small jar of a grinder. Add 2 tablespoons water.

Grind into a smooth paste.

Heat 3-4 tablespoons oil in a pan over medium flame. Add finely chopped onion and sauté until it turns light pink.

Add finely chopped ginger and garlic, sauté for around a minute until raw smell of garlic goes off.

Add ground red chilli paste. Mix well and sauté for a minute.

Add 1½ tablespoon tomato sauce.

Add 1/4 teaspoon dark soy sauce or 1/2 teaspoon light soy sauce.

Add 1 tablespoon vinegar.

Add 1/4 teaspoon black pepper powder, sugar and salt.

Mix well and cook for a minute. Add 1/4 cup water and mix well.

Cook for approx. 2-3 minutes until oil starts to appear on sides. Turn off the flame. Once it cools down to room temperature, transfer it to a small container and store in the refrigerator for anytime use. It stays good for 2-3 weeks in refrigerator. Schezwan sauce is ready to serve with fried rice or

momos

. It can also be used to make schezwan noodles and fried rice.
Tips and Variations:
Add more oil for longer shelf life of the sauce. Oil should be floating on top of the sauce in a container.
You can replace vinegar with lemon juice if vinegar is not available.
Chilli seeds are removed to make it little less spicy. If you want sauce to be extremely spicy, do not remove seeds from dried chllis.
Add little bit more vinegar and sugar to give it a spicy, tangy and sweet taste.
Authentic Schezwan Sauce also has Sichuan Pepper in it. If you want to make this an authentic sauce, add Sichuan Peppers in Step-8.
Taste:
  Hot and Spicy with mild Tanginess and sweetness
Serving Ideas:
 Schezwan sauce can be served with indo-chinese snacks like
fried rice
, momos and spring rolls and other snacks like pakoda, french fries,
tikki
,
cutlet
, etc. It can also be used to make Schezwan Fried Rice and
Schezwan Noodles
.