In this capsicum masala curry recipe, roasted sesame and roasted peanuts provide a delightful and palatable experience to taste buds. Follow this easy Indian curry recipe and indulge in delicately spicy yet delicious capsicum sabzi.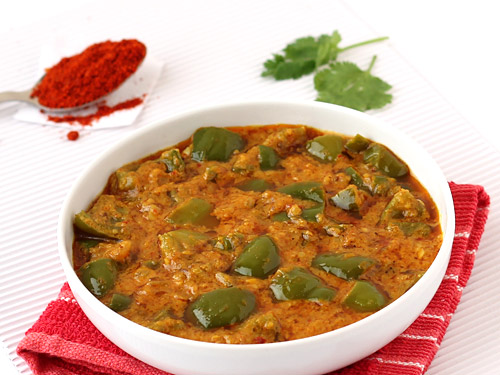 Preparation Time:
10 minutes
Ingredients:
2 medium Green Capsicum (green bell peppers/shimla mirch)
2 teaspoons Coriander Seeds
1 tablespoon grated Dry Coconut
1 Dry Red Chilli
1 teaspoon Sesame Seeds
1/4 cup Roasted Peanuts
1/2 teaspoon Cumin Seeds (jeera)
1 medium Onion, finely chopped
2 cloves Garlic, crushed
1/2 teaspoon Red Chilli Powder (lal mirch)
1/4 teaspoon Turmeric Powder (haldi)
1/2 teaspoon Lemon Juice, optional
2 tablespoons Cooking Oil
Salt
3/4 cup Water
Directions:
Add coriander seeds, grated coconut, dry red chilli and sesame seeds in a pan and dry roast them over low flame until nice aroma comes for approx. 2-minutes. Transfer them to a plate and let them cool for 3-4 minutes. Grind them with roasted peanuts in a grinder and make a fine masala powder.

Heat oil in same pan or kadai over medium flame. Add cumin seeds and allow them to splutter. Add chopped onion and crushed garlic, sauté until onion becomes light pink.

Add capsicum and sprinkle salt over it.

Sauté capsicum until it turns tender but still crispy for approx. 2-3 minutes.

Add turmeric powder and red chilli powder, mix and cook for a minute.

Add masala powder (prepared in step-1), lemon juice and salt (only for masala powder).

Stir and cook for 1-2 minutes.

Add 3/4 cup water and let it boil over medium flame.

Cook until gravy becomes thick or for 3-4 minutes.

Turn off the flame and transfer curry in a serving bowl.
Tips and Variations:
You can add fresh coconut instead of dry coconut according to the availability.
Make sure, ingredients does not turn dark brown while dry roasting in step-1.
Serving Ideas:
As with all other Indian curries, capsicum curry with peanut and sesame based masala gravy can be served with any of your favorite Indian flat breads.
Other Step by Step Recipes
32 Comments
---
Really superb... My family loved it.

---
Nice explanation with pictures for each steps. It would be complete if you provide nutrition information as well.

Response: Hello Vivek, we will deifnitely try to provide nutrition information very soon.
---
Well explained step by step recipes..keep adding tasty recipes to your list.

---
Turned out to be very yummy, my husband loved it!!! Thanks you!

---
May 04, 2016
by
Natasha C Patel
Hello! I tried this recipe for my family! And It really tastes yummy. But Actually I am on a strict diet and I want to skip peanut powder. In place of that what I should add?

Response: Hello Natasha, you can use same amount of cashew nut powder or almond powder instead of peanut powder in this recipe.
---
This recipe looks good. Can I make it without onion?

Response: Yes, you can make it without onion.
---
Excellent taste. I tried it today came out very well. Let me start explore your website now onwards. Thank you.

---
Hi, I have tried many recipes from this site and all were too good my family loved them. Thanks to foodviva. Please update some kids specials.

Response: Hi Parimita, glad to hear that your family loved the recipes. We will definitely try to upload the kids special recipes.
---
Turned out awesome. I added a spoon of curd for a better consistency. Loved it.

---
Yummy, I tried this recipe today. Me and my family loved this recipe a lot. Thank you very much. Everything is step by step with images... I love this site a lot and I want to make ice cream from this site. How can I make it, Please say.

Response: Hi Nisha, thanks for trying the capsicum curry. We will definitely try to upload the ice cream recipe soon.
---
Aug 18, 2015
by
itu mandal
Is it necessary to use dry coconut or fresh coconut?

Response: In this recipe, dry coconut is used. If it is not available, you can use same amount of fresh coconut or skip it and add 1-tablespoon extra peanuts instead of it.
---
Very tasty curry, no need to go to hotel.

---
Easy recipe, made this today. My husband liked it but gravy was not red as shown. Why are sugar and lemon added?

Response: Hi Veda,hanks for trying the recipe. The red color of gravy depends on the red chili powder. To get the dark red color, use kashmiri red chili powder. Lemon juice is added to get mild tangy taste and sugar is added to balance the tanginess. They both are optional ingredients so, you can skip them.
---
Excellent recipe. It's yummy and easy. My family loves it.

---
Had been looking for a hassle free yummy recipe with capsicum for long time and found it here today. Thanks for sharing. Loved it and can't wait for hubby to taste it.

---
Feb 05, 2015
by
Muralidhara
Excellent recipe. Had tried in a restaurant long back in India. No one makes like that any more. All the restaurant uses shortcut now a day. I was looking for the same recipe and found it here. My kids love this very much.
I add some cashew nut fried in ghee and really awesome.

---
Good and very interesting ideas which are given in this website. Thank you.

---
Nov 17, 2014
by
Suhasini Hulikal
This recipe is simply awesome. I have tried Paneer Butter Masala from your site and it came out very well. I will try more recipes from your website. Love this site.
Thanks for this amazing recipe.

---
I have made this recipe 3 times now and I have got compliment from my MIL no less. The step by step pics made it easy for me.

---
Tried this recipe and it\'s really tasty. My family members loved the dish but in my view curry tasted better with rice than roti. Thanks for great recipe and keep up the good work.. :)

---
Ya I tried the recipe. It tasted good. Thanks...

---
i tried this recipe it came out very tasty.

---
its nice n easy to make....my family also like it....

---
I tried it out...it came out so well!!!
I added little kasori methi..it tasted good & thanks for the reciepe..

---
May 29, 2014
by
Mrs Pinky J Gandhi
Nice recipe, as per your measurement I had gone through but only thing it's color did not come out as red you have show in the images. Yes I am sure I can make this recipe as a side when you are expecting guest at home.

Response: Hi Pinky, thanks for trying the recipe. The red color depends on the quality of red chilli powder (use kashmiri red chilli powder (not very old) to get less spicy taste and dark red color).
---
This recipe is awesome!! I like the way you prepared the Masala and step by step information will help a lot. Thanks for a very new recipe.

---
Easy and quick recipe, thanks. I tried with tamarind juice, certainly tastes better.

---
Thanks for sharing the recipe of this dish. It came out very well. Along with this we added a little of cashew nut paste too.

---
Yummy and easy recipe..my family loves it.Thanks and keep going.
My recipe turned out to be little sweet instead of hot and spicy any idea why? It still tasted good though...

Response: Thanks Ruhi for the feedback. One reason could be the amount of lemon juice used by you. When you prepare it next time, do not add sugar and increase the amount of red chilli powder to 1 teaspoon to make it more spicy.
---
I'm loving this site!!! Tried dum aloo, kadai paneer, and capsicum masala.. every single one of them came out really well.. i love the fact that you suggest ground masala than a generic garam masala as in other sites.. This way the curries are all having an original and unique flavour!!!

---
Excellent recipe. Just tried out and it came well.I wish i can add some tamarind to it instead of the lime juice.

Response: You can use same amount of tamarind juice (1/2 teaspoon) instead of lemon juice (1/2 teaspoon) in the given recipe method.
---
---
---