Gobi manchurian gravy is a tempting combination of deep fried cauliflower florets and a spicy cornflour based thick gravy prepared in traditional Chinese way. This recipe involves, first preparing and then combining, two main sub ingredients; deep fried florets and spiced gravy. Most of the cauliflower manchurian recipes call for use of MSG (Ajinomoto), however, this recipe does not use MSG but still gets the same irresistible taste.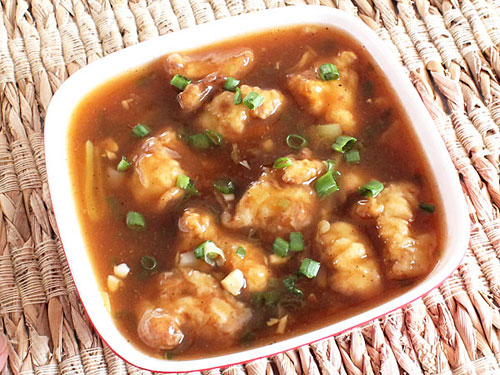 Preparation Time:
10 minutes
Ingredients:
For Gobi Manchurian Florets
2 tablespoons Maida (all purpose flour)
4 tablespoons Cornflour (corn starch)
1/2 medium size Cauliflower (Gobi)
1 teaspoon Ginger-Garlic Paste
Cooking Oil, for deep frying
Salt
1/4 cup Water
For Gravy
1/2 tablespoon finely chopped Ginger
2 Green Chillies, deseeded and slit lengthwise
2 teaspoons finely chopped Garlic
3 tablespoons finely chopped Spring Onion
1 tablespoon Cooking Oil
2 tablespoons Soy Sauce
1/2 tablespoon Chilli Sauce
2 tablespoons Tomato Ketchup
1/2 teaspoon Pepper Powder
2 tablespoons Cornflour (corn starch)
2 cups Hot Water
Salt
Directions for Making Gobi Manchurian Florets:
Clean cauliflower and break it into big florets. Boil florets in plenty of water for 3 minutes. Drain water and pat dry them on kitchen towel.

Take maida, cornflour, ginger-garlic paste and salt in medium size bowl. Add approx. 1/4 cup water; mix all ingredients and make a batter. Make sure that batter should be neither very thick nor watery. (its thickness should be similar to dosa batter or pancake batter) Add cauliflower florets in batter and mix well until all florets are coated with batter.

Heat cooking oil in kadai (pan) over medium flame. When oil is hot enough to deep fry, carefully slide or drop 7 to 8 batter coated florets and deep fry over medium flame until they turn golden brown.

Drain and transfer florets to plate. (If possible, spread kitchen paper napkin over plate to absorb excess oil from deep fried florets) Deep fry remaining florets until golden brown.
Directions for Making Gobi Manchurian Gravy:
Dissolve 2 tablespoons cornflour in 1/2 cup water and keep aside.

Heat 1 tablespoon oil in a pan. Add chopped ginger, garlic, green chilli and chopped spring onion. Sauté on medium heat for a minute.

Add soy sauce, chili sauce, tomato ketchup, pepper powder and salt; cook for 1 minute.

Pour 2 cups hot water and bring mixture to boil over medium flame. Boil it for a minute. Add dissolved cornflour while stirring constantly to avoid forming lumps. Stir and cook on low flame for a minute.

Add deep fried cauliflower florets and cook for 3 minutes over medium flame.

Gobi Manchurian with spicy gravy is ready. Transfer it to another bowl and garnish with chopped spring onion. Serve it with schezwan noodles or Chinese fried rice.
Tips and Variations:
Clean cauliflower florets by soaking them in warm salted water for 15 minutes.
Do not deep fry too many gobi florets at a time otherwise they will not cook evenly due to over crowding.
Chilli sauce and soy sauce are two main flavoring agents in this recipe, adjust the quantity of them to get desired taste.
To prepare crispier cauliflower florets deep fry them little longer. Also, you can mix florets into gravy only before serving to preserve their crispiness.
Serving Ideas:
Serve it as a soupy starter before meal. The thick and spicy gravy is a great accompaniment to hakka noodles and paneer fried rice. Steaming hot gravy of cauliflower manchurian is a delicious body warmer during cold winter evenings.
Other Step by Step Recipes
36 Comments
---
I added capsicum as well, after adding the sauces and chillies in Step 3 while making the gravy. I didn't have spring onions, but it turned out really well.

---
Sep 12, 2015
by
Ubramanyan T Prakash
Can I use anything else instead of maida?

Response: No, you cannot use anything else instead of maida.
---
I tried & it came out very nice
Thank u

---
Hey,

Can you suggest me the substitute of corn flour or corn meal. Can I use the wheat flour or besan instead of corn flour?

Response: Hi Sakshi, cornflour means corn starch (not corn meal) is used in this recipe. You cannot use anything else instead of it in this recipe.
---
The taste of this recipe is fabulous, thanks for sharing.

---
Thank you for sharing this recipe :)
Helped a lot!!

---
Dec 16, 2014
by
Sruthi Nair
Just loved this recipe. My whole family loved it. I made it little thicker than what you have shown here, still it came out well. Thank you so much for this recipe. :)

Response: Hi Sruthi, thanks for trying the recipe. The gravy will turn thick when it cools down. You can adjust the amount of water (in step-3) according to make the thick or thin gravy of your choice.
---
Hi, I made both type of Gobi Manchurian, Dry and Gravy, dry version turned out fabulous but the gravy version turned out the opposite. It was worst. I couldn't explain how bad it was. I followed every single direction and amount of stuffs exactly the way you mentioned. Eventually, I ended up with gravy similar to yogurt (in terms of thickness) and florets were extremely soggy. Not a bit crunchy/crispy (even though I fried them twice, as mentioned by you), gravy was tasteless and it had raw cornstarch smell in it (even though I cooked it well).
Please help!! Where did I go wrong?

Could you please tell? Thank you.

Response: Hi, I am so sorry to hear that it didn't come out well. There could be many reasons for it.

1. Did you add the hot water or normal cold (or warm) water while making gravy? If you use normal cold water, you need to cook gravy for longer duration (before adding florets).
2. For making cauliflower florets crispy, deep fry them on medium flame and as mentioned in the last tips in tips section , add florets into gravy just before serving. This will preserve their crispiness. They turned to become soggy as they absorb the water from gravy.
3. Gravy could also turn thick if you use more corn flour or use less water. Make sure that you use ingredients in the same ratio as mentioned above.
4. If gravy is not cooked perfectly then it could taste and smell like raw corn starch. You should cook it until it doesn't smell raw and gravy turns transparent.

Time required to cook gravy for manchurian would vary on factors like size and thickness of cooking vessel being used, quantity and type of heat source (electric or gas or induction). So it is necessary to check the texture, color and taste at the end of every step before moving to next step.
---
First time I had cooked it and everyone liked it. Thanks for sharing the recipe.

---
My first try, came out superbly well! Thanks a ton!

---
simple, easy, and tasty manchoorian gravy.............

---
Made for dinner and it was loved by all...........

---
Very yummy and simple to prepare.

---
Jun 19, 2014
by
Dr santosh shelhawat
Thanks for such easy steps for delicious dish.

---
Tried this yesterday with broccoli and it was totally yum!!!! Thanx for the recipe!

---
Very gud dish.. looks so yummy.. gonna try it out..

---
Mar 28, 2014
by
Sabari Nair
Excellent and Delicious.
Thanks a lot.

---
It came out very well. Thanks for posting this.

---
Dec 07, 2013
by
Sakthipriya B
It is really very nice.

---
it really came out very well... Thanks for the recipe...

---
Awesome
Hats off!!!
Such a simple dish
Simply superb......thanks to the subscriber of this recipe!!

Excellent.

---
I tried it for the first time for 7 persons and believe me they felt out of this world.
I used Dark soy sauce instead of the regular one.

Thank you.

---
Sep 18, 2013
by
amrvardhan
tasty and spicy.

---
Aug 17, 2013
by
dekksha satardekar
Thanks for this delicious recipe but for how many people can be served with this recipe.

Response: This dish can be served to 4 persons as a side dish with fried rice and noodles.
---
Aug 10, 2013
by
naina ganvir
Such a simple and easy flowin recipe just to get a perfect outcome. Simply superb.... specially the cauliflower coating..just perfect....

---
Hi

First off, Thanks a ton for Gobi Manchurian Recipe!

Your site is wonderful for showing step by step method to make dishes ! It\'s easy for beginners like me to follow !

I just have one doubt in this recipe - the Pepper Powder used is Black Pepper Powder or White Pepper Powder ?

Response: Thanks for your feedback. In this recipe we have used black pepper powder.
---
We tried it out .... It was awesome

---
Jan 19, 2013
by
madhumathi
I followed the recipe and it came out really well. Thanks :)

Response: Thanks a lot Madhumathi and everyone for the nice feedback. It really keeps us motivated.
---
Dec 27, 2012
by
Bichon Bliss
Fantastic! I make this for my brother for his birthday now and I am a college going kid and quite an amateur cook, so its an easy recipe to follow!

---
looks so yummy..... goin to make it rt now

---
Followed ur recipe step-by-step and just finished making mine. It was awesome, Thanks a lot!

---
Nice & easy recipe. I am going to try this today.

---
i am a foodie and even looking for recipes while on vacation :)...looks like a must try recipe...

---
I tried this gobi manchurian with gravy yesterday and it came out very well. I even sprinkled little bit of black pepper powder while making gravy and it gave a nice aroma and spiciness. Till now i was thinking that its impossible to make restaurant like manchurian at home but with this recipe, it was super easy and tasty.

---
easy recipe. good. thanks.

---
Nice and easy recipe of manchurian. I followed the recipe as given and prepared it for evening snack and my family loved it. Thanks for sharing.

---
---