Chinese Fried Rice is one of the most popular fried rice recipes in the world. This vegetarian recipe includes lots of vegetables and sauces giving it a unique tempting flavor and color. The success of this recipe lies in using the correct type of long grained non-sticky steamed rice. Make sure that steamed rice does not have any lumps in it and each grain is separated (read tips given below to make them non-sticky). Serve it with Chinese dry manchurian or gravy manchurian and savor the indulge into authentic Chinese flavor.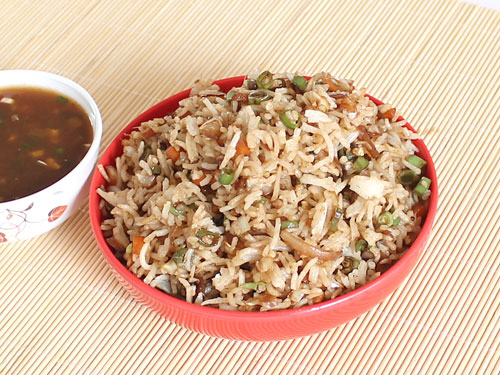 Preparation Time:
15 minutes
Ingredients:
2½ cups Steamed Rice
1 Onion
1 Green Chilli
1 teaspoon finely chopped Ginger
1 teaspoon finely chopped Garlic
1/4 cup finely chopped Carrots
1/2 cup finely chopped Cabbage
2 stalks Spring Onion (green onion), finely chopped
1/4 cup finely chopped French Beans
1 tablespoon Soya sauce
1/4 teaspoon Black Pepper Powder
2 tablespoons Cooking Oil
Salt
Directions:
Cut onion into thin slices and finely chop green chilli.

Heat oil in a wok or frying pan over medium heat and sauté sliced onion, green chilli, chopped ginger and chopped garlic; sauté them for a minute.

Add carrot, cabbage, spring onion and French beans and stir-fry them for 2-3 minutes. Make sure that vegetables are not over cooked, they should be slightly crispy but not soft.

Add and mix black pepper powder, soya sauce and salt.

Add previously prepared steamed rice and mix gently. Do not stir too much otherwise rice grains may break. Cook for 2-3 minutes over medium heat.

Turn off heat and transfer Chinese fried rice to a serving bowl. Serve hot with manchurian gravy.
Tips and Variations:
Add 1 teaspoon oil or 3-4 lemon drops while preparing steamed rice to make them non-sticky and separated.
For variation, add chopped vegetables like celery, green peas, capsicum, etc.
Add chilli sauce for a spicy taste.
Use Basmati rice to make it more flavorful and aromatic.
Serving Ideas:
Serve it with manchurian and chilli sauce. It also goes well with any Chinese soup. Many people like veg fried rice with tomato ketchup as well.
Other Step by Step Recipes
---
33 Comments
---
Jun 15, 2017 by Rosa justiniano
Can I use Jasmine rice ?

Response: Yes, you can use jasmine rice.
---
Feb 18, 2017 by Taru
Seems delicious.... My I use something else in place pf soya sauce?

Response: No, you can't replace the soy sauce with any other sauce in this recipe.
---
Jan 24, 2017 by Deepak
Looking yummy. I like it very much. Fried Rice is one of my favorite. Thanks for sharing.

---
Nov 02, 2016 by saranya
Superb taste & nice recipe.

---
Sep 14, 2016 by Faraz
I prepared this dish today for lunch but it was waste of time, I don't like this dish. I love fried rice but this dish I don't have words.

Response: Hello Faraz, sorry to hear that you didn't like this recipe. May I know, what do you not like about this dish?
---
Sep 03, 2016 by Satyanarayan
I followed this recipe one time at dinner, it was very tasty.

Response: Thank you for trying the recipe. Happy to hear that you liked the taste.
---
Aug 03, 2016 by Keziah
I prepared this recipe today for lunch and everyone liked it! Thank you very much.

---
May 30, 2016 by Gitika kalia
Very nice recipe.. I tried it. My husband liked it.

---
May 23, 2016 by Swetha
It's really fantastic. In fact I tried once at home. It was awesome & my parents enjoyed that.

---
May 02, 2016 by Sania
Fantabulous recipe. Just made it. Keep on sharing such good recipes. Thanks a ton.

---
Apr 05, 2016 by Subramanian
Thank you. I cooked this recipe based on your recipe above and it came out nicely and quite tasty.

---
Dec 06, 2015 by Shoeb Shaikh
I always find Indo-Chinese cuisine difficult for me to cook, but this recipe came out perfect. I request you to please share recipe of Scezhwan Sauce & Hunan Sauce.

---
Oct 10, 2015 by Ravie
Simple and great recipe.

---
Sep 23, 2015 by Kruthi
Very nice recipe. All my family loved it...

---
Sep 19, 2015 by Arnav Mehra
Awesome yar, so easy to make ;-)

---
Sep 15, 2015 by Jenish
Love this fantastic recipe. My rice was amazing and its taste was delicious.

---
Sep 15, 2015 by Janani
Thank you sooo much...
I tried out it was awesome..

---
Sep 10, 2015 by Meenu
I love this recipe very much. Please tell me can we use tomato in gravy of manchurian?

Response: No, you cannot use tomato in gravy of manchurian.
---
Jul 23, 2015 by Navin
Very nice and easy to cook as well.

---
May 20, 2015 by Nilam
Good recipe of fried rice, desi style.

---
Apr 04, 2015 by Ruby Menezes
Very nice recipe. Thank you.

---
Mar 13, 2015 by Simran Ruprel
Too good recipe of veg fried rice... Just made.. Thanks

---
Feb 14, 2015 by Naz
Thanks for your recipes. Fantastic!

---
Jan 26, 2015 by CoolDude
Awesome recipe. Love it. Try it out fellas.

---
Dec 20, 2014 by Vanshika
Good. I like your recipe style, which gave much comfort feeling.

---
Sep 12, 2014 by seema prasad
Hi.. I simply love your dishes ... tried few of them and it turned out very well .. thanks

---
Jul 04, 2014 by Juveriah Suman
Hi, please upload recipes for chinese schezwan noodles. Love the site. would lilke to have more and more recipes.

Response: We will definitely upload the recipe soon. Please, subscribe to our recipe feed so when we publish it, you get the notification via mail.
---
Apr 03, 2014 by pramod
so nice recipe i am very big fan of indo-chinese food.

---
Jan 03, 2014 by swati
hi,
i am big fan of your recipes... can i get recipe of chinese veg manchow soup (restaurant style).

Response: We will definitely upload the recipe soon. Subscribe to our recipe feed so when we publish it, you get the notification via mail.
---
Aug 08, 2013 by shubhangi
Great & Perfect Recipe....I\'ve tried this..

---
Jul 29, 2013 by Navya kakunje
Lovely.. Tried it once and it turned out well.. Will prepare it again.

---
Nov 08, 2012 by janu
hey thank you for sharing chiness fried rice

---
Sep 20, 2012 by Rakshanda Naik
all of your recipes are good one, i simply love them. Can you also provide few new once as well?

---