Handvo, a delicious savory cake made from rice, lentils and vegetables like bootle gourd, carrot, green peas, etc., is a traditional Gujarati snack enjoyed with
Green Chutney
. Having well fermented batter is critical for preparing Handvo and it can be prepared by using either ready made Handvo Flour or from scratch using raw rice and mixed lentils (dals). Batter is prepared by grinding soaked rice and lentils with curd and then prepared mixture is left to ferment for 8-10 hours. Mixed vegetables like bottle gourd (lauki), carrot and green peas are then added to the fermented batter and round shaped thick savory cake is cooked from the batter by cooking it with one of three different methods; 1) using a pan, 2) baking in special handvo cooker on gas stove, or 3) baking in oven. This Handvo Recipe explains how to make Handvo batter from scratch and using ready made flour and how to cook it with all three cooking methods mentioned above with Step By Step Photos.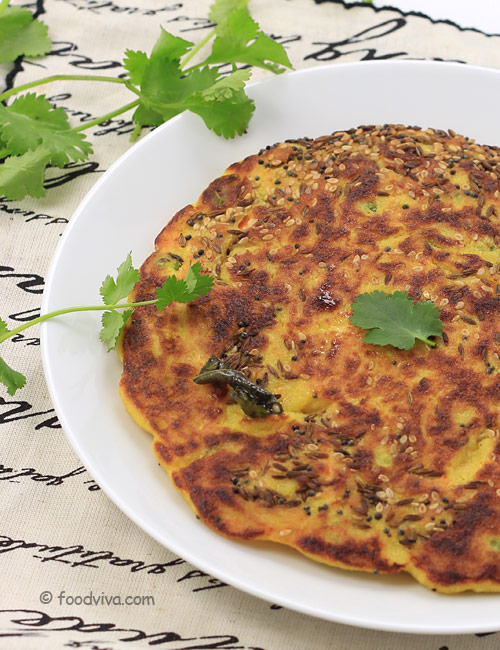 More Gujarati Recipes
Preparation Time:
 12 hours
Ingredients:
1 cup Rice
1/4 cup Toor Dal (toovar dal/pigeon pea lentils)
1/2 cup Chana Dal (gram lentils)
2 tablespoons Urad Dal (black)
1/2 cup Curd (dahi/plain yogurt)
1/2 cup grated Bottle Gourd (lauki/doodhi) (or Zucchini)
1/2 cup Green Peas (fresh or frozen)
1 Carrot, grated
1/4 teaspoon Turmeric Powder
1 teaspoon Ginger-Green Chilli Paste, optional
1/2 teaspoon Baking Soda (soda bicarbonate)
1 teaspoon lemon Juice
1 teaspoon Oil
Salt to taste
For Tempering:
1½ teaspoons Mustard Seeds
1½ teaspoons Cumin Seeds
3 teaspoons Sesame Seeds
A Pinch of Asafoetida (hing), optional
10-12 Curry Leaves
3 tablespoons Oil
Note:
Steps-1 and 2 below explains how to make Handvo batter from scratch using rice and dals (lentils). However, you can also use readymade handvo flour instead of rice and dals (lentils); use 2-cups readymade handvo flour (do not use instant handvo mix) and skip step-1 and step-2. In step-3, mix flour with yogurt and water to prepare thick batter (similar to Idli batter).
Directions:
Rinse rice and soak in around 1-cup water for 4-hours.

Rinse all dals (toor dal, chana dal and urad dal) and soak them in 1-cup water for 4-hours. (You can soak rice and all dals together. No need to soak them separately.)

Drain excess water from rice and dals and transfer them to the jar of a blender. Add 1/2 cup yogurt and salt.

Blend until smooth consistency. If required, add 1-2 tablespoons water while grinding. Don't add more water.

Transfer the batter to a medium size container. Cover it with a lid and keep in warm place to ferment for around 8-10 hours.

Note that batter doesn't rise during fermentation as it does for

idli/dosa batter

as you can see this in the photo.

When you stir the fermented batter, you should see the tiny air bubbles because of the fermentation.

Add grated bottle gourd (lauki/doodhi), grated carrot, green peas, ginger-green chilli paste, 1-teaspoon oil and turmeric powder.

Mix well. Batter should have thick consistency. If it is watery, add 1-2 tablespoons sooji/rava to make it thick.

Add 1/2 teaspoon baking soda (soda bicarbonate).

Pour 1-teaspoon lemon juice over it. Mix well.

Heat 1-teaspoon oil in a small non-stick pan over medium flame. Add 1/4 teaspoon mustard seeds and when they begin to crackle, add 1/4 teaspoon cumin seeds, 1/2 teaspoon sesame seeds, a pinch of asafoetida and 2-3 curry leaves.

Pour approx. 1/2 cup batter (more or less) depending on the size of a pan and spread it evenly with spatula to make 1-inch thick handvo.

Cover the pan with a lid or a plate. Reduce flame to low and cook until top surface looks cooked as shown in the picture and bottom surface turns light brown (this will take around 4-5 minutes). Time required cook greatly depends on the thickness of handvo you are making.

Flip it gently with spatula and cover cook until another side turns golden brown, for around 3-4 minutes.

Transfer it to a plate. Follow the same process for remaining batter. Handvo is now ready for serving with tea or chutney as evening snack.
How to Bake Handvo in Oven?

Pre-heat the oven to 375F.
Pour batter (prepared in step-11) in a greased baking tray (if you are preparing it for parties or get together, use the muffin tray for individual servings), pour tempering (prepared in step-12 – use 2-tablespoons oil, 1 teaspoon mustard seeds, 1 teaspoon cumin seeds, 2 teaspoons sesame seeds, 8-10 curry leaves and a pinch of asafoetida) over it.
Bake it in preheated oven at 375F for around 40-45 minutes. Time required to bake handvo depends on the how thick you are preparing it. After 40 minutes, keep an eye on it. Check whether its cooked or not by inserting a knife in the center; if knife comes out clean then it is cooked.
If top surface hasn't turned brown and look crispy, broil it for 2-minutes in the end.

How to Bake It Using Special Handvo Cooker (not Pressure Cooker) on Gas Stove?

Fill lower part (tray) of cooker with sand (reti) and heat it for 5 minutes over medium flame.
Grease inside of cooker tray with cooking oil and pour batter in it. Pour tempering (prepared in step-12 – use 2-tablespoons oil, 1 teaspoon mustard seeds, 1 teaspoon cumin seeds, 2 teaspoons sesame seeds, 8-10 curry leaves and a pinch of asafoetida) evenly over it. Cover it with a lid.
Place the tray over lower base (filled with sand) and cook over medium flame for 10 minutes and then over low flame for 25-30 minutes.
Check whether handvo is cooked or not by inserting a knife or a toothpick in it and checking if it comes out clean or not (it should come out clean).
Tips and Variations:
Don't add too much water while grinding.
You can add veggies of your choice but don't skip the bottle gourd as it makes the handvo soft. You can use zucchini as a replacement of bottle gourd.
You can replace baking soda with Eno Fruit Salt. If using Eno, add 1/4 teaspoon Eno for each individual handvo batch. For each batch, take batter (1/2 cup) in a medium bowl, mix 1/4 teaspoon Eno with it and immediately make handvo using a pan method mentioned above (Do not add all Eno in entire batter in single go).
Taste:
 Soft and savory with crispy outside.
Serving Ideas:
 Serve it with tea or tomato ketchup and
green coriander chutney
as afternoon snack. It can also be served in the party or large get-together.